New 12-sided £1 coin to be made in Wales unveiled
The Government has announced it will introduce a 12-sided £1 coin in 2017. The coin will be made at the Royal Mint in Llantrisant. According to the Treasury, three per cent of current £1 coins in circulation are fake.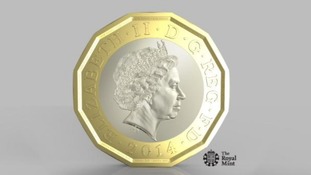 A new 12-sided one pound coin will replace the current one in 2017 and it should be much more difficult to forge.
Read the full story
The Government has announced that a new 12-sided £1 coin will come into circulation in 2017, which the Treasury says will be "the most secure coin in circulation in the world."
The new coin will be made at the Royal Mint in Llantrisant.
We are thrilled to have the opportunity to support Her Majesty's Treasury and work on such an exciting project, which could potentially change the way that coins are made in the future. The current £1 coin design is now more than thirty years old and it has become increasingly vulnerable to counterfeiting over time. It is our aim to identify and produce a pioneering new coin which helps to reduce the opportunities for counterfeiting, helping to boost public confidence in the UK's circulating coins.
The Royal Mint works closely with HM Treasury, the National Crime Agency and the cash-handling industry who are committed to maintaining the integrity of the UK's currency and exploring ways in which counterfeiting can be combated. Together we ensure that every effort is made to maximise opportunities to identify and withdraw counterfeit coins from circulation.
We are very proud to be recognised nationally in terms of providing innovative solutions on an international scale. We are already known as the world's leading export mint, but iSIS confirms our place as leaders within our industry, as we continue to expand the boundaries of minting technology.
– Adam Lawrence, Chief Executive of The Royal Mint
Advertisement
Back to top