Shoppers find 'degrading sweatshop conditions' on labels
Fashion chain Primark is investigating after a second shopper in a Swansea store found a label in clothing, complaining of 'sweatshop conditions' and 'exhausting hours'.
Fashion retailer Primark says it has 'growing suspicions' over labels complaining about working conditions found sewn into three garments - but stressed detailed investigations are underway.
Hand-stitched labels have been found sewn into two dresses from the same Swansea store, complaining of 'sweatshop conditions' and 'exhausting hours.'
A similar label was found in a garment in Northern Ireland.
Regarding the Swansea discoveries, Primark said:
We have had two instances of this issue arising in Swansea, raising a number of suspicions for us.

The labels appear to be of a very similar type, attached to the garments in the same way; the two garments were on sale around the same time in 2013; and they were made in two different countries many thousands of miles apart.

We are requesting to collect the items from the customers and we will then be able to examine in detail the circumstances in which the additional label or information was attached.
– Primark statement

To read Primark's statement in full, click here.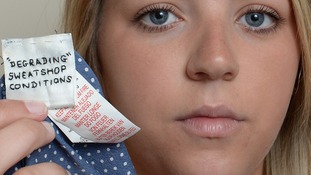 Two women have now reported finding labels from clothes bought in Swansea's Primark store complaining about working conditions.
Read the full story
Advertisement
Back to top