Live updates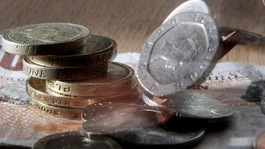 Plaid Cymru's economy spokesman sets out what sort of business bank Wales needs and why
Read the full story
Parties urge Welsh business bank
Plaid Cymru has also been turning its attention today to new ways of helping small and medium sized enterprises to grow. The party is calling for a National Bank of Wales to support business.
The Party of Wales Shadow Minister for the Economy, Alun Ffred Jones had this to say:
Plaid Cymru is ambitious for Wales. We want to see more business and economic growth throughout the country creating and improving skills.

However, what I hear from businesses up and down Wales and supported by surveys from the FSB and other business representatives is that small businesses are still finding it difficult to get funding to help with their cash flow and to develop their future growth plans.

It isn't a problem which is unique to Wales and the problem is commonly

recognised but the various credit proposals from Westminster haven't provided the solution.
– The Party of Wales Shadow Economy Minister ,Alun Ffred Jones AM

He went on to add:
In fact , all too often, we hear stories from business owners that have had to use their credit card to finance their growth plans because distant banks are cutting back on capital and unwilling to commit to plans to improve Wales.

Private sector growth is vital to our economic recovery.

Wales, therefore, needs to have a bank which operates on similar lines to the German Sparkasse and Landesbanken that operate on a geographical basis, developing special expertise in the local industries so that they are better equipped to make investment decisions.
– The Party of Wales Shadow Economy Minister ,Alun Ffred Jones AM
Advertisement
Plaid's Economic spokesperson Alun Ffred Jones was speaking at Plaid's weekly press conference when he attacked Welsh Labour for inactivity in the face of a return to recession
Labour's lack of response to the fact that Wales is back in recession is incredible. Plaid Cymru has long been warning that Wales was in danger of falling back into recession and we have made repeated calls for the Labour government to wake up to the reality of this. Plaid Cymru has called again and again for capital investment in new schools, hospitals and infrastructure in order to boost the economy, create and safeguard jobs and protect Wales from this economic storm.
But again and again, this lethargic Labour government has refused to heed these calls, preferring instead to sit back and do nothing.
Back to top