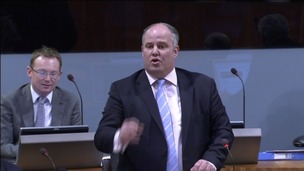 Our weekly look at questions to the First Minister from the leaders of the Opposition Parties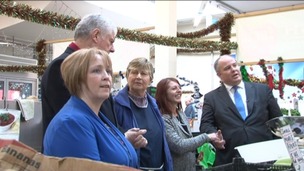 Conservative Assembly members visit Swansea Market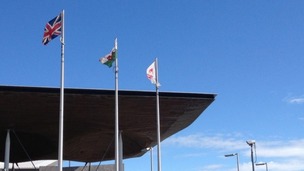 Opposition leader sets out his thoughts on some of the problems thrown up by the debate over changing the way Wales is run
Live updates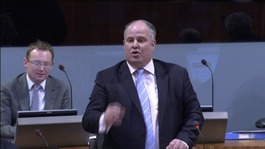 Our weekly look at questions to the First Minister from the leaders of the Opposition Parties
Read the full story
The Welsh Conservative Leader says 2013 was 'an unlucky year for Wales.' Andrew RT Davies said Wales has been making headlines 'for all the wrong reasons,' highlighting international education figures, ambulance waiting times and problems facing Welsh businesses. He said:
Thirteen is unlucky for some – and if you own a business, have a child in school, or a relative requiring NHS treatment, 2013 has been unlucky for you.

If a crisis is defined as a worrying failure to get the important things right – or a time of intense difficulty – then Wales is currently in the middle of one.
The country's economic levers remain dusty and idle. Still no council tax freeze – despite another freeze in England – and still no further support for small businesses. Yet taxpayers have been forced to buy an airport for 52 million pounds, when an airport in Scotland was recently nationalised for a pound.

A Welsh university student, currently in their first year, has spent their entire life in a Labour-run education system. During those 14 years, pupils have been let down and a generation has been lost. PISA results cannot be swept away by Carwyn Jones and Welsh Labour.
– Andrew RT Davies, leader of the Opposition
Advertisement
The Welsh Conservatives have marked Carwyn Jones' fourth anniversary as First Minister by criticising his record as 'uninspiring' and 'four years of failure.' Tory leader Andrew RT Davies said:
Four years of missed opportunities.

Four years of failure to reach the very best for Wales – on education, on health, on the economy.

All under Carwyn Jones's watch.

Skewed spending priorities have led to a refusal to freeze council tax, record-breaking NHS cuts, and business rates relief that could be hugely improved.
Legislation has been hugely slow in coming forward and to date, Mr Jones's tenure remains entirely uninspiring.

This First Minister continues to preside over hospital downgrading, appalling global tests in maths, reading and science, and access to finance for businesses that is inexcusably bad.
– Andrew RT Davies, leader of the Opposition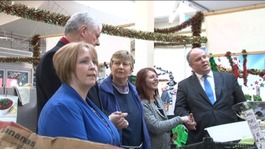 HE funding review announced
Welsh Conservative leader Andrew RT Davies says the newly-announced review of Higher Education Funding is an admission that it's current policy is 'unaffordable.'
He told me 'it can't be right, it can't be just' that children from wealthier families get the same level of support as those from poorer families.
£0.5m spent on importing blood
The Welsh Blood Service needs to concentrate more on working with communities rather than buying in blood supplies, according to Welsh Conservative leader Andrew RT Davies. He was commenting on revelations that collection changes have led to falling donations in the Welsh Blood Service area.
Mr Davies said 'the service needs to recognise it's got to work with communities rather than buying blood in' from elsewhere.
Advertisement
The Welsh Conservatives have criticised Plaid Cymru's calls to double council tax on second homes in rural parts of Wales. Opposition leader Andrew RT Davies said he doubts it would generate the revenue Plaid estimates because, he claimed, owners would simply designate second homes as primary homes.
He condemned the whole idea as 'typical Plaid isolationism, creating little nationalistic fiefdoms.'
New financial powers for Wales
Speaking ahead of an expected announcement from the Prime Minister on the devolution of tax powers, Andrew RT Davies says he's 'proud' of the changes and that Welsh Conservatives, working with those in Government have 'delivered for the people of Wales'.
"Welsh Conservatives have consistently campaigned for the recommendations of the Silk Commission to be implemented in full to end Labour's excuses culture.

"Today must mark the end of Welsh Labour's victim culture and Labour Ministers must start acting like a grown up government with responsibility for delivering value for money for taxpayers.

"I am proud that Welsh Conservatives working with Conservatives in government have brought this about and delivered for the people of Wales."
– Andrew RT Davies, Welsh Conservative Leader
NHS complaint report
Welsh Conservative leader Andrew RT Davies has criticised the Welsh Government's rejection of a call for an inquiry to be held into Welsh hospitals with higher-than-average mortality rates.
He said only such an investigation could avoid 'disasters like Mid-Staffs' happening in Wales
Row over winter operations cut
Welsh Conservatives have criticised the First Minister for 'side-stepping' concerns about Hywel Dda Health Board's controversial plans to cope with this year's winter pressures. Opposition Leader Andrew RT Davies said:
Patients awaiting non-urgent orthopaedic surgery in mid and west Wales have been left in limbo – unsure if their appointments will be met on time and confused about the coming months.

Carwyn Jones's legacy of NHS cuts and his failure to fill vacancies has led to this pressure on services, yet all he can do is side-step and dismiss the very real concerns of communities in the region.

It is clear from both the health board and UNISON that radical changes are being proposed and I am shocked and appalled that the First Minister refuses to acknowledge this.
The UK Government produced a winter pressures plan for hospitals at the end of the summer. In Wales, Labour has refused to do the same – forcing health boards into a corner.

I urge Mr Jones to recognise the health board's plans, intervene, and safeguard orthopaedic surgery as soon as possible.
– Andrew RT Davies, leader of the Opposition
Load more updates
Back to top