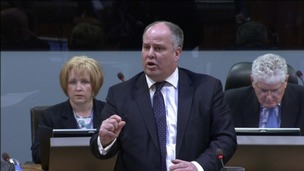 Questions to the First Minister from Party Leaders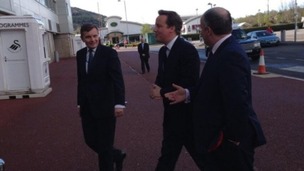 Differences of opinion have resurfaced between Welsh Conservative Assembly Members and between their leader and the Welsh Secretary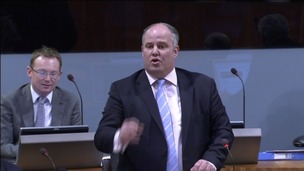 Our weekly look at questions to the First Minister from the leaders of the Opposition Parties
Live updates
The Welsh Conservatives have marked Carwyn Jones' fourth anniversary as First Minister by criticising his record as 'uninspiring' and 'four years of failure.' Tory leader Andrew RT Davies said:
Four years of missed opportunities.

Four years of failure to reach the very best for Wales – on education, on health, on the economy.

All under Carwyn Jones's watch.

Skewed spending priorities have led to a refusal to freeze council tax, record-breaking NHS cuts, and business rates relief that could be hugely improved.
Legislation has been hugely slow in coming forward and to date, Mr Jones's tenure remains entirely uninspiring.

This First Minister continues to preside over hospital downgrading, appalling global tests in maths, reading and science, and access to finance for businesses that is inexcusably bad.
– Andrew RT Davies, leader of the Opposition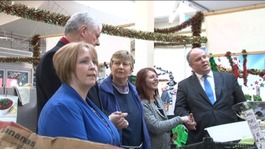 Advertisement
Higher education review to report back sooner
Welsh Conservative leader Andrew RT Davies says the newly-announced review of Higher Education Funding is an admission that it's current policy is 'unaffordable.'
He told me 'it can't be right, it can't be just' that children from wealthier families get the same level of support as those from poorer families.
£0.5m spent on importing blood
The Welsh Blood Service needs to concentrate more on working with communities rather than buying in blood supplies, according to Welsh Conservative leader Andrew RT Davies. He was commenting on revelations that collection changes have led to falling donations in the Welsh Blood Service area.
Mr Davies said 'the service needs to recognise it's got to work with communities rather than buying blood in' from elsewhere.
The Welsh Conservatives have criticised Plaid Cymru's calls to double council tax on second homes in rural parts of Wales. Opposition leader Andrew RT Davies said he doubts it would generate the revenue Plaid estimates because, he claimed, owners would simply designate second homes as primary homes.
He condemned the whole idea as 'typical Plaid isolationism, creating little nationalistic fiefdoms.'
New financial powers for Wales
Speaking ahead of an expected announcement from the Prime Minister on the devolution of tax powers, Andrew RT Davies says he's 'proud' of the changes and that Welsh Conservatives, working with those in Government have 'delivered for the people of Wales'.
"Welsh Conservatives have consistently campaigned for the recommendations of the Silk Commission to be implemented in full to end Labour's excuses culture.

"Today must mark the end of Welsh Labour's victim culture and Labour Ministers must start acting like a grown up government with responsibility for delivering value for money for taxpayers.

"I am proud that Welsh Conservatives working with Conservatives in government have brought this about and delivered for the people of Wales."
– Andrew RT Davies, Welsh Conservative Leader
Advertisement
NHS complaint report
Welsh Conservative leader Andrew RT Davies has criticised the Welsh Government's rejection of a call for an inquiry to be held into Welsh hospitals with higher-than-average mortality rates.
He said only such an investigation could avoid 'disasters like Mid-Staffs' happening in Wales
Row over winter operations cut
Welsh Conservatives have criticised the First Minister for 'side-stepping' concerns about Hywel Dda Health Board's controversial plans to cope with this year's winter pressures. Opposition Leader Andrew RT Davies said:
Patients awaiting non-urgent orthopaedic surgery in mid and west Wales have been left in limbo – unsure if their appointments will be met on time and confused about the coming months.

Carwyn Jones's legacy of NHS cuts and his failure to fill vacancies has led to this pressure on services, yet all he can do is side-step and dismiss the very real concerns of communities in the region.

It is clear from both the health board and UNISON that radical changes are being proposed and I am shocked and appalled that the First Minister refuses to acknowledge this.
The UK Government produced a winter pressures plan for hospitals at the end of the summer. In Wales, Labour has refused to do the same – forcing health boards into a corner.

I urge Mr Jones to recognise the health board's plans, intervene, and safeguard orthopaedic surgery as soon as possible.
– Andrew RT Davies, leader of the Opposition
Welsh Tory education plans row
The Welsh Conservatives are dismissing the latest Labour attack on their spending priorities which Llanelli AM Keith Davies says would have led to nearly 10,000 teachers losing their jobs since 2011. Welsh Tory leader Andrew RT Davies says:
Far from cutting the number of teachers in Wales – Welsh Conservatives would empower them, giving staff and parents far more say about what happens in classrooms.

Direct funding of schools would get rid of the unwanted red tape and bureaucracy that hampers our teaching staff - while freeing up a hundred million pounds of additional investment for schools.
We will take no lectures from a hypocritical Labour party that has got it catastrophically wrong on education for the last ten years. Their own education minister was sacked last year because he disagreed with Labour policy.

It is Keith Davies's party that has driven our education system into the ground and put our pupils at the bottom of the UK league table. He should apologise – not launch playground attacks on other politicians.
– Andrew RT Davies, leader of the Opposition

Meanwhile Shadow Education Minister Angela Burns said it's been Labour which has presided over school closures.
We have long campaigned for direct funding of schools in Wales - empowering teachers, boosting morale, cutting unwanted Labour bureaucracy, and investing in schools.

Keith Davies unashamedly fails to mention his own party's cuts to the education budget – and the numerous school closures driven through by Labour.

Perhaps he can tell us how many teaching jobs Labour has cut in the last ten years?
– Angela Burns AM, Shadow Education Minister
Welsh Tory education plans row
Conservative spending priorities would have led to nearly 10,000 teachers losing their jobs, according to a Labour AM. Welsh Tories have repeatedly said they would have protected health spending since the 2011 Welsh election and have acknowledged that other departments would have seen bigger cuts.
Labour's calculated its figure based on a 12% cut to education set out in the Welsh Conservatives' alternative budget for the 2011 election. It says analysis by the Assembly Members' Research Service shows that level of reduction would be the equivalent of 9,757 full time teachers' jobs.
Llanelli AM Keith Davies said it would have been 'catastrophic' for the education system:
Either the Welsh Conservatives are playing politics, as they know full well there is more chance of Andrew RT Davies winning Mastermind than becoming First Minister of Wales, or they are deadly serious about savaging teaching staff numbers so ruthlessly that we'd face classes of 50 or 60 pupils.

We are all fully aware of the grim financial situation that frontline services face in Wales because of David Cameron's vicious austerity programme, but to concentrate cuts on education on such a scale would bring the school system to its knees.
– Keith Davies AM, Labour
Load more updates
Back to top