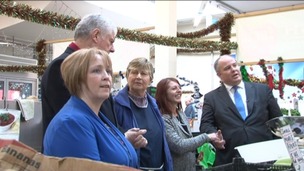 Conservative Assembly members visit Swansea Market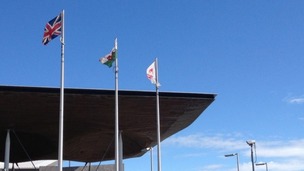 Opposition leader sets out his thoughts on some of the problems thrown up by the debate over changing the way Wales is run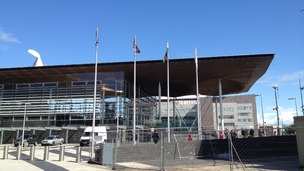 The Welsh Conservative leader in Cardiff Bay has called for the National Assembly to be renamed the Welsh Parliament
Live updates
Ahead of his major speech on reforming the relationships between the trades unions and Labour, party leader Ed Miliband wrote to party members. One surprised recipient of the email was Welsh Conservative leader, Andrew RT Davies.
He was particularly pleased by the Labour leader's opening comments:
Andrew,

Before I give my speech on Party reform this morning, I wanted you to be the first to know what I'm going to say.
A Welsh Conservative source says 'nice of Ed to contact Andrew first.'
Reshuffle after Andrews resigns
Opposition leader Andrew RT Davies has claimed that Leighton Andrews had to resign after first campaigning against a reduction in services at the Royal Glamorgan Hospital and then urging Rhondda Cynon Taff Council to look again at plans to close a school in his constituency.
After the failure of Carwyn Jones to endorse his Education Minister's position during my questions to him today, it was inevitable that he had to go. The actions of the Education Minister - both over the Royal Glamorgan Hospital and now school closures - called into question not only the Education Minister's judgement, but that of the First Minister himself.
– Leader of the Opposition Andrew RT Davies AM

Plaid Cymru's education spokesperson Simon Thomas had already called for the Education Minister to lose his role in deciding appeals against school closures on the grounds he had damaged his impartiality.
The Education Minister's long-held position on school surplus places has been undermined by his actions and this undermines the Welsh Government as a whole. [His resignation] is the correct decision to take when collective cabinet responsibility has been abdicated and you find yourself arguing against your own policies.
– Plaid Cymru Education Spokesperson Simon Thomas AM
Advertisement
Plaid's ex-leader quits Assembly
Opposition leader Andrew RT Davies has joined tributes to the former leader of Plaid Cymru, Ieuan Wyn Jones, who's announced he'll be stepping down from the Assembly.
Ieuan has always been an effective Assembly Member and I applaud his many years of public service.

His time in Welsh politics has been unique. While serving as both a Member of Parliament and Member of the National Assembly, he has also taken his Party into government and served as Deputy First Minister.

It is fitting that this experience will be put to excellent use at the Menai Science Park.

While Ieuan and I may hold different opinions politically, I wish him well in his important endeavours to increase opportunities for the people of North Wales
– Andrew RT Davies, leader of the Opposition
Health shake-up announced
The Education Minister should consider his position in the cabinet because of his involvement in a campaign on A&E services in South Wales, according to the leader of the Opposition. But Welsh Conservative leader Andrew RT Davies stopped short of saying that Leighton Andrews SHOULD resign.
His comments follow the revelation that Labour politicians fighting to protect services at the Royal Glamorgan hospital in Llantrisant had been told not to use the party's name in the campaign. As Rhondda AM, Leighton Andrews, is the most prominent of those involved in the campaign.
The First Minister insists that Mr Andrews has not overstepped the mark in his involvement but Andrew RT Davies says the Education Minister should consider whether or not he can continue to battle for his constituents' interests whilst remaining in the cabinet.
From what I understand it would be quite difficult for him to continue in the cabinet given what he's said over the first two weeks of this campaign.
– Andrew RT Davies, leader of the Opposition
Opposition leader Andrew RT Davies has hit back at accusations of 'dodgy maths' levelled at him by a Labour AM Ken Skates. Mr Davies said figures he used to criticise Welsh Government spending on the NHS were accurate.
I think Ken Skates may be rather embarrassed to know that the figure of £800 million is an official figure provided by the Members Research Service here in the National Assembly. He would have access to that information in the same way that all of his Assembly colleagues are. Perhaps he might like to check next time.

The specific figure is actually £814.3 million being cut from the NHS in Wales over a period of 5 years. We will continue to campaign against Labour's swingeing cuts and for the proper investment that the health service needs and deserves.
– Andrew RT Davies AM, Leader of the Opposition
Welsh Conservatives in the Assembly have been accused of repeatedly using 'dodgy figures.' Labour AM Ken Skates said the Opposition Leader at first claimed health service cuts amounted to £500m and later said the figure was £800m and listed other wide variations in figures quoted by Tory politicians
It's time Andrew RT Davies and his colleagues went back to school for some lessons in basic arithmetic as his party's figures simply don't add up.

How the Tory Group leader can somehow magic up an extra £300 million worth of NHS cuts in just a couple of months simply beggars belief.
– Ken Skates AM, Labour
Advertisement
Opposition leader Andrew RT Davies will speak to Scottish Conservatives at their conference in Stirling later. He'll use his speech to highlight the benefits to Wales and Scotland of being part of the United Kingdom.
He's expected to acknowledge that there has been hostility to devolution in the party in both countries but will argue that devolution suits Conservative values.
We must be honest with ourselves. Devolution has not been a universally popular process in the Conservative Party. We know it has not been a process that we have universally embraced, but time has shown that people want locally made decisions. Conservatives want locally made decisions. But we have dusted ourselves off and we have changed. I believe that is a good thing.

Devolution is not left wing or separatist, but it won't be Conservative unless we make it so.
– Andrew RT Davies, leader of the Opposition

And to back up that claim he's expected to tell the Scottish Tories that recent policy launches by his group here in Wales show how a centre-right agenda can be promoted in a devolved context:
Over the past few months, my team and I in the Assembly have set our face to the task of doing Conservative things with devolution – and what a refreshing change it's been. Whilst other parties have been determined to speak of nothing other than the constitution, the Welsh Conservatives have been setting out tax cutting agendas, small business financing schemes, even the privatisation of an airport. Conservative policies in a devolved setting, putting our values at the heart of everything we do: Localism, individual empowerment and economic liberty.
– Andrew RT Davies, leader of the Opposition
Health shake-up announced
Pontypridd AM Mick Antoniw has hit back at the Welsh Conservative leader Andrew RT Davies who's questioned why the campaign name 'Labour4RoyalGlam' was registered online four days before an official announcement.
I find it quite sad. We all knew from the engagement process that the Royal Glamorgan may have been involved and there was speculation in the media that it would be affected so we prepared for the possibility.
– Mick Antoniw AM, Labour

As for the decision to close facebook and twitter pages for the 'Labour4RoyalGlam' campaign, Mr Antoniw said:
It's clear that people on the ground didn't want it to be a party political issue, so we changed the name to Campaign 4 Royal Glam so that it could be cross-party.
– Mick Antoniw AM, Labour
Welsh Govt progress report
Welsh Conservatives have updated their own alternative programme for government, saying that if they'd won the election in May 2011, a Conservative Welsh Government would have delivered the following:
Ring-fenced the health budget to safeguard NHS services
Abolished business rates for small businesses
Directly funded schools to deliver more money to the classroom
Introduced an Armed Forces Card to recognise the sacrifices of our troops
Set up a Cancer Drugs Fund to end the postcode lottery
Introduced a Welsh Language Charter Mark to reward excellence in Welsh language provision
Opposition leader Andrew RT Davies said
In contrast to Carwyn Jones' lazy Labour Government, Welsh Conservatives went into the last election with a clear vision and package of measures to improve our public services and get our economy moving.

"We remain the only party committed to ringfencing the health budget and would have protected the NHS from Labour's £800million cuts, which are now threatening to downgrade A&E services.
– Andrew RT Davies, leader of the Opposition

He admitted that his party's alternative plan would have meant cuts in other areas and that schemes such as free breakfasts and prescriptions were likely to have ended or been reduced. But he insisted his alternative list shows 'what a difference a Conservative Welsh Government would have made.'
Welsh Govt progress report
Ahead of the publication of the Welsh Government's progress report on its Programme of Government, the Leader of the Opposition in the Assembly, Andrew RT Davies says,
After 14 years of successive Labour Governments, educational standards are in decline, A&E units are facing closure and the Welsh economy remains the poorest in the UK. Unfortunately, Carwyn Jones' lazy Labour Government has spent most of the past three years whingeing and acting as an opposition to the UK Government rather than delivering on its manifesto promises to the people of Wales. Instead of engaging in self-congratulatory pats on the back, Welsh Labour Ministers should get on with their jobs.
– Andrew RT Davies AM, Leader of the Opposition
Load more updates
Back to top