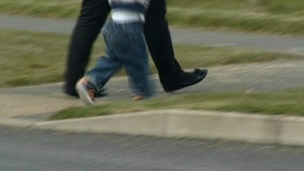 A community in Llangefni says it faces a postcode lottery for nursery spaces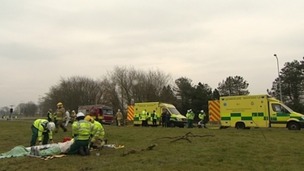 The exercise was carried out to test emergency procedures in the event of an accident involving radioactive materials.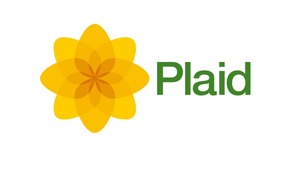 Plaid Cymru's spring conference gets underway on Anglesey with a promise to focus on 'transforming the economy'
Live updates
Anglesey council deal struck
Anglesey Independents must prove themselves - Plaid
Plaid Cymru is the largest political party on Anglesey council and had hoped to form a coalition to lead the authority. The island's AM, Ieuan Wyn Jones, and Plaid's council leader Bob Parry have issued a joint statement.
We are naturally disappointed that Labour has decided to form a coalition as the junior partner with the independents, something they said during the election that they would not do.

However, we now wish the new administration well. They will be judged by their performance with regards to care services, education, services for the elderly and vulnerable and other vital services provided on a local level.
The Plaid Cymru group on the council will play its part in ensuring that the people of Anglesey have a responsible opposition. We will hold the new administration to account and the electorate can be sure that we will always seek to ensure the best for the people of the island.

Our view is that Anglesey needs a stable administration to ensure that the island retains its own identity as a separate council. The independent-led administration needs to demonstrate that it is up to the task, something previous independent groups have failed to do.
Anglesey council deal struck
Anglesey deal to deliver stability - Labour
The leader of Labour's three councillors on Anglesey council, says the deal reached with Independent councillors to run the authority 'will provide stability' for the island. Arwel Roberts said:
Last week's local elections gave us the chance of a new beginning. Every single person elected last week owes it to the people of Ynys Mon to work to secure an administration that will provide stability and deliver for our people. That is exactly what we have done.This partnership will deliver the stability we need, offering a clear majority for the administration. It will also put jobs and investment in the Island at the very heart of all that we do. The priority of Labour councillors will be to secure continued progress on 'Wylfa B'- jobs and training opportunities for our young people.
Now is the time for all parties to put the damaging politicking of the past behind us, and work to deliver stability, and a future that the people of Ynys Mon can be proud of. Regardless of whether they are part of the administration or not, the doors of Labour Cabinet members will be open to all councillors who want to be part of a constructive future for the island.
– Cllr Arwel Roberts, Labour group leader
Advertisement
Anglesey council deal struck
Minister wishes new Anglesey leaders well
The Local Government Minister Lesley Griffiths has issued a short statement following the news that Independent and Labour councillors have reached a deal to form an administration on Anglesey.
I hope last week's elections will now prove to be a turning point - the people of Anglesey deserve no less. I wish the new leadership of the council well in their task to deliver stable, transparent and accountable local government on the island, in the years ahead.
– Lesley Griffiths AM, Local Government Minister
Anglesey council deal struck
Labour confirms Anglesey deal
Welsh Labour sources have confirmed that its councillors on Anglesey have reached a deal to form an administration with Independent members. The deal was approved by the party's governing body, the National Executive Committee.
Anglesey council deal struck
Reports: Independent-Labour deal reached on Anglesey
It's reported that Anglesey's three Labour councillors have reached an agreement with the Independents to form a new administration after last week's elections. The deal excludes Plaid Cymru, which has 12 councillors and is the party with the most seats, though outnumbered by the 14 independents.
The independents have not always acted as a single group and their disagreements were blamed by the Welsh Government when it took control of the council away from the elected members and imposed commissioners to run local services on the island.
Ministers will have to decide whether there is now a stable administration to take back control of the county council. The Welsh Labour Executive also has to decide whether to ratify any coalition agreement involving the party's councillors.
Anglesey council deal struck
Anglesey coalition talks: Labour councillors need Welsh party's backing
Any deal involving Labour councillors sharing power on Anglesey would need the approval of the party's Welsh executive. It's now thought unlikely that talks with the Independent councillors will conclude today.
Advertisement
Anglesey council deal struck
Anglesey: Reports of Labour deal with Independents
There are reports that Labour councillors are close to a deal with Independent councillors to run Anglesey council following last week's inconclusive election result. It's thought an agreement could be announced as soon as lunchtime.
Such a deal would be a blow for Plaid Cymru. It's the largest party but without enough seats to rule alone. And the Labour councillors can expect face heavy criticism for supporting the return of rule by the independents, who were blamed by the Welsh Government for the authority's difficulties.
Ministers must decide if the leadership of the new council is stable enough to take over from the commissioners sent in to sort out Anglesey's problems. The reported deal would involve the three Labour councillors, those Independents who operate as a group and others who act alone.
Anglesey council deal struck
Plaid Cymru hoping to 'build' Anglesey coalition with Labour
Plaid Cymru councillors on Anglesey are 'trying to build a coalition' based on a partnership with Labour members, according to a leading party figure. But Simon Thomas AM said voters on the island deserve 'clear party vision' for the authority.
Last week's election left the council with no overall party or group in control. Even if Plaid and Labour reach an agreement, they'll still only control half of the council's seats. But Mr Thomas said his party is 'interested in leading a coalition.'
Other party figures have ruled out working with Independent councillors in any administration.
Anglesey council deal struck
'I've always seen UKIP as a threat' - Welsh Tory leader
Opposition leader Andrew RT Davies says he's 'always taken UKIP as a threat' and treated it as seriously as any other political competitor. He was speaking after the Welsh Conservatives ended up behind UKIP in last week's Anglesey council election.
UKIP's success in council elections in England last week has sparked intense debate within the Tory party with some amongst the leadership accused of not taking the UKIP challenge seriously.
Andrew RT Davies said he always had done so, adding that 'any party ... if they're on the ballot paper has the potential to take the vote from you. I take every candidate seriously.' Two successive ITV Wales polls have suggested UKIP could make gains from the Welsh Conservatives in Assembly votes.
Anglesey council deal struck
Lib Dem leader on Anglesey coalition talks
Welsh Liberal Democrat leader Kirsty Williams refused to say which political group or groups her party's sole councillor on Anglesey is in coalition talks with. No party has overall control of the council following last week's election.
Asked if the Lib Dem councillor Aled Morris-Jones was negotiating with Independent councillors, Kirsty Williams would only say that Mr Morris-Jones is 'keen to use whatever influence he has to benefit the people of the island.'
Load more updates
Back to top