Police are appealing for information after a man tried to grab a bag off a cyclist.
Police say the incident happened at Woodland Avenue in Pencoed near Bridgend at 7.40pm on Tuesday 6th October.
The 39-year-old male victim reported being approached by the suspect who tried to grab a bag from him.
The suspect is described as being male, white, aged 20, of slim build, wearing dark clothing.
The victim was cycling from Woodland Avenue through a lane towards Maes y Wern when the incident happened. The suspect ran off in the direction of Hendre Road.
Motor giant Ford will invest £181m to produce a new generation of engines at its factory in Bridgend, safeguarding 750 skilled jobs.
Production of the new technologically-advanced fuel-efficient petrol engines is due to start in late 2018.
The Welsh Government has contributed £14.67m investment, and says it is "delighted" with the deal.
Ford's decision to manufacture its new innovative engine here in Wales is a tribute to the reputation of the local management team and the quality and loyalty of the Welsh workforce and will safeguard more than 750 skilled Welsh jobs for many years.
– Edwina Hart, Welsh Economy Minister
Advertisement
Police say they have found and destroyed a 'drugs den' built in woods near a school.
Police made the discovery in Brackla, Bridgend near Archdeacon School.
The structure – which had a 'dealing table' carved into the trunk of a fallen tree – has now been dismantled. It's believed cannabis was dealt and sold there.
This news has been welcomed by those who helped to raise the alarm and I am in no doubt it will reassure others in the area.

It just goes to show how important the community are in tackling local drug problems.
– Inspector Richard Weber
South Wales Fire and Rescue says it's dealing with a blaze at Ogmore-by-Sea near Bridgend.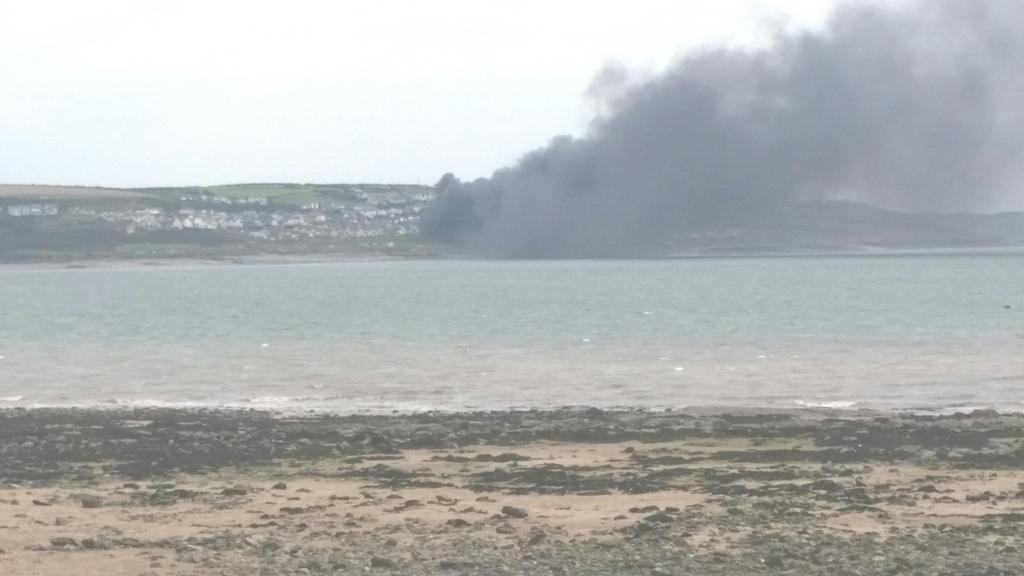 The fire service says it is tackling the blaze at two detached properties. Crews were called at around 1350 and there are five engines currently at the scene.
The family of a little girl with no kidneys, who is spending her eighth birthday in hospital, asked people to send her hundreds of cards.
Read the full story ›
Today is little Summer Kansiray's eighth birthday. But while most children her age would be opening presents and having a party, Summer will be spending the day in hospital.
The youngster, from Ogmore Vale, had a rare form of cancer when she was fourteen months old which meant both kidneys had to be removed. Summer received a transplant in 2012, but for the last six months her body started to reject the kidneys, meaning they had to be removed and Summer is now reliant on full dialysis.
Summer told her parents that all she wanted for her birthday was a lot of cards to open from her hospital bed.
Her parents made an appeal to see how many they could get delivered to her for her big day. Happy Birthday Summer!
Advertisement
The family of a little girl who will spend her eighth birthday in hospital is asking people to send her cards to mark her special day.
Read the full story ›
A woman who lost 10 babies in as many years has thanked the hospital staff who helped her to become a mother at last.
Read the full story ›
Police in Bridgend are appealing for information after a man and woman were victims of an unprovoked attack as they walked along Brackla Way.
Police say the pair were assaulted by two men who approached them from behind and hit them to the ground. The attacked happened on Sunday afternoon and the pair were left with cuts and bruises.
One suspect is described as being aged between 17 and 19 , 6ft tall and was wearing a green top and jeans. The other was around 5ft 7 with a thin build and wearing a grey tracksuit.
Anyone with information about the incident is urged to contact South Wales Police.
Falling milk and lamb prices have prompted hundreds of farmers to demonstrate outside retailers' depots and supermarkets.
Read the full story ›
Load more updates