Tomorrow night, it's the final of Britain's Got Talent Series 8 - and, once again, an act from Port Talbot is in the running for glory.
Leondre Devries, 13, is one half of rapping duo Bars and Melody, and the latest in a string of Port Talbot-born stars to make it big.
This report contains pictures from Syco / FremantleMedia
13-year-old rapper Leondre Devries from Port Talbot is one half of Bars and Melody - the favourites to win the final of Britain's Got Talent 2014.
Here you can watch him - before he was famous - rapping and speaking to ITV Wales back in November 2012:
He and his brother Joseph were launching a campaign to fight bullying - and Leondre told our Correspondent Carl Edwards: "I just want to use my words and power to target bullying and stop it - that's my target."
Leondre and his friend Charlie Lenehan, from Bristol, wowed the judges in their first audition on the ITV talent show this year, with Leondre rapping about his experiences of bullying, and earning a golden buzzer from Simon Cowell.
That performance has now been watched 30 million times on YouTube.
Advertisement
Bars and Melody member Leondre Devries, who is from Port Talbot, told ITV News the town is "a good environment" to grow up in, and praised it as a "friendly" place.
The pair will now compete in the final of this year's Britain's Got Talent after going through in last night's semi-final.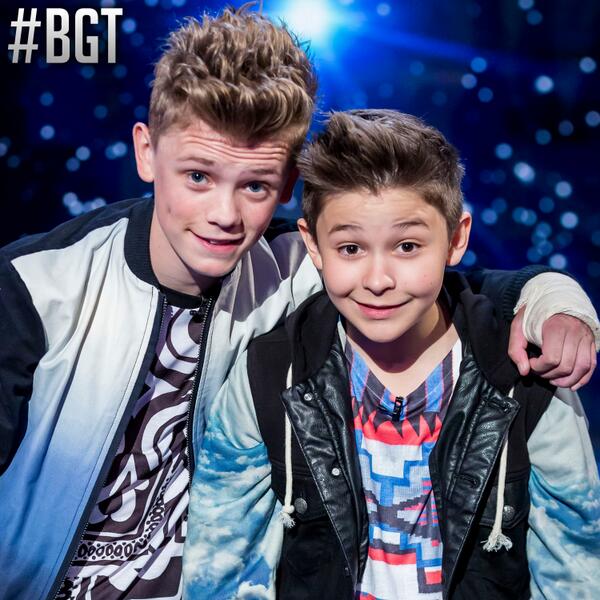 On Twitter, the duo thanked fans for their support.
"WE are so proud of you...thank you so much" they wrote.
Rapping teenagers Bars and Melody are celebrating after a YouTube video of their latest performance on Britain's Got Talent hit one million views.
Charlie Lenehan and Leondre Devries, from Port Talbot, tweeted: 'One million views! Thanks to everyone who has been retweeting and favouriting... love you all!'
They went straight through to the live semi-finals after Simon Cowell pressed his Golden Buzzer, selecting them as his star performance.
Simon described them as "really great kids", adding: "I like the fact that they wrote their own song based on life experiences.
"People are going to root for them and they've got this great friendship that is so obvious when you watch them together."
Singers Richard and Adam Johnson from Holywell in Flintshire started the year turning up to a Britain's Got Talent audition just on the off chance.
Since they finished third, they have topped the album charts for four weeks - and now they've got their eye on topping the christmas charts too.
But today they were bit closer to home, as they switched on the Christmas lights of Holywell. Our own Rob Shelley was there to meet them.
Advertisement
Paul Potts, winner of the first series of Britain's Got Talent, is releasing his greatest hits album. Paul from Bridgend won in 2007, with a performance of Puccini's Nessun Dorma.
The tenor, who used to manage a phone store released the album 'One Chance' after the show and it soared to number one in thirteen countries. In recognition of Potts' meteoric 'rags to riches' rise to fame, his life story has now been turned in to a movie, starring James Corden.
Catch up with Paul this evening when he joins us in the studio on ITV Cymru Wales at 1800 on ITV1.
A film about the life of Port Talbot opera singer Paul Potts will be shown in cinemas from today.
One Chance is described as a 'rags-to-riches tale' of a mobile phone salesman who won the ITV show Britain's Got Talent.
James Corden plays Potts, with Julie Walters as his mother.
Many scenes were filmed in Port Talbot, where Potts grew up and still lives.
He was working in a mobile phone shop in Bridgend, when he auditioned for Britain's Got Talent in 2007.
He stunned the judges with a performance of Nessun Dorma, and went on to win the first series of the ITV talent show.
He has since had been sang all over the world, and released several albums.
This report contains pictures from The Weinstein Company, and from Syco / FreemantleMedia
A film about the life of Paul Potts has its UK premiere in London this evening.
The opera signer from Port Talbot was the first winner of ITV's Britain's Got Talent.
James Corden plays Paul on his remarkable rise to fame - from a mobile phone salesman, to a world famous singer.
The film One Chance will be out in cinemas from 25 October.
Load more updates