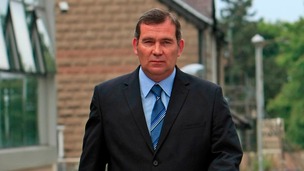 The judge criticised the Welsh Government's approval of charity funds as "frankly astounding"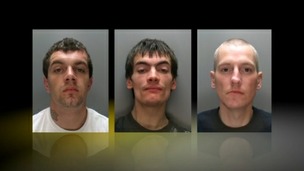 Three Bangor men are jailed after being convicted of a robbery in which they carried imitation firearms and attacked a man in his own home.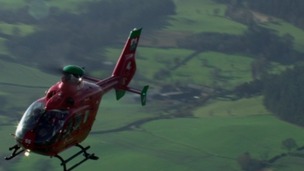 The two Welsh air ambulances grounded following the discovery of cracks in rotor blades of the same model type get the all clear
Live updates
Ex-soldier jailed for charity fraud
A man who defrauded Conwy Council out of £125,000 has been sentenced to three years in prison. Christopher O'Neill set up a charity for North Wales war veterans called Forces for Good, then spent money he obtained for the project on his own lavish lifestyle, and a gambling habit.
Sentencing O'Neill at Caernarfon Crown Court this morning, Judge Niclas Parry said his crime was nothing other than "a sophisticated, high value scam, a wicked deception on the public purse to enrich yourself."
He said it was "frankly astounding" that the Welsh Government approved O'Neill's project without checking basic facts, adding that the case highlighted the importance of making checks when approving grants out of the public purse.A forfeiture and destruction order was also made on O'Neill's goods.
Ex-soldier jailed for charity fraud
Conwy County Borough Council say that no budgets were affected by the loss of £125,000 in the fraud by an ex-serviceman.
In a statement following the sentencing of Christopher O'Neill the council said the circumstances had "been fully investigated through a rigorous internal audit" and that their external auditors had "carried out a thorough review of arrangements for managing grants."
Conwy County Borough Council is extremely disappointed that it was amongst the victims of this despicable fraud.

The Council and its partner agencies aimed to assist former members of the armed forces who required particular help via the establishment of the Hotel Project.

When assurances sought from O'Neill were not forthcoming, it was Conwy County Borough Council that formally referred the matter to North Wales Police, and the Council's Head of Audit was due to give evidence at the trial.
– Conwy County Borough Council Statement
Advertisement
Ex-soldier jailed for charity fraud
A man accused of defrauding a charity set up to help ex-service people has been sentenced to 3 years in prison. Christopher O'Neill pleaded guilty to two charges of fraud at an earlier hearing in January.
He was accused abusing his position at the charity "Forces for Good" by transferring £74,800 from its bank account in to his own. He was also accused of drawing on the funds to pay costs incurred by him during stays in hotels and guesthouses to the sum of £6,500.
Ex-soldier jailed for charity fraud
A man accused of defrauding a charity set up to help ex-service people is due to be sentenced later today.
Christopher O'Neill admitted to two fraud charges in January.
He was given a grant of £125,000 from the Welsh Government for his charity 'Forces for Good'. At a previous hearing it was alleged that he went on a spending spree gambling heavily, running up hotel bills and buying a speedboat before being caught by North Wales Police.
A windsurfer was winched aboard an RAF helicopter in a Force 8 gale this afternoon as he was drifting out to sea.
The incident happened at the entrance to the Menai Strait north west of Caernarfon and the man, in his twenties and from the south of England, was clinging to his board.
Beaumaris lifeboat was also launched. The man was unharmed and was given a hot cup of tea to recover after being landed ashore by the helicopter, based at Valley in Anglesey.
Earthquake felt in North Wales
The British Geological Survey says there was an earthquake in North Wales last night.
It had a magnitude of 2.3 and struck at 10:41pm.
It was felt in Caernarfon, Anglesey, Porthmadog and Bangor...
Advertisement
North Wales Police are appealing for information after three Terrapins were stolen from an address in Caernarfon.
The theft took place sometime between 1.00pm and 5.00pm on Saturday 26th January from an address in the town. In addition to the three Terrapins an aquatic tank was also stolen and with such distinctive and usual reptiles being stolen I am sure some one in the community may have some information so we can ensure their safe return to a very concerned owner.
– PC Claire Robers, Investigating Officer at Caernarfon Police Station

Anyone with information is being urged to contact North Wales Police on 101.
From understudy to star...
There aren't many understudies who prove to be so good they end up taking the lead - and storming the West End's stages. But that's exactly what happened to actor Owain Arthur from Rhiwlas near Bangor.
He's brought the play that put his name in lights from London back home to Wales. Rob Shelley went to see him backstage.
From understudy to star...
After being an understudy in hit West End play 'One Man Two Guvnors', taking over the main part from James Corden was a dream for Owain Arthur.
"It's a fairytale, it really is" he says.
"It doesn't happen often... only in fairytales. I'm very lucky and very grateful for what I've got!"
From understudy to star...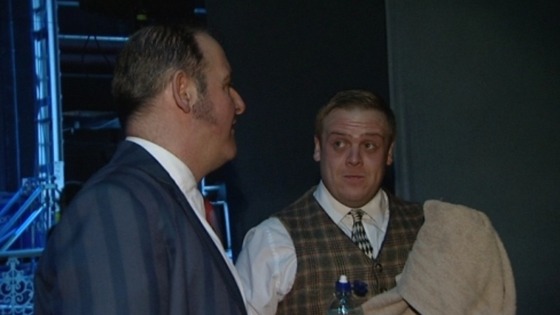 A former understudy who became a West End star has been performing for audiences at home in North Wales.
Owain Arthur, from Rhiwlas near Bangor, now has the lead role in the play 'One Man Two Guvnors' - which is on tour in Llandudno this week.
Load more updates
Back to top