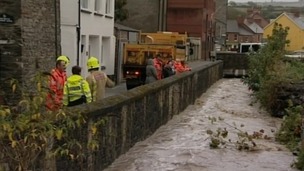 Residents remain on alert while the cleanup continues in parts of West Wales affected by yesterday's floods.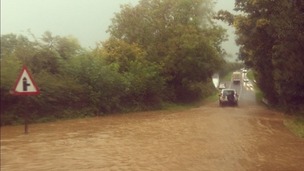 Homes and businesses are being pumped clear after flash floods left several properties under water.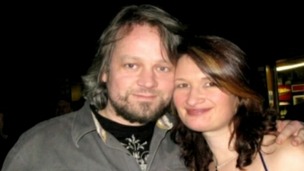 The partner of missing man Owain Roberts has made an emotional appeal for help in tracing him.
Live updates
Flooding in South & West Wales
Fire crews pumping properties out in Cardigan
The manager of the Angel Hotel in Cardigan, Ed Reef, says the heavy rain fell for around 45 minutes.
Ed Reef says that the Eagle Inn pub has been evacuated after several feet of rain flooded through the building. He also says that a shop opposite has also been completely flooded.
He also says that Fire crews are currently pumping several properties clear in St Mary Street.
I can see three fire brigades, a response van and police officer and everyone is being forced to go a different way because the road is closed.
– Ed Reef, Manager of Angel Hotel
Flooding in South & West Wales
Fire service dealing with "high demand of calls" in Cardigan
Mid and West Wales Fire Service say they are dealing with a large number of call following flash flooding in the centre of Cardigan. They currently have nine appliance pumping out properties in the Pwllhai, Morgan Street and Castle Street areas of the town.
If you have any pictures or video please get in touch
email on wales@itv.com
tweet @itvwales
via facebook.com/itvnewswales
Advertisement
Flooding in South & West Wales
Heavy rain weather warnings extended
Aberporth received 16 mm of rain in just one hour on Thursday afternoon as a pulse of heavy rain moved eastwards across Wales.
Met Office have extended weather warnings for heavy rain for many parts of Wales until 8pm this evening. Surface water flooding may occur where rain is falling on already saturated ground.
Flooding in South & West Wales
Several properties in Cardigan "under water"
David Pegg who owns Cardigan Windows on Castle Street says he has been forced to close his business due to flooding. He says that several properties are under water and that water is several feet deep at the Eagle Pub.
Fire crews are currently pumping several properties in the area.
Flooding in South & West Wales
Reports of flash flooding in Cardigan
Mid and West Fire Service say that they are dealing with flooding in Cardigan. People in the area have told ITV Wales that flood water is up to knee height in places.
If you have any pictures or video please get in touch
email on wales@itv.com
tweet @itvwales
via facebook.com/itvnewswales
Flooding in South & West Wales
Environment Agency warns of heavy rain
The is warning people across south and mid Wales to prepare for localised flooding following heavy rain today. Environment Agency Wales says that Powys, Vale of Glamorgan, Caerphilly, Blaenau Gwent, Torfaen, Monmouthshire, Newport and Cardiff will be worst affected.
ITV Wales weather presenter James Wright says there will be spells of heavy rain during the rest of the day which could lead to localised problems. He says at this time of this year it only takes a few leaves to cover a drain hole to cause flooding in places.
James Wright says there is some good news for the weekend where there should be some more sunshine on Friday and Saturday, but rain will return on Sunday.
Advertisement
Public encouraged to record dolphin sightings around Wales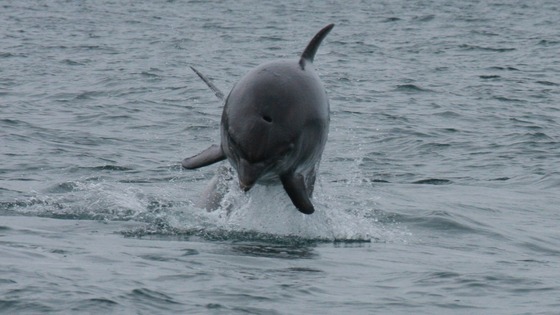 This image of a bottlenose dolphin leaping in Cardigan Bay was captured yesterday by marine environmental charity Sea Watch.
Now researchers are asking people to record any sightings of whales, dolphins and porpoises around Wales as part of the National Whale and Dolphin Watch, which began today.
At 7.31am this morning Sea Watch volunteer Katy Thompson became the first person in the UK to officially record a sighting, spotting three bottlenose dolphins off New Quay pier in West Wales.
Researchers are now hoping for similar sightings - particularly news of some mysterious whales seen feeding recently 17 miles off Point Lynas in Anglesey.
You can record your sightings by visiting the Sea Watch Foundation website.
Revolutionary treatment in America saves nine-year-old boy from Cardigan
When Jack Gow from Cardigan was diagnosed with cancer, he and his family never expected they would have to go to America for treatment.
But nine-year-old Jack was referred by the NHS for a revolutionary new treatment in Oklahoma which uses protons, or tiny parts of atoms, rather than X-Rays to destroy the cancer.
The treatment is a much more precise and controllable way of destroying the cancer cells.
A year after he was first diagnosed, Jack is no longer showing signs of the potentially fatal tumour.
Building grants for public use
New life for Cardigan Castle
£743,345 has been given to breathe new life into Cardigan Castle, which has been run-down in recent years. The money will be spent on exhibitions, shops, a restaurant and education activities.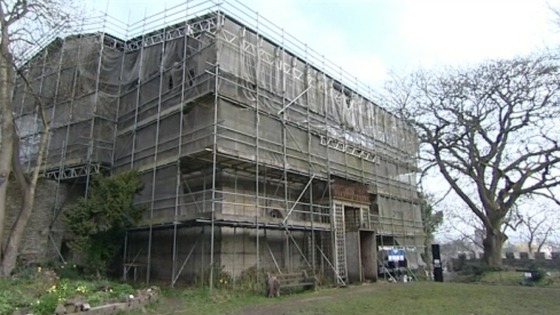 It's the last piece of funding for an £11 million refurbishment of the castle. Jann Tucker, chair of Cadwgan Building Preservation Trust, said: "This award fires the starting gun for what will be the most important development in the town for centuries. It is great news for the castle and the town."
Building grants for public use
Funds to renovate Victorian mansion
The renovation of an old Victorian mansion in Cardiff is on a list of a number of projects receiving investment from the Big Lottery Fund and the Welsh Government.
Insole Court in Llandaff will become a centre for heritage learning and community activity thanks to a grant of £761,724, in a scheme which aims to transfer assets from the public sector to community ownership.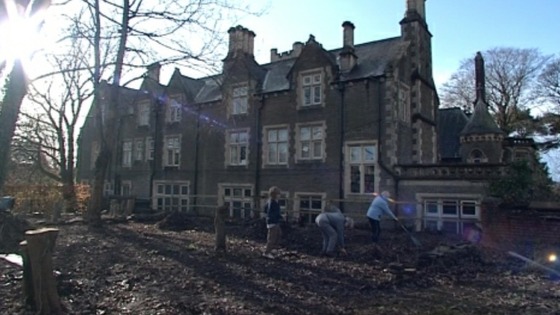 Mike Theodoulou, Chairman of the Community Asset Transfer Committee, says: "This programme is helping Welsh communities to become stronger and more sustainable by assisting them to actively develop where they live."
Around £4 million is being granted to community groups around Wales in total.
Load more updates
Back to top