Advertisement
In his speech to the Welsh Labour conference, First Minister Carwyn Jones announced that the Welsh Government is creating a new Entrepreneurship Support scheme to encourage new businesses and jobs. It will be partly financed with European Union aid.
Wales isn't just a great place to come and do business, it is a great place to grow your own business. And it is about to get better. Today I am pleased to announce the creation of a new £40 million Entrepreneurship Support scheme for Wales - this will support 10,000 new enterprises, and create over 17,000 new jobs over the next five years.
– First Minister Carwyn Jones AM
The Welsh Conservatives have hit back at criticism from First Minister Carwyn Jones at Welsh Labour's Conference in Swansea.
Welsh Conservative leader Andrew RT Davies said it was "more empty rhetoric from Labour's First Minister of broken promises. In a week when Carwyn Jones talked of 'juvenile politics', Welsh communities will rightly see through his hypocrisy."
This is the Welsh Labour leader who said his party took its eye off the ball on education. This is the Welsh Labour leader who runs the only UK health service where funding is falling. Like a scratched record, he repeats the same promises, yet delivers on none. Welsh Conservatives are the only alternative to a lazy Labour government that has run out of ideas.
– Andrew RT Davies, Welsh Conservative leader
The Welsh Labour Conference has got underway at the Brangwyn Hall in Swansea, with a speech from First Minister Carwyn Jones.
He said the Conservatives' criticisms of public services here shows they "have given up on Wales".
He reiterated his calls that Wales should be offered the same devolved powers as Scotland.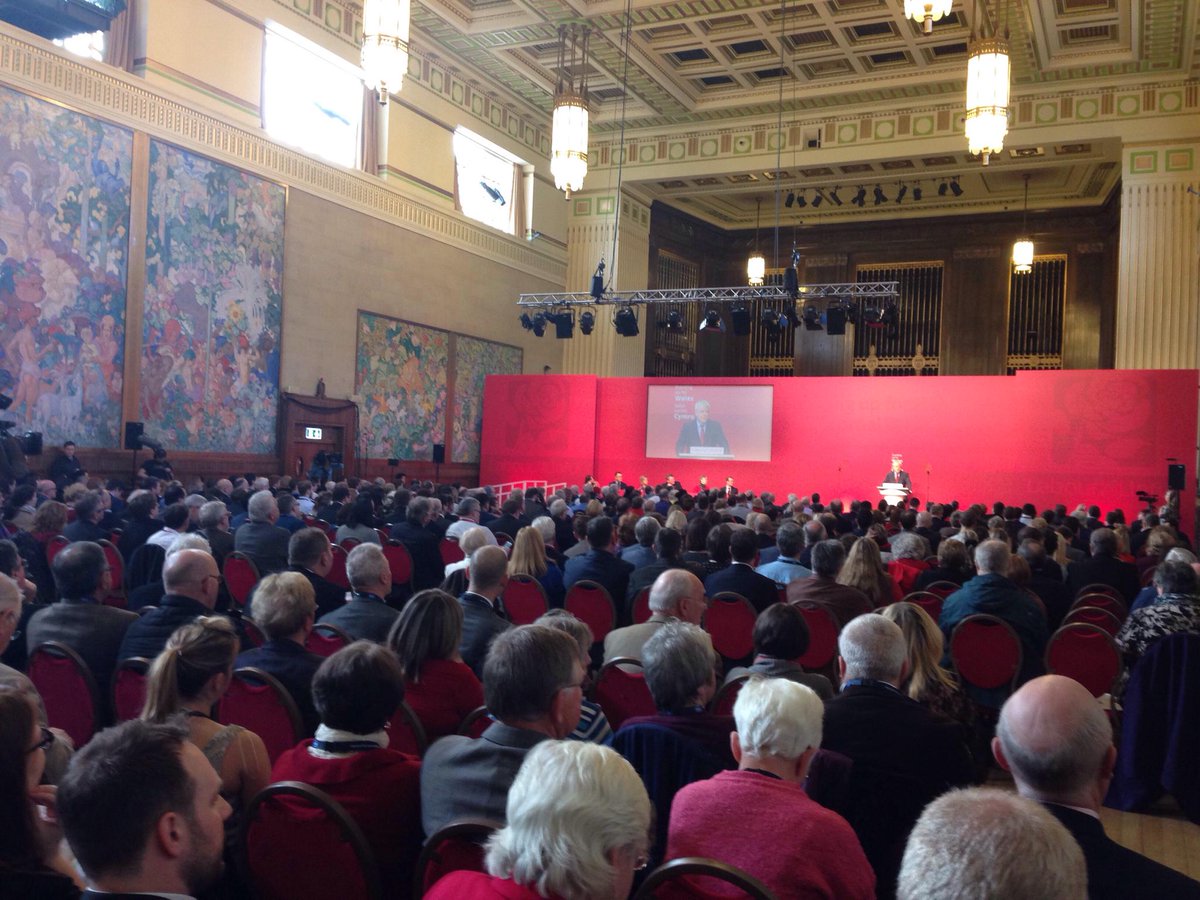 No concern about naming UKIP at Welsh Labour conference: First Minister Carwyn Jones takes them on directly.
First Minister: the Tories have given up on Wales; that's why they've decided to target Wales, denigrate NHS.
FM:what's on offer to Scotland shd be on offer to Wales; no reason why Wales shd be treated differently & we in Labour sh: never forget that
Labour leader Ed Miliband is due to speak in Swansea this afternoon.
Labour leader Ed Miliband will today tell the Welsh Labour Conference that his party will "govern without fear or favour" so that the same rules apply to the richest and most powerful as to everyone else.
In his speech in Swansea, he will return to his attacks on the boss of Boots for being a tax exile and on a Conservative peer's use of a Swiss bank account.
Two weeks ago, the British people were being told how to vote by a billionaire who doesn't even pay tax in the United Kingdom and has moved the HQ of his company, Boots, from Nottingham to Switzerland.

This week, there were a series of revelations over industrial scale tax avoidance at HSBC in Switzerland which this government had known about even when it appointed its chairman as a trade minister.

And then just on Thursday the man appointed to be Treasurer of the Conservative Party first threatened to sue me for saying he was a tax avoider then announced that 'everyone is a tax avoider' and he was just guilty of 'vanilla tax avoidance'.

But in fact, this isn't really about Lord Fink, Stefano Pessina, David Cameron or me.

It is about something bigger and deeper about our economy, our society and kind of country we want to live in.

But in Britain today we risk having one rule for the rich and powerful and another for everybody else.
– Labour Leader Ed Miliband MP
The conference will also hear the Labour's leader in Wales, First Minister Carwyn Jones. He'll claim that his "active, positive and interventionist government" has shown what the party can do, even in tough times. He is also expected to announce a new scheme aimed at Welsh entrepreneurs.
Advertisement
Major new powers for the Scottish Government and Parliament will be spelt out today. They're the result of the "vow" made by David Cameron, Ed Miliband and Nick Clegg in the final days of the Scottish independence referendum campaign, as they sought to save the UK at a time when polls were suggesting that Scots might vote to leave the union.
The three leaders committed their parties to enacting the new powers after the Westminster election but they also promised to publish the details of the legislation before Burns Night, on 25 January. Welsh First Minister Carwyn Jones has called for Wales to be offered the same powers and the UK Government is aiming to publish a cross party agreement before St David's Day on 1 March.
The Prime Minister will be in Scotland today and will meet the Scottish First Minister, Nicola Sturgeon. The SNP leader has already said that the cross-party agreement for Scotland on which the legislation will be based does not amount to Home Rule. She claims that's what Scots were promised if they voted against independence. Mr Cameron is expected to make a speech challenging her version of events.
"In September the people of Scotland came out in record numbers to decide the future of the United Kingdom. They voted clearly and decisively to keep our family of nations together. But a 'no' vote did not mean 'no change'.

The leaders of the other main political parties and I promised extensive new powers for the Scottish Parliament – a vow – with a clear process and timetable.

We said we'd get cross-party agreement by St. Andrew's Day – and we did. We said draft legislation would be published by Burns Night – and here we are, three days before the celebrations start, with those clauses before us."
– Prime Minister David Cameron MP
The Prime Minister will claim that whoever forms the UK Government after May 7th, these new powers are guaranteed. He'll argue that the Scottish Parliament will determine how 60% of public money is spent in in Scotland and for the first time most of the money spent by the Scottish Government will come from taxes raised in Scotland. The package will include control of part of the welfare state, worth £2.5 billion.
The Welsh Secretary says voters in the Westminster election will think about their economic prospects, not more powers for the Assembly.
Read the full story ›
First Minister Carwyn Jones has been talking about the latest Welsh Political Barometer poll, which shows Labour support for next year's Westminster election down to 36%. Two years ago, the party enjoyed 54% support in Wales.
What I take heart from is the fact that despite being in government for 17 years, despite what we've seen happening unfortunately to our colleagues in Scotland, we remain by far the most popular choice for the people of Wales.
– First Minister Carwyn Jones AM
Carwyn Jones also said that Labour was ready to take the fight to UKIP, which appears to be on course to become a significant force in the Senedd, according to expert analysis of how people said they would vote in an Assembly election.
We are very keen to combat them by emphasising that UKIP is -when they decide what they stand for- very much a party of the right.
– First Minister Carwyn Jones AM
The First Minister says he can't see how his Labour group can support a proposal to increase AMs by nearly £10,000 a year.
Speaking in his position as leader of the Welsh Labour group in the Assembly, Carwyn Jones says...
I was as surprised as anyone at the proposals we have seen come forward. I recognise of course in these difficult times how people will feel about this and I can't see how we could support the proposals as they stand.

However, we should not attack the remuneration board. They are independent of Government and of the National Assembly, and this process was established with cross-party support.

It is now for people to respond to the consultation process - I know that the Labour Group has already aired their concerns about the headline proposals and will be responding formally, to the full report, in due course.
– Carwyn Jones AM, First Minister
Load more updates