But during First Minister's Questions in the Senedd, Carwyn Jones said comments by senior UK Government figures amounted to promises to pay the full bill.
Plaid Cymru leader Leanne Wood has paid a warm tribute to Bob Crow, the union leader who's died at the age of 52. Mr Crow's Rail, Maritime and Transport Workers' Union (RMT) was disaffiliated from the Labour party in 2004 over its support for other political groups.
This very sad news has come as a complete shock. Bob has been a tenacious advocate of the rights of members of the RMT. I've shared a platform with Bob: he has been a good friend to Plaid Cymru, having been a guest speaker at our party conference back in 2003 – the first UK trade union leader to do so.
Bob's emphasis on placing the needs of his members above all else - including and especially party politics - will be sorely missed. We need more like Bob Crow.

He was fearless and would not back down in the face of frequent and unfounded attacks from the 'right.' He was also a firm and vocal opponent of the politics of austerity and was excellent at articulating that there is an alternative to the current, cosy Westminster consensus. He will be deeply missed by all on the left throughout the UK.
– Plaid Cymru Leader Leanne Wood AM
Welsh Labour also issued a tribute on behalf of the First Minister.
Bob Crow was a highly respected trade unionist who tirelessly fought to deliver for his members. The trade union movement has lost one of its most prominent members.
– First Minister Carwyn Jones AM
Advertisement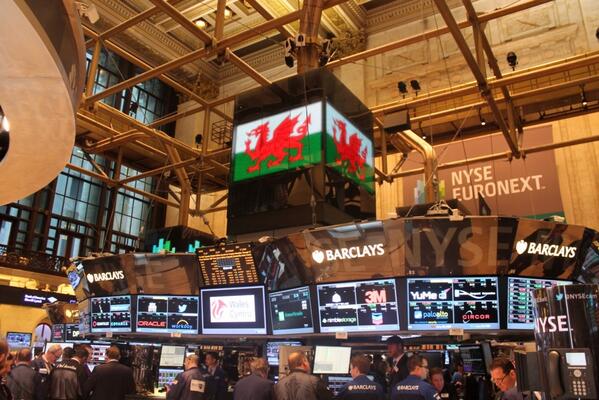 First Minister Carwyn Jones rang the Opening Bell at the New York Stock Exchange on Wall Street today to signal the start of trading.
Mr Jones is visiting the USA to raise the profile of Wales as a business destination.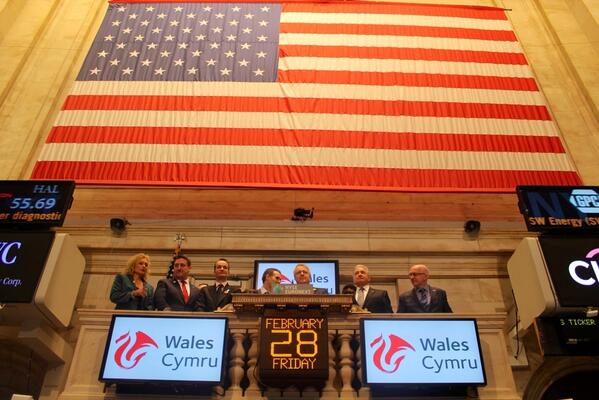 First Minister Carwyn Jones is to travel to the USA in an attempt to raise the profile of Wales.
The Welsh Labour leader will spend three days in Washington, before moving on to New York.
The visit will include the launch of the 'Friends of Wales Caucus', made up of Congressmen and women with Welsh links.
They'll promote Wales in Washington by staging events on Capitol Hill and raising Welsh interest at the heart of US Government.
Mr Jones will also launch a walking tour in New York, celebrating famous Swansea-born writer Dylan Thomas, who reportedly died in the Big Apple after a marathon drinking session.
He's also planning to stage a number of business meetings with key US investors, including Airbus and the CEO of New York Stock Exchange.
First Minister Carwyn Jones is to travel to the USA in an attempt to raise the profile of Wales.
Speaking ahead of his visit he said,
It is the largest single destination for UK exports and is one of the biggest markets for Wales in terms of international trade.

Our programme of trade missions includes six further visits to the USA between now and the end of March 2015 - the first of which will be a delegation of more than 20 companies on a trade mission to San Francisco next month.

We have a clear message - we are a great location for business, with a skilled workforce, access to the European Single Market and a unique package of support.
– Carwyn Jones, First Minister
Carwyn Jones has welcomed the news that the unemployment rate in Wales is now below the UK average.
The First Minister says the latest figures are "clear evidence" for their success of Welsh Government policies.
Unemployment is now lower in Wales than the UK as a whole.

Youth unemployment is also below the UK average, with a dramatic 22.5 per cent reduction in the number of 16-17 year olds without work in Wales over the past 12 months compared to a drop of just 1.2 per cent in the rest of the UK.
These figures are clear evidence that our policies are ensuing our economic recovery is faster and stronger than in the rest of the UK.

The announcement by Pinewood Studios earlier this week shows that Wales is now seen as the default location for quality inward investment projects. We will continue to build on this success and continue to provide practical and effective support to grow businesses in Wales.
– Carwyn Jones, First Minister
Advertisement
The First Minister says a organisation aimed at developing new ideas will give future Welsh Government's a clearer idea of 'what works and what doesn't work.' Carwyn Jones launched Public Policy Institute Wales, based at Cardiff University.
He told our Political Editor Adrian Masters what the team of academics will add to the development of policy that civil servants currently can't provide. And he said the cost of the institute of 'a few hundred thousand pounds a year' offers value for money.
The First Minister Carwyn Jones has been giving his reaction to the publication of the Williams Commission, which has recommended cutting the number of councils here in Wales. He says there needs to be cross-party consensus before any reorganisation.
I'd like to thank Sir Paul Williams and the Commission for their hard work in gathering wide-ranging evidence for this report, including from those who deliver and use public services. This report addresses many issues that are critical at a time when the need for public services is outstripping the resources available to provide them. I have always been clear that the status quo is not an option.
People across Wales rely heavily on the vital services delivered by the public sector every day. Change is inevitable and essential so that our public services can become more efficient, effective, accessible and responsive. I will now take time to consider the report in detail and respond in due course.
– First Minister Carwyn Jones AM
First Minister Carwyn Jones has told ITV News the St David Awards are an important addition to the existing honours system.
Money's very tight at the moment; we've already got an honours system - why do we need the St David Awards as well? Because it's important that we have a system that complements the existing honours.

It's not an enormous cost - but it does mean we can say to people 'thanks for what you've done, thanks for the contribution you've made to Welsh life'.
– First Minister Carwyn Jones
Load more updates