The Welsh Conservatives have hit back at criticism from First Minister Carwyn Jones at Welsh Labour's Conference in Swansea.
Welsh Conservative leader Andrew RT Davies said it was "more empty rhetoric from Labour's First Minister of broken promises. In a week when Carwyn Jones talked of 'juvenile politics', Welsh communities will rightly see through his hypocrisy."
This is the Welsh Labour leader who said his party took its eye off the ball on education. This is the Welsh Labour leader who runs the only UK health service where funding is falling. Like a scratched record, he repeats the same promises, yet delivers on none. Welsh Conservatives are the only alternative to a lazy Labour government that has run out of ideas.
– Andrew RT Davies, Welsh Conservative leader
The Welsh Labour Conference has got underway at the Brangwyn Hall in Swansea, with a speech from First Minister Carwyn Jones.
He said the Conservatives' criticisms of public services here shows they "have given up on Wales".
He reiterated his calls that Wales should be offered the same devolved powers as Scotland.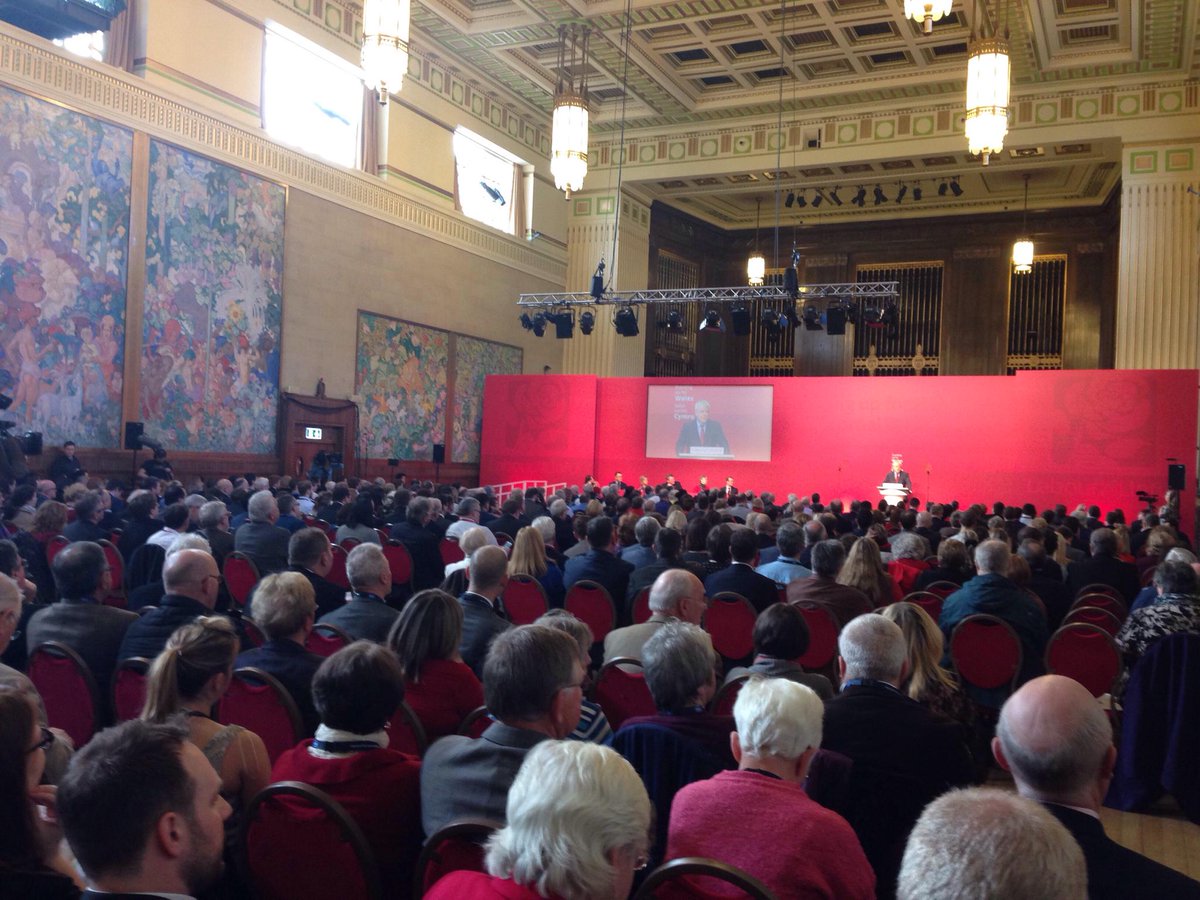 No concern about naming UKIP at Welsh Labour conference: First Minister Carwyn Jones takes them on directly.
First Minister: the Tories have given up on Wales; that's why they've decided to target Wales, denigrate NHS.
FM:what's on offer to Scotland shd be on offer to Wales; no reason why Wales shd be treated differently & we in Labour sh: never forget that
Labour leader Ed Miliband is due to speak in Swansea this afternoon.
Advertisement
Labour leader Ed Miliband will today tell the Welsh Labour Conference that his party will "govern without fear or favour" so that the same rules apply to the richest and most powerful as to everyone else.
In his speech in Swansea, he will return to his attacks on the boss of Boots for being a tax exile and on a Conservative peer's use of a Swiss bank account.
Two weeks ago, the British people were being told how to vote by a billionaire who doesn't even pay tax in the United Kingdom and has moved the HQ of his company, Boots, from Nottingham to Switzerland.

This week, there were a series of revelations over industrial scale tax avoidance at HSBC in Switzerland which this government had known about even when it appointed its chairman as a trade minister.

And then just on Thursday the man appointed to be Treasurer of the Conservative Party first threatened to sue me for saying he was a tax avoider then announced that 'everyone is a tax avoider' and he was just guilty of 'vanilla tax avoidance'.

But in fact, this isn't really about Lord Fink, Stefano Pessina, David Cameron or me.

It is about something bigger and deeper about our economy, our society and kind of country we want to live in.

But in Britain today we risk having one rule for the rich and powerful and another for everybody else.
– Labour Leader Ed Miliband MP
The conference will also hear the Labour's leader in Wales, First Minister Carwyn Jones. He'll claim that his "active, positive and interventionist government" has shown what the party can do, even in tough times. He is also expected to announce a new scheme aimed at Welsh entrepreneurs.
Major new powers for the Scottish Government and Parliament will be spelt out today. They're the result of the "vow" made by David Cameron, Ed Miliband and Nick Clegg in the final days of the Scottish independence referendum campaign, as they sought to save the UK at a time when polls were suggesting that Scots might vote to leave the union.
The three leaders committed their parties to enacting the new powers after the Westminster election but they also promised to publish the details of the legislation before Burns Night, on 25 January. Welsh First Minister Carwyn Jones has called for Wales to be offered the same powers and the UK Government is aiming to publish a cross party agreement before St David's Day on 1 March.
The Prime Minister will be in Scotland today and will meet the Scottish First Minister, Nicola Sturgeon. The SNP leader has already said that the cross-party agreement for Scotland on which the legislation will be based does not amount to Home Rule. She claims that's what Scots were promised if they voted against independence. Mr Cameron is expected to make a speech challenging her version of events.
"In September the people of Scotland came out in record numbers to decide the future of the United Kingdom. They voted clearly and decisively to keep our family of nations together. But a 'no' vote did not mean 'no change'.

The leaders of the other main political parties and I promised extensive new powers for the Scottish Parliament – a vow – with a clear process and timetable.

We said we'd get cross-party agreement by St. Andrew's Day – and we did. We said draft legislation would be published by Burns Night – and here we are, three days before the celebrations start, with those clauses before us."
– Prime Minister David Cameron MP
The Prime Minister will claim that whoever forms the UK Government after May 7th, these new powers are guaranteed. He'll argue that the Scottish Parliament will determine how 60% of public money is spent in in Scotland and for the first time most of the money spent by the Scottish Government will come from taxes raised in Scotland. The package will include control of part of the welfare state, worth £2.5 billion.
The Welsh Secretary says voters in the Westminster election will think about their economic prospects, not more powers for the Assembly.
Read the full story ›
First Minister Carwyn Jones has been talking about the latest Welsh Political Barometer poll, which shows Labour support for next year's Westminster election down to 36%. Two years ago, the party enjoyed 54% support in Wales.
What I take heart from is the fact that despite being in government for 17 years, despite what we've seen happening unfortunately to our colleagues in Scotland, we remain by far the most popular choice for the people of Wales.
– First Minister Carwyn Jones AM
Carwyn Jones also said that Labour was ready to take the fight to UKIP, which appears to be on course to become a significant force in the Senedd, according to expert analysis of how people said they would vote in an Assembly election.
We are very keen to combat them by emphasising that UKIP is -when they decide what they stand for- very much a party of the right.
– First Minister Carwyn Jones AM
Advertisement
The First Minister says he can't see how his Labour group can support a proposal to increase AMs by nearly £10,000 a year.
Speaking in his position as leader of the Welsh Labour group in the Assembly, Carwyn Jones says...
I was as surprised as anyone at the proposals we have seen come forward. I recognise of course in these difficult times how people will feel about this and I can't see how we could support the proposals as they stand.

However, we should not attack the remuneration board. They are independent of Government and of the National Assembly, and this process was established with cross-party support.

It is now for people to respond to the consultation process - I know that the Labour Group has already aired their concerns about the headline proposals and will be responding formally, to the full report, in due course.
– Carwyn Jones AM, First Minister
First Minister Carwyn Jones and Shadow Welsh Secretary Owen Smith are to address the Labour Party Conference in Manchester later.
In his speech, Carwyn Jones will welcome what he sees as the adoption of his call for a Constitutional Convention as Labour Party policy. The First Minister had wanted voices from all parts of the UK to be heard before the referendum in Scotland but he's pleased that his idea has now been taken up by Ed Miliband.
The Labour leader has acknowledged that Carwyn Jones was right and "ahead of the game". Mr Jones will use this speech to argue that it has been wrong all along to try to reform the UK through what he'll call a bilateral conversation between Westminster and Scotland.
After all, David Cameron tried that and was so badly out-witted by Alex Salmond that he almost lost the union. We must honour our promise to refound the UK in a way that ensures the strong identities of our nations are recognised within a common bond of solidarity. I don't want to see anymore panicky responses from David Cameron to placate the Ranting Right in his own party, and the narrow nationalism of Nigel Farage.
– First Minister Carwyn Jones AM
The Shadow Welsh Secretary will also attack David Cameron's wish to link more devolution for Scotland -and potentially for Wales- to a ban on Welsh and Scottish MPs voting on England-only matters at Westminster. Owen Smith will claim that the Prime Minister is making a "shabby attempt" to expolit English desires for less centralisation of power at Westminster.
Instead of some tawdry trick to buy off backbench critics with the Balkanisation of Parliament and the purge of Welsh, Scottish and Irish influence. David Cameron should heed the words of Carwyn Jones and Ed Miliband and call a Constitutional Convention to forge a new Union for Britain. Because we're not going to stand by and let Cameron short-change the Scots or deny power to the people of this city [of Manchester] and others across England. And I'm certainly not going let this, or any other Tory Prime Minister, silence Welsh voices at Westminster
– Shadow Welsh Secretary Owen Smith MP
Mr Smith will also emphasise the importance for lower paid workers in Wales of Labour's proposal to increase the minimum wage. The Labour leadership are determined not to let constitutional questions, however important, stop them getting their economic messages to the electorate. But they know that they have to address both issues. Ed Miliband was particularly struck by meeting a Scottish voter on the minimum wage who couldn't decide whetherer or not to back independence
Carwyn Jones has said it's easy to do business with the new Welsh Secretary, Stephen Crabb. He added that they hope to meet later this week. The First Minister was speaking at an event to win Welsh support for Labour's campaign for a no vote in the Scottish independence referendum.
Laws that will pave the way for the Welsh Government collecting its own taxes and enabling councils to merge into larger local authorities have been announced in the Senedd. The First Minister set out the legislative programme, the principal laws that AMs will be asked to during the next 12 months.
The Welsh Government says its planning bill will "simplify rather than frustrate" development. A public health bill won't be introduced until next summer but could now include minimum pricing for alcohol, following the recent Supreme Court judgement on the extent of the Assembly's powers.
When I announced this Government's ambitious five year legislative programme I set out our plans to address many of the issues the people of Wales care deeply about, such as improving public services despite the difficult financial situation.
We are now halfway through the programme, and while we have already achieved many of our goals, the ten bills I am announcing today continue our commitment, with legislation that will really make a difference to the people of Wales.
This legislative programme also sees us take action on two major areas of reform, putting in place the measures needed for local authority mergers and entering a new phase of the devolution story by preparing for our new tax-raising powers.
– First Minister Carwyn Jones AM
The 10 bills announced today are:
*Planning Bill *to reform and simplify the current planning system
*Qualifications Bill *to establish an independent body for the regulation and quality assurance of non-degree level qualifications
Additional Learning Needs Bill will be the sixth and final education bill of this Assembly

Local Government Bill** will prepare the ground for reforming local authorities in Wales through a series of mergers**
*Renting Homes Bill *to provide a new legal relationship between landlords and tenants
Social Services Regulation & Inspection Bill to raise the quality of care and support
*Environment Bill *for the sustainable management of natural resources
Heritage Bill** to improve protection of listed buildings and ancient monuments**
Public Health Bill -a consultation on its contents has just closed
Tax Collection & Management Bill will create a tax system
Load more updates