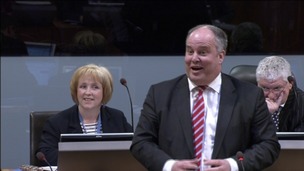 Our weekly look at questions to the First Minister from the party leaders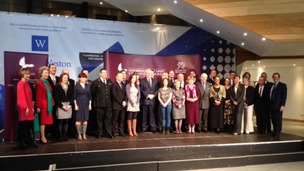 The eight categories, ranging from bravery to sport, are intended to recognise those who make a difference to Welsh life.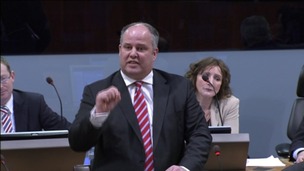 Our weekly look at questions posed to the First Minister by the Leaders of the Opposition Parties.
Live updates
Plaid Cymru leader Leanne Wood has criticised the Welsh Government for a year of 'disappointment and failures.' She highlighted Wales' poor performance in the recent PISA international education league tables as well as 'crisis after crisis' in the NHS.
She also accused Labour of presiding over a 'lack of transparency,' citing the news that a controversial hospital reorganisation programme will be announced this coming Thursday which is the last day the Assembly will meet this year.
The Plaid leader said that was 'further evidence of a government afraid to front up' and accused Carwyn Jones' government of 'staggering complacency.'
The First Minister has said again that he's opposed to the transfer of income tax powers unless the way Wales is funded is first sorted out. Carwyn Jones told me it would be used as 'an excuse' by the Treasury not to reform the way funding is worked out, known as the Barnett formula.
At his monthly press conference, he'd cited the 2011 referendum on lawmaking powers as one of the main achievements of his four years in post despite opposition from within his own party. I asked him if that made him more likely to back an income tax referendum.
His answer is an unequivocal 'no' as you can see in the clip to below. Watch to the end of the clip for his final comment casting doubt on the motives of Conservative and Liberal Democrat politicians who are pushing for an early referendum.
Advertisement
The Welsh Conservatives have marked Carwyn Jones' fourth anniversary as First Minister by criticising his record as 'uninspiring' and 'four years of failure.' Tory leader Andrew RT Davies said:
Four years of missed opportunities.

Four years of failure to reach the very best for Wales – on education, on health, on the economy.

All under Carwyn Jones's watch.

Skewed spending priorities have led to a refusal to freeze council tax, record-breaking NHS cuts, and business rates relief that could be hugely improved.
Legislation has been hugely slow in coming forward and to date, Mr Jones's tenure remains entirely uninspiring.

This First Minister continues to preside over hospital downgrading, appalling global tests in maths, reading and science, and access to finance for businesses that is inexcusably bad.
– Andrew RT Davies, leader of the Opposition
It's four years since Carwyn Jones became Wales' First Minister. Our Political Editor Adrian Masters is at his final press conference of the year.
First Minister defends his record on his 4th anniversary;lists measures to help households with council tax, energy bills, Jobs Growth Wales
First Minister says Cardiff Airport worth £3m more than Welsh Govt paid; expects to run it as is for at least a year; operators interested.
FM says best achievements in 4 years: getting & winning lawmaking ref. & Human Transplantation Act: 'more people will live as a result.'
Wales' PISA rankings worst in UK
First Minister Carwyn Jones has acknowledged that the PISA results for Wales are 'not good enough.' Responding to criticism from opponents during First Minister's Questions, he listed reforms that the Welsh Government had introduced since the last set of PISA figures.
But he agreed the figures were 'disappointing' and accepted the need to improve but said it will 'take some time for these measures to bear fruit.'
Poll opposes Welsh income tax
The Welsh Secretary has added his voice to the UK Government's attack on the Scottish Government's plans for independence. In a speech in Durham this evening, David Jones argued that open borders and a shared currency are only guaranteed for Scotland through a 'no' vote in next year's referendum.
Alex Salmond believes an independent Scotland could retain the pound in a currency union with the continuing UK. But could it? If Scotland decided to leave the UK it would also be leaving the UK's currency. The pound would of course continue to be the currency of the UK, and the laws and institutions that currently oversee our stable, resilient and successful currency -like the Bank of England- would continue in place. But a separate Scotland would sit outside those arrangements, and would need to put in place new currency arrangements of its own.
– Welsh Secretary David Jones MP

Meanwhile, First Minister Carwyn Jones, who last week claimed that Wales could seek to veto a currency union with an independent Scotland, has been speaking in Dublin. He chose the capital of the last country to leave the UK to explain how England should fit into a devolved United Kingdom.

He told the Institute of International and European Affairs that he opposed an English Parliament "unbalancing" the UK. The First Minister instead suggested special recognition of English concerns in Westminster, plus "significant transfers of power" from Whitehall to large city-regions of England.
The UK is changing and the referendum in Scotland has thrown new light on the fact things cannot carry on as they are. A debate about what the constitution should look like is needed. I believe the creation of a constitutional convention, giving a UK-wide perspective on the governance of each part of the UK and their relationship to one another, is the way forward. The current system, with different processes across the UK is not fair or sustainable.
What is clear is the need for mutual respect for devolved legislatures. There must be consistency in the way powers for the devolved bodies are conferred and defined in law. Powers should only remain at the centre if it is strictly necessary for them to do so. Each nation needs to know exactly where it stands if we are to work together as a family of nations within a strong United Kingdom.
– First Minister Carwyn Jones AM
Advertisement
Carwyn Jones has been criticised by the SNP ahead of his speech in Edinburgh this evening in which he's expected to make the case for Scotland remaining part of the United Kingdom. But MSP Linda Fabiani says Carwyn Jones had until recently had his own concerns about the treatment of Wales.
And she said he should 'come clean' about the cost to Scotland of changes to the way Wales is funded. She said reform to the Barnett formula would lead to a £4bn cut in the Scottish budget if it votes to remain part of the UK.
The First Minister of Wales should tell Scottish voters that he'd be prepared to see £4bn cut from Scotland's budget to boost the funding Wales receives, according to the SNP. Carwyn Jones will make the case for remaining part of the United Kingdom in a speech in Edinburgh this evening.
The SNP has highlighted the First Minister's repeated calls for fairer funding for Wales by reforming the Barnett formula which works out how much of a share of UK spending devolved nations should received.
But the SNP's Linda Fabiani says that if Scotland remains part of the UK after next year's Independence referendum and the formula is changed it will mean a cut of £4bn. She says Carwyn Jones should make that clear.
Carwyn Jones has never been shy about his desire to change the Barnett formula in a way that would disadvantage Scotland.The Welsh First Minister has the perfect opportunity to use his visit to Scotland to spell out to people here just how much he wants Scotland's budget cut by if there is a No vote next year.

With a Welsh Commission suggesting that Scotland's funding could be cut by a staggering £4 billion in a single year, these are major cuts that are being proposed which would have a devastating impact on communities across Scotland.
Scotland already more than pays its own way in the UK, but the dismal future being offered by the No campaign would see people in Scotland disadvantaged even further.

With all of the UK parties lining up to cut Scotland's budget if there's a No vote, only the full powers of an independent Scotland will ensure that all of Scotland's resources are used to benefit people living here.

The fairest solution for everyone is for Scotland to gain full control over our own tax and spending decisions and only a Yes vote next year will secure that for people in Scotland.
– Linda Fabiani MSP, SNP
North Wales neonatal plans
A Labour and a Conservative AM have joined forces to push for a intensive baby care centre to be based at Ysbyty Glan Clwyd in Bodelwyddan. Ann Jones and Darren Millar have put aside political differences to welcome the First Minister's decision to develop a neonatal care centre in North Wales.
The intervention overturns plans by Betsi Cadwaladr Health Board to send all seriously ill babies to Arrowe Park on the Wirral. Carwyn Jones says the new centre will treat the 'vast majority' of sick babies with the worst cases still treated in Cheshire.
Ysbyty Glan Clwyd is one of two possible locations along with Wrexham's Maelor Hospital. A decision's expected early next year. Ann Jones and Darren Millar have issued this joint statement:
This announcement is very welcome indeed and we will now be working hard to ensure that the new enhanced Neonatal Intensive Care Centre is based at Ysbyty Glan Clwyd.

We feel it?makes sense for the Centre to be in Bodelwyddan given the excellent accommodation for families of sick babies provided by Ty Croeso Dawn Elizabeth House; the accessibility of the hospital from the A55; and its location in the? heart of North Wales.
Whilst the decision represents a victory for North Wales, the First Minister still needs to make a decision about the location of the centre – which could end up in either Bodelwyddan or Wrexham.

We feel that Ysbyty Glan Clwyd is the perfect site and will be pressing for the First Minister to opt for this location.
– Ann Jones AM & Darren Millar AM
North Wales neonatal plans
The Welsh Conservatives have welcomed the First Minister's announcement of a neonatal care centre for North Wales. But they say it should be established as soon as possible.
Communities across north Wales deserve an end to their uncertainty and this report goes some way to achieving that.

It is now crucially important that each of its recommendations is implemented swiftly – and in full.

A cross-party campaign long warned that axing long-term neonatal care in the region was dangerous – a view supported by health professionals and clinicians. Today this campaign has been vindicated.

Communities have been left in limbo for far too long and a site for a new centralised centre for neonatal care must now be identified as soon as possible.
– Darren Millar AM, Shadow Health MInister
Load more updates
Back to top