Live updates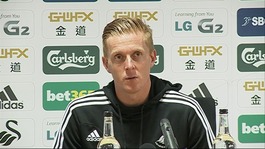 Swansea lose 1-0 to Chelsea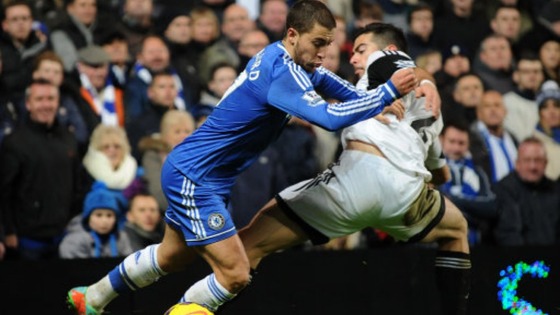 Swansea City have lost their Boxing Day match against a dominant Chelsea at Stamford Bridge.
Swans goalkeeper Gerhard Tremmel helped keep the scores low after Eden Hazard scored the game's only goal in the first-half.
Swansea now sit 11th in the Premier League table as Chelsea move to second.
Advertisement
Hazard FA charge over ball boy
South Wales Police says it's no longer involved in the incident on Wednesday night where Chelsea midfielder Eden Hazard appeared to kick a ball boy at Swansea City. The ball boy, 17-year-old Charlie Morgan, has said he spoke to Hazard afterwards and was not pressing charges.
Officers have confirmed that he did not want to make a formal complaint. They say they have received a number of calls from members of the public after the incident at the Liberty Stadium.
Hazard FA charge over ball boy
National
The FA have charged Chelsea's Eden Hazard following his side's League Cup semi-final at Swansea City on 23 January 2013.

It is alleged that Hazard's behaviour in relation to a Swansea City ball boy, for which the player was dismissed in the 78th minute, constituted violent conduct whereby the standard punishment that would otherwise apply was clearly insufficient.
The player has until 6pm on Tuesday 29 January 2013 to respond to the charge.

The FA will remind all clubs of their responsibilities in ensuring ball boys and other personnel around the pitch act in an appropriate manner at all times and will liaise with competitions accordingly.
– The FA statement
Hazard FA charge over ball boy
National
The ball boy at the centre of the Eden Hazard rib-kicking controversy has briefly broken his silence. He tweeted;
Crazy 24 hours. Spoke to Hazard and I will not be pressing charges. Be in touch
Hazard FA charge over ball boy
Chelsea footballer Eden Hazard's tangle with a Swansea ball boy last night has sparked quite a debate today. We asked you for your thoughts.
Advertisement
National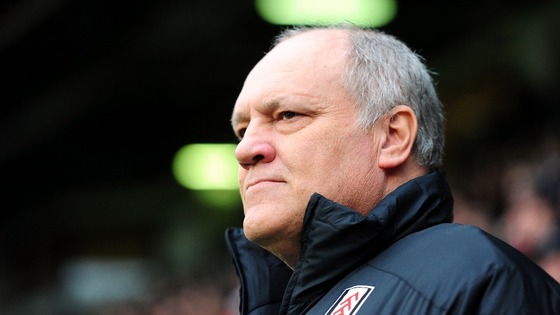 Fulham football manager Martin Jol accused a Swansea City ball boy apparently 'kicked' by Chelsea's Eden Hazard of "playing rugby" by holding on to the ball too long.
The Dutchman said: "I felt for Hazard, but you can't kick people. He (the ball boy) was playing rugby with him, so I can understand he wanted to get the ball."
The Cottagers boss added that the ball boy, understood to be 17-year-old Charlie Morgan, was "probably overage".
Jol said: "Our ball boys are between 10 and 12 years of age. I saw he was probably over-age, probably 21. A big boy, you know?"
National
Eden Hazard told Chelsea TV he thought he "kicked the ball and not the boy" during the Capital One Cup semi-final and apologised for the incident.
Please note Hazard's words are translated into English immediately after every answer.
Hazard FA charge over ball boy
Hazard FA charge over ball boy
Load more updates
Back to top