Live updates
Hazard FA charge over ball boy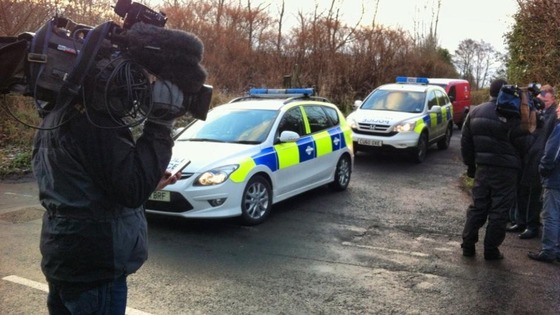 Hazard FA charge over ball boy
Police arrive at the home of Swansea ball boy Charley Morgan. Tell the press to leave. Family called them in. http://t.co/fskLEoSC
Police say the Morgan family have no intention of coming out to speak. Threaten legal action if press approach house http://t.co/R7WiH7WI
Advertisement
Swansea in Cup final
National
Chelsea footballer Eden Hazard apologised after he was sent off for appearing to kick a Swansea ball boy during the League Cup semi final second leg.
Some people are saying he should face further punishment from the FA.
ITV Daybreak correspondent Richard Gaisford reports from ball boy Charlie Morgan's home village in Tycroes.
Swansea in Cup final
National
Henry Winter is a Daily Telegraph football correspondent:
Swansea in Cup final
National
Sam Wallace is football journalist for the Independent:
Swansea confirm that police have interviewed ball-boy & his father & no charges will be pressed
Dan Taylor is a football journalist for The Guardian:
Swansea statement: police have interviewed boy and his father and will not take it further. Common sense!
Swansea in Cup final
National
South Wales Police is aware of the incident involving a ball boy at the Liberty Stadium in Swansea tonight.

We are making arrangements for him to be interviewed.

South Wales Police takes such matters very seriously.
– south wales police Chief superintendent josh jones
Advertisement
Swansea in Cup final
National
Chelsea manager Rafa Benitez said that Hazard and the ball boy had exchanged apologies in the dressing room after the match.
They apologised to each other.

They both talked. The boy knows he was wasting time. Hazard was frustrated and trying to get the ball back.

We can not change the situation. We are disappointed because we lost a player.

The best thing for us is to move forward.
Swansea in Cup final
National
Swansea in Cup final
National
Swansea defender Ashley Williams claimed he saw Chelsea midfielder Eden Hazard kick a ball boy in the second leg of their semi final in Capital One Cup tonight.
Hazard was sent off for violent conduct.
[Chelsea striker] Demba Ba told me the ball boy held on to it.

I saw him kick him in the rib and you can't do that to a young boy.
– Swansea defender Ashley Williams speaking to Sky Sports1
Swansea in Cup final
National
Swansea manager Michael Laudrup said Eden Hazard would regret his sending off.
"I think when he sees the incident on television, I think he will regret it," he told Sky Sports.
He denied that the club had instructed the ball boy, who appeared to lie on the ball, to waste time.
Load more updates
Back to top