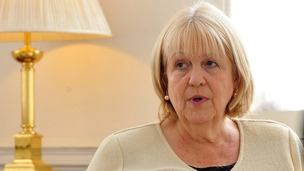 Speaking on Sky's 'Murnaghan' programme on Sunday, the former Welsh Secretary also launched a fresh attack on the HS2 project.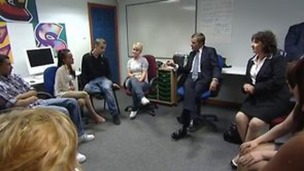 Visiting Wales for the first time since his promotion, David Jones MP was involved in a lively discussion with a teenager about housing.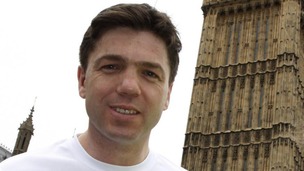 Preseli Pembs MP Stephen Crabb is the junior minister at the Wales Office. As well as doing his new boss' old job, he'll still be a whip.
Live updates
Welsh MPs in special debate
Here's the section of today's Welsh Grand Committee in which Wales Office minister David Jones made his claims about what he called the 'limp and flaccid response' of the Welsh Government to business opportunities during the Olympics. You can read the Welsh Government's equally robust response here.
Welsh MPs in special debate
Monmouth MP David Davies found cross-party support when he told MPs in the Welsh Grand Committee that he'd summoned Defence Ministers to explain their thinking about the future of the Welsh Cavalry at a one-off hearing of the Welsh Affairs committee which he chairs.
Advertisement
Welsh MPs in special debate
Wales Office minister David Jones criticised Carwyn Jones' Welsh Government for what he said was its failure to plan to take advantage of overseas investment opportunities during the Olympics.
Speaking during today's Welsh Grand Committee Mr Jones claimed the Cardiff government was 'not intending to participate' in a British Business Embassy which would operate in London during the games. He said this was 'very regrettable' and added that,
If the Welsh Government doesn't take part, that would amount to an act of shameful and wanton negligence.
The Welsh Government has hit back with an equally withering response. A source said,
Not for the first time, the junior Minister in the Wales Office, seems to be completely 'out of the loop' when it comes to what's really happening in Wales. It raises questions about how much he is actually being told by the rest of the UK Government.

The fact is, the Welsh Government has worked with UKTI to ensure Welsh business interests are fully represented at these events. In addition, we will continue to use every single opportunity to ensure we maximise any business opportunities that arise from the Olympics.
This work will clearly involve the use of our new office in London - an office that the Wales Office bitterly opposed. Mercifully - in the interests of Welsh business and Wales' future prosperity - we chose to ignore their counsel.
Welsh MPs in special debate
Controversial UK Government plans to introduce different pay rates for public sector workers in different parts of the UK have so far dominated today's meeting of the Welsh Grand Committee.
There have been signs that the Government is backtracking on the idea, but ministers at today's session stood by the principle, even if they dispute the use of the term 'regional pay' as you can see in this exchange between Labour's David Hanson and Wales Office Minister David Jones MP.
Welsh MPs in special debate
Labour's new Shadow Welsh Secretary Owen Smith marked his first appearance in the role in a House of Commons debate with a withering attack on the UK Government's programme of legislation. He made his comments during a day-long meeting of the Welsh Grand committee.
Below you can see his remarks as well as the equally withering response of the Welsh Secretary, Cheryl Gillan. Apologies for the sound quality - the acoustics in the committee room left a lot to be desired.
Welsh MPs in special debate
Treasury Minister David Gauke facing a series of qs on regional pay plans from Labour MPs on Welsh grand cttee….
…despite reports Govt backtracking on regional pay, D.Gauke is standing by it:'we must ensure public sector pay reflects local conditions'
Advertisement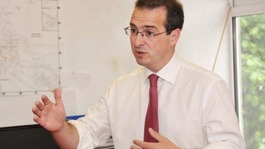 Welsh MPs will debate the Budget and the Queen's Speech in the Welsh Grand Committee today.
Read the full story
Assembly elections reform plans
The First Minister has responded to the statement by Number 10 I told you about earlier and urged David Cameron to 'stay true to his word.' Here's what Carwyn Jones had to say:
This is not what I was told by the Prime Minister. I have made itrepeatedly clear that changing the electoral system for the Assembly,without the consent of the people of Wales, is wrong and dangerous. Italso sends an unfortunate message to the people of Scotland ahead of theindependence referendum.I call on the Prime Minister to remain true to his word and stateclearly that changes in the way AMs are elected, will not be forced onthe people of Wales without their consent.
Assembly elections reform plans
I told you earlier that the First Minister had repeated his claim that the Prime Minister had twice given him assurances that there would be no change to the electoral system in Wales without the agreement of the Assembly.
I've been in touch with Number 10 to get its view of what the PM did or didn't say to the FM. Here's the response from a spokesperson:
We have always been clear that we would consult on any changes to electoral arrangements for the Welsh Assembly which is what we are doing through this Green Paper
Assembly elections reform plans
I've just had this response to Carwyn Jones' earlier attack on UK Government plans to review Assembly electoral arrangements from Wales Office minister David Jones, who was at the same joint ministerial meeting:
This is a Green Paper, a consultation document and if the First Minister wants to feed into that consultation he is, of course, welcome to do so. There is nothing in this process other than that which is entirely in the devolution settlement. (Responsibility for ) electoral arrangements remain here at Westminster; it would be incoherent not to have a review given the changes planned to parliamentary boundaries.
Load more updates
Back to top