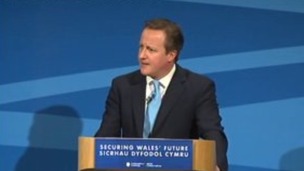 The Prime Minister refused to apologise for saying Offa's Dyke has become 'the line between life and death'.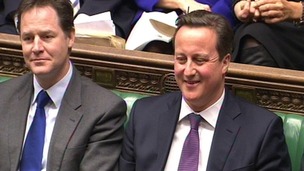 After David Cameron told ITV News that the Welsh Government should have tax raising powers, the details have been published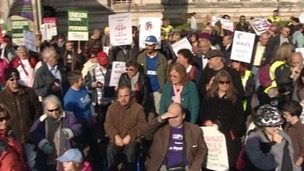 'The Tipping Point' report by disability coalition The Hardest Hit says proposed cuts will mean further hardship and isolation for many.
Live updates
Powers delay 'raised with PM'
The First Minister says David Cameron now knows how strongly the Welsh business community backs the transfer of tax and borrowing powers. Carwyn Jones also said that the Prime Minister reaffirmed the UK Government's agreement to fund fully rail electrification to Swansea and the Valley Lines.
Before the meeting of the Joint Ministerial Committee, Carwyn Jones said he was looking for an explanation for the delay in a decision on tax and borrowing powers as recommended in the Silk Commission. Our Political Editor Adrian Masters asked him if he got his answer.
Powers delay 'raised with PM'
A Plaid Cymru MP says the First Minister is guilty of 'bluster' on constitutional change but not following it up with action. Carwyn Jones has repeatedly said there needs to be a constitutional convention - a formal way of looking at what powers Wales and other parts of the UK need.
But Hywel Williams asked the UK Government department responsible, the Deputy Prime Minister's office, what approaches the First Minister has made. This was the answer from Minister Greg Clark:
The Deputy Prime Minister has not received any recent representations on the topic of a constitutional convention from the Welsh Government.
On the day that Carwyn Jones intends to push the Prime Minister over the delayed decision on tax and borrowing powers for Wales, Mr Williams says that it raises questions about the First Minister's own commitment.
For all the First Minister's bluster, it seems that he's making no real progress on this.

It's becoming increasingly difficult to take him seriously when he claims to be committed to securing a better settlement for Wales. The only thing he has achieved is undermining people's confidence in his abilities.

In January last year, the First Minister called for this Convention to be set up to keep the UK together. After nearly two years of stagnation, we can now only presume that he is in favour of Scottish independence.
– Hywel Williams MP, Plaid Cymru
Advertisement
Powers delay 'raised with PM'
The First Minister, Carwyn Jones, is expected to tackle David Cameron over a delayed decision on transferring control of some taxes and borrowing powers to the Welsh Government. They'll meet in Downing Street where the Prime Minister will host a session of the Joint Ministerial Committee.
The JMC is a chance for the First Ministers and Deputy First Ministers from Wales, Scotland and Northern Ireland to air any grievances with the UK Government. It's usually chaired by the Deputy Prime Minister but once a year the Prime Minister takes charge.
PM slams Labour's Welsh health record
Shadow Welsh Secretary Owen Smith has hit back at the Prime Minister's criticism of the Labour Welsh Government's handling of the NHS. He used twitter to say:
Another disgraceful attempt by the PM to divert attention from Tory failure to sustain the NHS in England by misrepresenting NHS Wales...

The reality is that Labour has maintained the NHS Wales budget at 6.4Bn - despite Tory cuts to the overall Welsh budget of 1.4Bn

A further reality of NHS Wales is that we're not selling off the NHS in Wales, or cutting nurses or closing any A+E

One last reality check on the Welsh NHS: 86% of doctors say they'd rather work in Labour Wales than under the Tories in England
– Owen Smith MP, Shadow Welsh Secretary
PM slams Labour's Welsh health record
The Prime Minister has launched a series of attacks on Labour's supervision of the NHS here in Wales. In the Commons, David Cameron responded to questions from the Labour leader Ed Miliband by criticising the Welsh Government's spending and failure to meet key targets.
Wales protected from EU cuts
Carwyn Jones has been reacting to the letter he's received from the Prime Minister, saying that the cut in European aid to Wales will be limited to 5% because funds intended for England will be reallocated.
We remain disappointed that the overall EU budget agreement fails to deliver the scale of investment needed to stimulate growth and jobs, particularly for vulnerable regions such as West Wales and the Valleys.

That said, we are pleased that the Prime Minister has listened to our arguments and has sought to deliver a fairer settlement than that originally proposed. We hope that the UK Government will now move quickly to agree these arrangements with the European Commission so that our new programmes can start on time.
– First Minister Carwyn Jones AM
Advertisement
Wales protected from EU cuts
Welsh Labour MEP Derek Vaughan says the aid cut for Wales is still 'disappointing' but fairer than first thought. He hopes that it will be possible to draw down additional funds as well and perhaps even get to a position where Wales benefits more than ever.
Whilst it is disappointing to see Wales' allocation being reduced in this way, especially in the difficult economic climate that we are facing, the announcement gives a much fairer distribution to areas such as West Wales and the Valleys than initially thought.

I have been lobbying hard alongside the Welsh Labour Government to avoid an even bigger cut in support for Wales and led the campaign to persuade the UK Government and the European Commission of the need to protect the most vulnerable parts of Wales in this settlement.
Our efforts have been largely successful and it is clear that that the coalition government has been forced to acknowledge the strength and validity of our arguments.

The figure is not far off what Wales has received in the current funding round and when put together with other EU funding pots will mean that we could be in a position to benefit more than ever from assistance available at a European level.
At a time when the UK Government is embarking on a mistaken course of austerity, EU Structural Funding will provide Wales with the chance to continue investing in infrastructure and driving forward the generation of jobs and growth, building an economy that is modern and fit for purpose.
– Derek Vaughan MEP
Wales protected from EU cuts
Following the announcement of the amount of European aid Wales will get, Plaid Cymru MEP Jill Evans says,
The confirmation that Wales is set to lose £75m of European funding is devastating news for our nation.

While it is a welcome fact that the cut is less than initially feared, we must remember that no cut would have taken place had the Government not been aided and abetted by Labour MPs from Wales.

As a net beneficiary of EU membership, parts of Wales receive structural funds for all-important fields such as agriculture and education - funding which is vital for some of our poorest communities. Some of these are not only the worst off areas in Wales but throughout the whole of Europe.
Areas such as West Wales and the Valleys are new set to miss out on vital EU cash that could have helped strengthen and develop our economy.

Plaid Cymru maintains that Wales' future lies within Europe where support and cooperation between nations can bring mutual social and economic benefits.
– Jill Evans MEP, Plaid Cymru
Wales protected from EU cuts
The Department for Business, Innovation and Skills has released the details of how EU aid will be redistributed. Wales will end up with nearly twice as much money as Scotland and Northern Ireland combined.
Wales gets a total allocation of around €2.145 billion. This is €375million more than Wales would receive under the EU formula for allocation of funds to the UK.
Scotland gets around €795 million, €228 million more than under the EU formula.
Northern Ireland gets around €457 million, €181 million more than under the EU formula.
England gets €6.174 billion, €784 million less than under the EU formula.
The UK government has decided to re-allocate EU Structural Funds to minimise the impact of sudden and significant cutbacks in Northern Ireland, Scotland and Wales. EU Structural Funds are important for supporting economic activity. The EU formula would have seen several areas in most need of funds lose out, so we have taken the decision to correct that. It is important that these areas use this funding to help deliver strong, sustainable growth and assist in rebalancing the economy.
– Business Minister Michael Fallon MP
Wales protected from EU cuts
Welsh MEP, Derek Vaughan, says the credit for a reduced cut in EU aid belongs to lobbying by Labour politicians. And he says the task now is to find ways to fill the shortfall.
@adrianmasters84 huge amount of lobbying by myself and welsh govt on his. Will now look to try and find ways to have no shortfall.
If proposed reduction in str funds to Wales reduced to 5% will still look at opportunities to find more funds in hope of avoiding any loss.
As I hinted earlier PM written to Welsh FM to say cut in str funds post 2014 5%. If true its progress as initially expected 22%!
Load more updates
Back to top