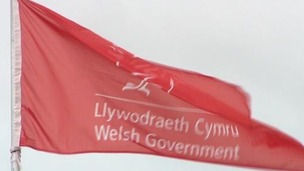 Campaigners will today lobby the First Minister Carwyn Jones to do more to protect the Welsh language.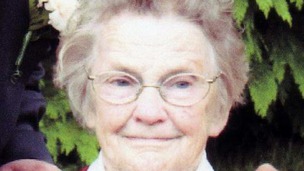 91-year-old Maggie Hughes died in her flooded home in St Asaph yesterday. Many people have returned to theirs today to assess the damage.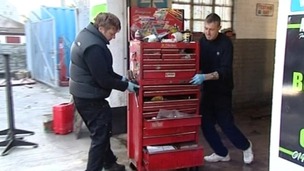 The clean-up operation is now underway, after severe flooding hit Denbighshire yesterday.
Live updates
Calls for help for working mums
A national parents' charity says it's "unacceptable" that women are still still having to chose between having a family and a career.
It is shocking to see so many parents being treated unfairly by their employer. In this day and age it's unacceptable that women still have to choose between having a baby and having a career, yet without proper support from employers, for too many this is the reality.

Forward thinking employers realised long ago that supporting parents increases productivity and avoids the loss of skilled and experienced staff. It's about time the rest of UK business joined the 21st century.
– NCT spokesperson
Calls for help for working mums
A former Denbighshire teacher say she felt discriminated against by her employers after her contract was terminated just weeks after she applied for maternity leave.
Rebecca Raven was awarded over £30,000 after an employment tribunal found that Howell's School in Denbigh was guilty of unfair dismissal.She says businesses should take on the best person for the job regardless of whether they need to take time off for maternity leave.
More than a quarter of mothers in the UK feel discriminated against at work, according to a new OnePoll survey. A third said they found it impossible to climb the career ladder and just over half said their employer could do more to support working mums.
Advertisement
Calls for help for working mums
National
One in five mothers returning to work in the UK after maternity leave feel they need to "prove themselves" to their bosses, despite already working for their employers for some time, a new report found.
The data, put together by law firm Slater & Gordon, found more than one in four women felt discriminated against in the work place after having a child.
Despite the equality legislation in place, attitudes and working practices continue to block women in achieving their career aspirations in the UK.

This report shows that there are still negative perceptions of women with children and this kind of attitude is short-sighted and bad for business.

Anecdotally, we hear of mothers complaining about being put on a "mummy track" when back at work, and this research illustrates that this is a real experience for many women.
– Kiran Daurka of Slater & Gordon
National Eisteddfod 2013
The future of the National Eisteddfod was under the spotlight today as a Welsh Government-appointed panel met on the Maes to discuss how to modernise the event.
National Eisteddfod 2013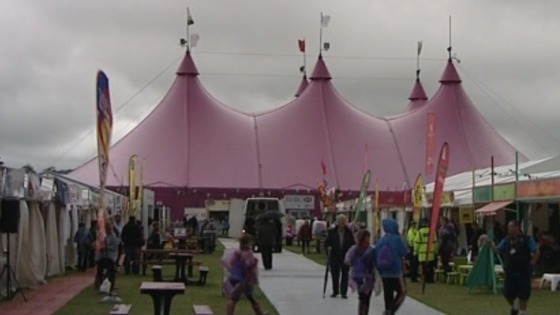 A group set up to look at modernising the National Eisteddfod will share reveal some of its considerations, at a question and answer session on the Maes this afternoon.
Broadcaster Roy Noble chairs the National Eisteddfod Task and Finish Group, which started work last autumn and is due to report back to the First Minister in October.
National Eisteddfod 2013
For some time, organisers of the National Eisteddfod have tried to break a perception that the annual festival is aimed mainly at Welsh speakers.
This year in Denbigh, those new to the event are being taken on tours of the field, to help them feel part of proceedings.
Advertisement
National Eisteddfod 2013
First Minister Carwyn Jones has come under pressure from Welsh language campaigners at the Eisteddfod wanting to know how he's going to make it easier for people to go about their daily lives using Welsh, such as greater provision when accessing public services like healthcare.
Owain Phillips reports.
National Eisteddfod 2013
One of the big draws on the Maes is the Open Art Exhibition.
Fifty-six artists have been chosen this year to show their work - and nearly half of them are taking part in the Eisteddfod for the first time.
Carole Green caught up with one of the newcomers.
National Eisteddfod 2013
The First Minister has hit back at criticism from Welsh language campaigners, saying some of the problems facing the language need to be fully explored - the thinking behind his 'Big Conversation' on the future of Welsh.
"We had Y Gynhadledd Fawr in July. We had huge number of people there - thousands of people literally sending their responses" says Carwyn Jones.
"These things are important. It's alright to say you've got do something, but the first thing to do is find out what people think is right to do and that's what that Y Gynhadledd Fawr did - to actually put in place a process where you listen to people first and then of course get things moving."
National Eisteddfod 2013
It's day three of the National Eisteddfod near Denbigh. The First Minister is facing calls to do more to make it easier for people to use Welsh every day.
"It's important to show that what we're talking about is people's lives, people's healthcare, social care... people looking to having leisure services, children, young people being able to have opportunities to use Welsh outside of school" says Sian Howys from Cymdeithas Yr Iaith.
"These are the things that are going to make a real difference in terms of the future of the language but also in terms of just us wanting to use the language every day in ordinary situations."
Load more updates
Back to top