Wales celebrates 6 Nations win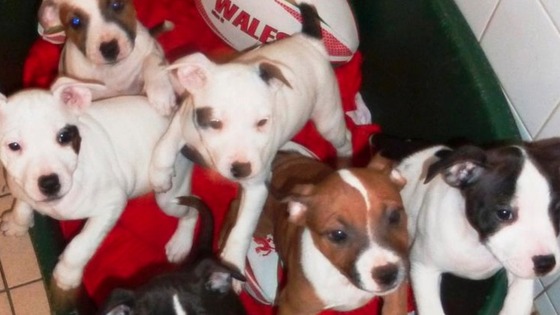 Six Staffie cross puppies have been named after their Welsh heroes ahead of this afternoon's game.
The playful nine week old pups have been named Sam Pawburton, Leigh Halfstaffie, Dan Waggar, Toby Furletau, Gethin Puppykins and Alex Ruffbert by the Dogs Trust Bridgend who says it was keen to spur on their national team.
Beverley Price, Dogs Trust Bridgend rehoming centre Manager, says:
"These mischievous little pups are full of energy so will need active owners with a strong throw to keep them entertained. They are only nine weeks old and like any rugby team would benefit from a little extra training.
"The team requires active homes with owners who appreciate the demands of young puppies and are at home most of the day to help them settle in. "