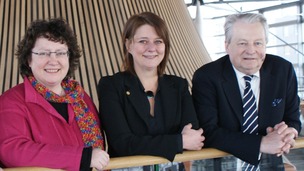 After attacking the Health Minister caused an internal row for Plaid Cymru, the party's health spokesperson returns to criticising Labour.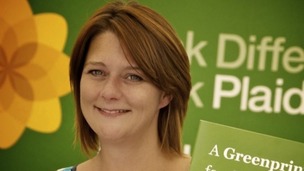 Leanne Wood has won the Plaid Cymru leadership vote. Ieuan Wyn Jones stood down after a poor result in last year's Assembly election.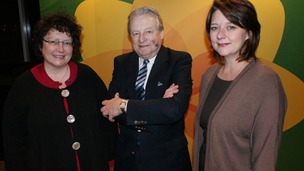 The result of the ballot of Plaid Cymru members to choose a new party leader will be declared after the votes are counted later.
Live updates
Leanne Wood attacks UKIP at Plaid Cymru conference
Plaid Cymru's Health spokesperson Elin Jones has strongly criticised both UK and Welsh Governments for using the Welsh NHS as a political football 'in a particularly ugly football match.' She said attacks from Conservative politicians in Westminster were part of an 'appalling..pre-election spree.'
But she condemned Labour too for 'dismissing' concerns raised by Cynon Valley MP Ann Clwyd, calling it a 'shameful example of the tribal politics of Welsh Labour.'
And she blamed the First Minister for starting the row between the two governments by using his weekly question session as an opportunity to 'have a pop' at the UK Government.
Elin Jones sets out two options to merge health services and adult social care which Plaid Cymru is proposing as a way of ending confusion and delays in the system.
The options are: either to remove the responsibility for adult social care from local councils and give it to local health boards, or to scrap those health boards, transfer all non-hospital services to local councils and create a national hospital service.
Advertisement
Assembly Members are preparing themselves for a long night of debating. The Welsh Government is rushing through the Agricultural Sector (Wales) bill as emergency legislation. The bill would create a Welsh version of the Agricultural Wages Board which has been abolished by the UK Government.
Nearly 120 amendments to the bill will be debated by all AMs sitting as the 'Committee of the Whole Assembly' in a session expected to last at least two hours before the usual start of plenary. Usual business will only begin when the second stage is complete.
It means business will continue to at least 8.30 but Plaid Cymru's Elin Jones told journalists to expect it to go on till 10pm. Recently, the vote on an opt-out organ donation system followed a debate which went on so late that the Presiding Officer feared automatic lights would switch off.
Wales has fewer doctors per head of population than Kazakhstan and Moldova, according to Plaid Cymru. The party's made its claim after analysing publicly available statistics and comparing them to figures from the World Health Organisation.
Plaid claims that Wales has 24 doctors per 10,000 people whereas the WHO figures show that Kazakhstan has 38 and Moldova 36. Health spokesperson, Elin Jones said:
It is essential that the Welsh Government takes action to increase the number of doctors recruited to Wales. Plaid Cymru has proposed a number of solutions tried and tested in other countries of a similar size to Wales including financial incentives to encourage graduate doctors to practice here and in the short term increased recruitment of doctors from other EU nations. **
– Elin Jones, Plaid Cymru Shadow Health Minister
Health boards given extra £82 million
It seems we've been here before. This £82 million bailout comes after repeated assurances given to us by the Minister that Health Boards would break even.

The Minister also told the committee that three Health Boards may be allowed more at the end of the year through brokerage.

It shows that the government has simply not got a grip on the health service.

This time, the Minister has raided the capital budget to pay for this...

It's becoming clear that there is a lack of financial planning and robust financial management as well, which will inevitable effect frontline services.
– Elin Jones AM, Health Spokesperson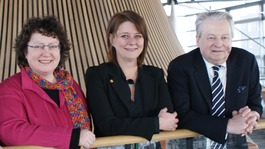 After attacking the Health Minister caused an internal row for Plaid Cymru, the party's health spokesperson returns to criticising Labour.
Read the full story
Advertisement
Health shake-up email row
Labour have echoed Dafydd Elis Thomas' attack on his party, with one Welsh Government source claiming that Plaid Cymru have proved that they are happy to be stooges for the Tories. Meanwhile Plaid say that the political fallout over what they call hospital downgrading is far from over,
This is not about playing politics; it is about taking responsibility for important decisions that affect us all. Today, we invited the Health Minister to clear her name, but she failed to take that opportunity. It is clear from the correspondence that the Welsh Government, local health boards, and the NHS confederation each played a significant part in the drafting of the report on hospital reconfiguration, yet the Minister has denied this. The Health Minister is willing to take the credit for the opening of new services, but fails to take responsibility for the closure of old ones.
– Plaid Cymru Health Spokesperson Elin Jones AM

The Welsh Conservatives have promised to maintain 'fierce opposition to the downgrading of district general hospitals' despite the government's 29-28 victory, defeating the vote of no confidence on the Health Minister, Lesley Griffiths.
The Minister's performance today remains utterly unconvincing. Responses to many of the questions posed were completely contrary to the evidence provided. Serious questions persist on a number of significant issues and explanations on important matters relating to the report's independence remain as clear as mud. It is disappointing that the joint motion has fallen in this way, despite continued cross-party concerns on the case for change report's independence.
– Shadow Health Minister Darren Millar AM
Health boards' financial targets
Plaid Cymru has criticised the Welsh Government's claim that local health boards have made a 'remarkable achievement' by meeting financial targets. Plaid's health spokesperson, Elin Jones said:
The remarkable achievement will be when LHBs are able to break even without having to close services or rely on additional funding like the £145m they had over the past financial year. Plaid Cymru wants to see an NHS that doesn't have to spend the last 3 months of every financial year in funding crisis having to cancel operations and close services.
Plaid leader announced
Dafydd Elis-Thomas has issued the following statement after being moved from Energy to Rural Affairs:
This is a dream appointment for me, as all aspects of this portfolio are reflected in Dwyfor Meirionnydd, which I represent, and the county of Conwy where I live. I am also delighted to continue to chair the important Assembly Committee on Environment and Sustainability which includes scrutiny of the Government's policy on Agriculture, Fisheries and Food.
I must also take this opportunity to thank my constituency party and Plaid members, particularly in Dwyfor Merionnydd, for their nomination and generous support in the recent Plaid leadership campaign, and I am grateful to our new leader Leanne Wood for this opportunity to serve and support her as part of her Shadow Cabinet.
Plaid leader announced
Moving Dafydd Elis-Thomas from the Energy portfolio is clearly a direct result of his vocal support for a new nuclear power station on Anglesey during the leadership election campaign. Another rival, Elin Jones, retains her Health portfolio and early contender Simon Thomas also keeps Education.
Load more updates
Back to top