AMs, Assembly staff and visitors have held a minute's silence in solidarity with MPs, who were also remembering those killed in the terrorist attack on Westminster.
It took place at 09:33, the same time as the minute's silence in the House of Commons. Meetings of Assembly committees were paused and the flags outside the Senedd lowered to half-mast.
We expect Assembly business to proceed as planned. Our security service and the police are working closely together. The police have increased the presence of armed officers around the Assembly estate and surrounding area as a precaution.
– Presiding Officer Elin Jones AM
The Assembly appoints experts to look at the idea of electing more AMs at the next election in 2021, as the present 60 are "over-stretched".
Read the full story ›
Advertisement
Presiding Officer Elin Jones has told the Senedd that AMs, including ministers, should not resort to personal insults in the Assembly.
Read the full story ›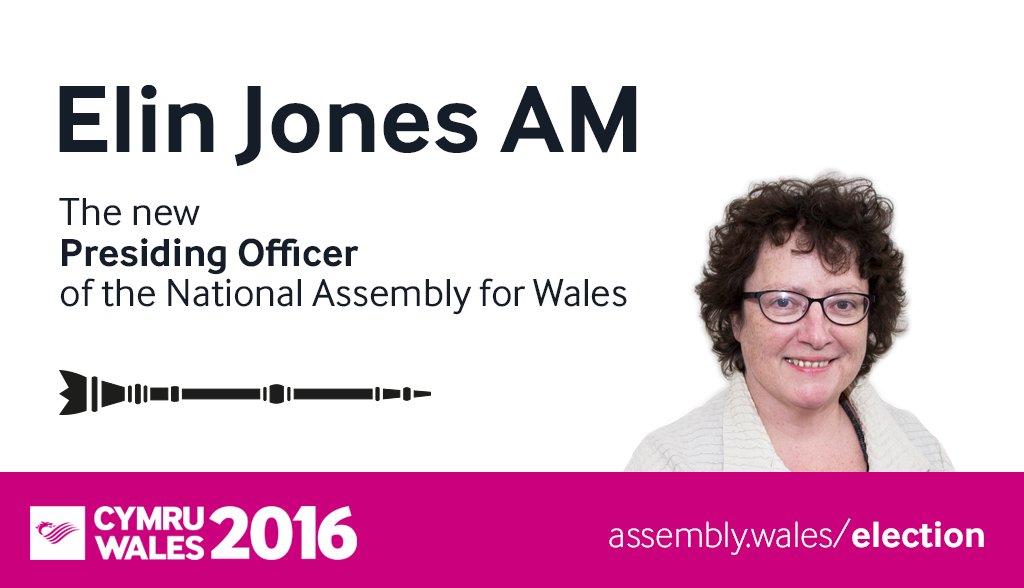 Ceredigion AM Elin Jones has been elected the new Presiding Officer of the National Assembly.
She defeated her Plaid Cymru colleague Dafydd Elis-Thomas by 34 votes to 25. There was one abstention.
The Presiding Officer holds significant powers and responsibilities that make the position the single most important office in the National Assembly for Wales.
The role shapes every aspect of the Assembly – from its day-to-day operation, the routine management of business, to its development as the primary democratic institution in Wales, its position in the constitution of the UK and its standing in the eyes of the public.
In paying tribute to her predecessor Elin Jones AM said: "Dame Rosemary Butler has been an excellent ambassador for the Assembly over the past five years."
She has broken down barriers to participation in the democratic process in Wales, particularly amongst women through her Women in Public Life campaign; for young people by placing them firmly at the centre of Assembly business and created more opportunities to hold the Welsh Government to account.

I look forward to building on her the success she has had in making the work that we, as Assembly Members, do here at the Senedd.
– Elin Jones AM, Presiding Officer for Wales
Plaid Cymru's health spokesperson Elin Jones has responded to what she calls the "turf war" between the UK and Welsh Health ministers by claiming that Wales does consistently lag behind both England and Scotland on key health indicators.
We have a Welsh Government that consistently sets itself lower targets on waiting times, access to diagnostic tests, and the ambulance service. It then fails to achieve these lower targets. When comparisons can be made between the 3 countries, then in some areas the Welsh performance is shockingly poor. Take for example, access times for an MRI scan. Only 1% of patients wait more than 6 weeks for an MRI scan in England, only 2% in Scotland, whilst 40% of Welsh patients are waiting more than 6 weeks. Other Welsh diagnostic waiting times fare no better.

The Welsh Government's answer to this is that demand for these tests has risen. It is true that demand has risen. But the rise has been even greater in the other countries. Over a three year period, the number waiting for an MRI scan in Wales rose by 33%, in England by 41% and in Scotland by 62%. This is therefore no excuse for Wales' unacceptably long waiting times.
– Plaid Cymru Health Spokesperson Elin Jones AM
Elin Jones added that Plaid Cymru wants to train and recruit 1,000 extra doctors and also re-examine the entire NHS workforce to "fundamentally realign our health and social care sector to finally integrate services fully". She claimed that it would lead to a system that could cater effectively for the elderly and frail, while keeping the NHS a free and accessible public service.
Plaid Cymru's Health spokesperson Elin Jones has strongly criticised both UK and Welsh Governments for using the Welsh NHS as a political football 'in a particularly ugly football match.' She said attacks from Conservative politicians in Westminster were part of an 'appalling..pre-election spree.'
But she condemned Labour too for 'dismissing' concerns raised by Cynon Valley MP Ann Clwyd, calling it a 'shameful example of the tribal politics of Welsh Labour.'
And she blamed the First Minister for starting the row between the two governments by using his weekly question session as an opportunity to 'have a pop' at the UK Government.
Advertisement
Elin Jones sets out two options to merge health services and adult social care which Plaid Cymru is proposing as a way of ending confusion and delays in the system.
The options are: either to remove the responsibility for adult social care from local councils and give it to local health boards, or to scrap those health boards, transfer all non-hospital services to local councils and create a national hospital service.
Assembly Members are preparing themselves for a long night of debating. The Welsh Government is rushing through the Agricultural Sector (Wales) bill as emergency legislation. The bill would create a Welsh version of the Agricultural Wages Board which has been abolished by the UK Government.
Wales has fewer doctors per head of population than Kazakhstan and Moldova, according to Plaid Cymru. The party's made its claim after analysing publicly available statistics and comparing them to figures from the World Health Organisation.
Plaid claims that Wales has 24 doctors per 10,000 people whereas the WHO figures show that Kazakhstan has 38 and Moldova 36. Health spokesperson, Elin Jones said:
It is essential that the Welsh Government takes action to increase the number of doctors recruited to Wales. Plaid Cymru has proposed a number of solutions tried and tested in other countries of a similar size to Wales including financial incentives to encourage graduate doctors to practice here and in the short term increased recruitment of doctors from other EU nations. **
– Elin Jones, Plaid Cymru Shadow Health Minister
It seems we've been here before. This £82 million bailout comes after repeated assurances given to us by the Minister that Health Boards would break even.

The Minister also told the committee that three Health Boards may be allowed more at the end of the year through brokerage.

It shows that the government has simply not got a grip on the health service.

This time, the Minister has raided the capital budget to pay for this...

It's becoming clear that there is a lack of financial planning and robust financial management as well, which will inevitable effect frontline services.
– Elin Jones AM, Health Spokesperson
Load more updates