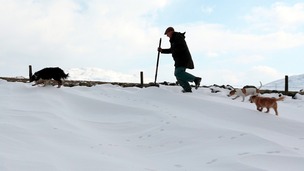 Farming groups have signed an open letter to the Natural Resources Minister calling for 'adequate compensation' following last month's snow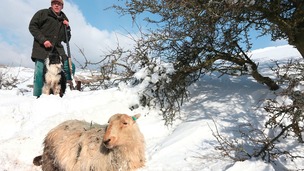 The Welsh Government have announced that laws preventing the burial of dead animals on farms are to be 'relaxed' for the next seven days.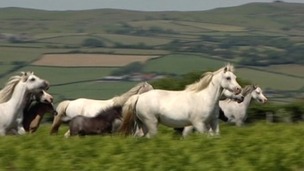 A consultation has been launched into plans to deal with the problem of abandoned horses.
Live updates
Wales' first farming conference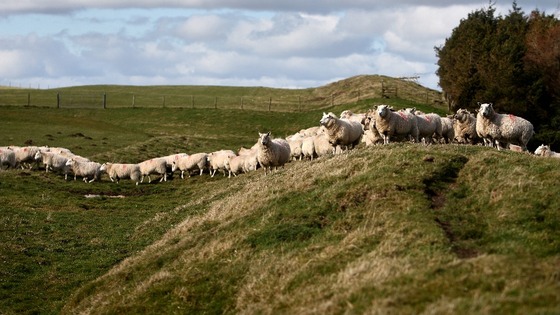 Farmers and Welsh Government meet today to plan for the future of the agricultural industry.
The Welsh Government will host Wales' first annual farming conference in Llandrindod Wells.
It'll consider the challenges and opportunities facing the industry.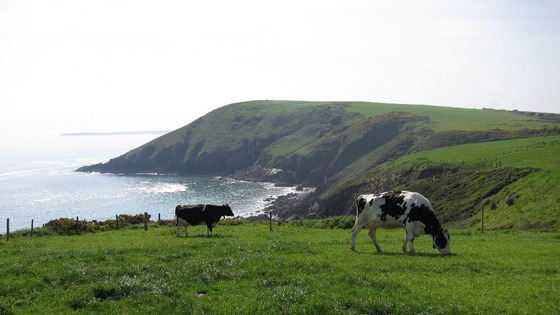 The conference was one of the recommendations put forward in 'Working Smarter' a report commissioned by the Welsh Government.
Dairy code 'may need legislation'
Voluntary code over milk prices 'is best option'
MPs on the Welsh Affairs Committee say, after their short inquiry, that the voluntary code is supported by most farmers - but a mandatory code should be an option if it does not work.
The committee recommends any UK Government legislating is done in cooperation with the Welsh Government.
The events of the summer of 2012 brought to attention the difficulties faced by dairy farmers, particularly their powerlessness in the face of severe milk price reductions with little warning.

The people within the industry that we heard from mostly welcome the voluntary code and want to give it time to work. We believe adherence to a voluntary code is the best option. To give it the best chance, we urge all dairy processors who have not yet signed the code to do so.

However, if it does not work, Government should stand ready to ensure that fairer deal through a mandatory code.
– David Davies MP, Chair of the Welsh Affairs Committee
Advertisement
Dairy code 'may need legislation'
Voluntary code was agreed after milk price protests
The voluntary code over milk prices was first agreed at the Royal Welsh Show last summer.
After face-to-face talks, diary farmers and processors struck a deal 'in principle'.
The coce meant companies buying milk would have to give farmers a 'sensible' warning period before changing their prices.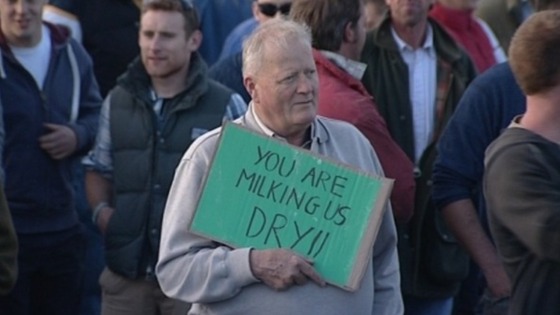 It followed a series of protests and factory blockades by dairy farmers angry at cut to the amount they were paid for milk, which they said reduced the amount they received to less than it cost them to produce it.
Read More: Deal over voluntary code for milk prices struck at Royal Welsh Show
Watch: Welsh farmers involved in blockade of Somerset milk processing plant
Dairy code 'may need legislation'
Legislation may be needed to protect dairy farmers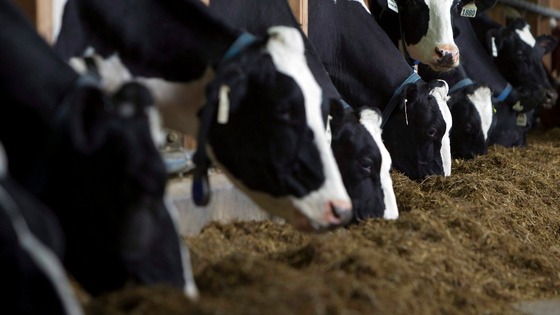 A voluntary code to protect farmers from cuts to milk prices is the best option, but the industry must adhere to it, according to a report published by the Welsh Affairs Committee. MPs also say the Government must be prepared to legislate if improvements are not made.
Long-standing cost pressures on dairy farmers came to a head in a crisis in 2012, when processors announced a series of milk price reductions to be implemented at short notice. Some of the price cuts were rescinded following public pressure and a voluntary code of practice was introduced.
Dairy farming is of considerable importance to Wales, accounting for a third of all agricultural production and employing thousands of people. The dairy industry in Wales has an estimated total economic output of about £420m.
Fears over mountain ponies
Unique ponies of North Wales are 'valueless'
Farmer Dei Davies has a dozen of the hardy North Wales ponies on his upland farm at Melin y Coed near Llanrwst.
But for the past two years he has kept his stallion apart from his mares, to prevent them becoming pregnant, as he can't afford to raise any foals and keep the breed line going.
The ponies belong to the land, they've been here for centuries. They were bred for the mines and quarries but after that stopped, they stayed on the mountains, running wild.

We used to be able to sell the male foals, and get a fair price, but nobody wants them anymore, they are valueless, so for the last two years I haven't bred from the mares, and I don't know when I will again.

They are a part of the countryside, and they do a good job keeping the moorland grazed.
– Farmer Dei Davies

Shadow Rural Affairs Minister Antoinette Sandbach has written to the Welsh Government asking how farmers can be helped to keep the breed flourishing.
Fears over mountain ponies
North Wales pony breed is 'dying out'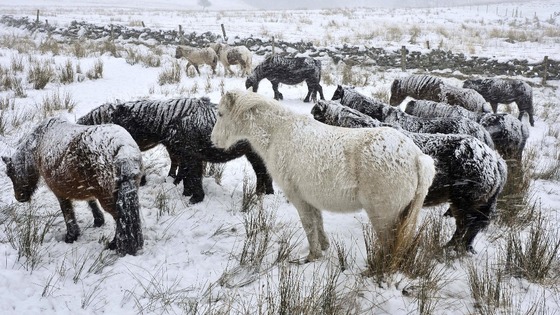 The sight of mountain pony foals roaming wild over the moors and hillsides of North Wales could be a thing of the past.
The warning comes from Shadow Rural Affairs Minister Antoinette Sandbach who says farmers are concerned the breed is dying out.
The blame is being put on the increasing costs of keeping the animals and the horsemeat scandal.
Few foals were born last year as farmers can't sell them for enough to cover the costs of horse passports, microchips and vet fees.
There is a warning that the ponies' bloodlines could disappear and the moorlands of North Wales will be altered without the ponies to keep invasive plants at bay.
One farmer near Llanrwst says he has decided to stop breeding them altogether.
Advertisement
Snow hit farmers invited to meet with minister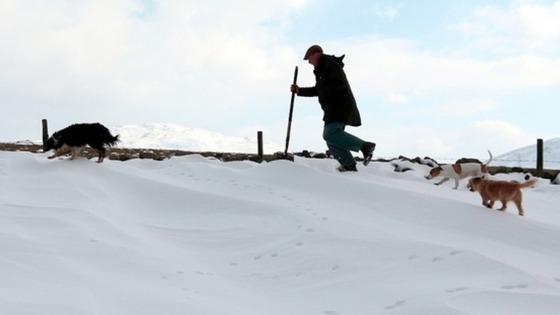 Wales' Minister for Natural Resources, Alun Davies, is inviting people who have been badly affected by the recent severe weather to speak to him at a public meeting in Bala.
Mr Davies says he is keen to hear farmers' ideas on how government and individual farming businesses might work together in future to mitigate the problems experienced.
The meeting is at Ysgol y Berwyn in Bala on Thursday 9th May.
The Welsh government says representatives of Farming Connect, the Farm Liaison Service and farming charities will be present to talk to farmers about the support they are able to offer.
Farm animal burial law relaxed for 'final' week
Farmers in Wales will be given a 'further and final' week to bury dead animal recovered on their land.
The further announcement by the Welsh Government is aimed at helping farmers recover from the impact of the recent severe weather.
As a result of close working between Welsh Government and partner bodies such as the Department for Transport and the National Fallen Stock Company we have been able to agree some key changes that will allow the backlog in fallen stock collection to be cleared as quickly as possible.
– Alun Davies, Minister for Natural Resources and Food

The minister says it will also hold a meeting with banks this week to brief them on the recent difficulties and to discuss what they can do to support their clients.
£500,000 snow help for farmers
'Short term subsidies' not the answer, minister tells farmers
Natural Resources Minister Alun Davies has replied to farmers leaders who criticised him in an open letter. They said he was not offering the same financial help as in other parts of the UK to Welsh farmers hit by last month's snow.
He has told them that 'short term subsidies' are not the answer and that there are issues of fairness and affordability.
I will consider bringing forward a proportion of ... Farm Payments, particularly for those who have been hardest hit to date by the weather ... I am willing to keep other possible measures under review, while the evidence of the precise nature and extent of the problems you describe becomes clearer ... But you – as the industry's leaders – must also understand that many other parts of the economy within Wales (and indeed other parts of agriculture) have suffered from the effects of the weather over the last 12 months, and more generally in the global downturn of recent years.
There is a real matter of fairness and affordability here. It is also hard to see how repeated demands for short-term subsidies support the process of change necessary for farming businesses to meet the increasing challenges of the global marketplace. We need solutions for Welsh agriculture that are sustainable - in every sense.
– Natural Resources Minister Alun Davies AM

Mr Davies said he fully appreciated the impact of the snow on both animal and human welfare, and had every sympathy with those who have suffered losses. He will meet the the main banks to discuss what help they can provide. He also wants a further meeting with the farmers' leaders themselves.
In short, I am standing shoulder to shoulder with the wider farming community in helping move Welsh agriculture through the current difficulties.
– Natural Resources Minister Alun Davies AM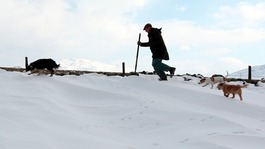 Farming groups have signed an open letter to the Natural Resources Minister calling for 'adequate compensation' following last month's snow
Read the full story
Load more updates
Back to top