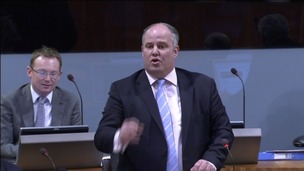 Our weekly look at questions to the First Minister from the leaders of the Opposition Parties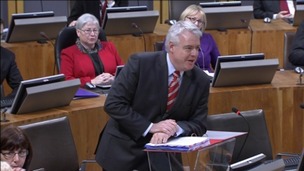 Our weekly look at First Minister's Questions.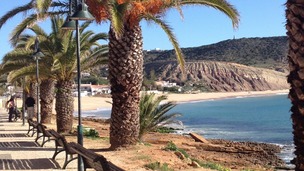 As the new year unfolds, exotic locations are not far from the FM's thoughts.
Live updates
Wales Office hits back in rail electrification costs row
The First Minister says he's 'now concerned about the UK Government's intentions' over funding for electrification of the main London to South Wales railway line and the Valleys Lines.
Carwyn Jones said he still doesn't have confirmation from the UK Government that it will pay the full cost of electrification despite assurances from the Prime Minister and Welsh Secretary. He said ministers and officials continue to try to gain 'clarification' on the situation.
Apprentices from Carmarthenshire say they hope to make a big difference in Uganda as they set about building a mill for over 30 widowed farmers.
It is hoped the building will allow the farmers to make the most of their crops.
Our reporter Owain Phillips visited Uganda and here's the second of his reports.
Read more: First Minister says Wales is 'committed' to helping Uganda
Advertisement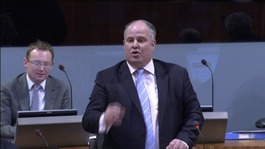 Our weekly look at questions to the First Minister from the leaders of the Opposition Parties
Read the full story
It's four years since Carwyn Jones became Wales' First Minister. Our Political Editor Adrian Masters is at his final press conference of the year.
First Minister defends his record on his 4th anniversary;lists measures to help households with council tax, energy bills, Jobs Growth Wales
First Minister says Cardiff Airport worth £3m more than Welsh Govt paid; expects to run it as is for at least a year; operators interested.
FM says best achievements in 4 years: getting & winning lawmaking ref. & Human Transplantation Act: 'more people will live as a result.'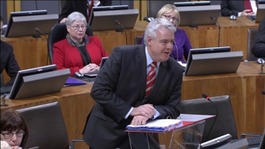 One obstacle in the way of a council shake-up may have already been cleared. When Carwyn Jones said recently that he's 'open' to the idea of starting the process of reorganisation before the next Welsh election he also said he 'doesn't like changing manifesto commitments.' Read what he said here.
But it turns out there is no manifesto commitment NOT to reorganise local government before the 2016 election. You can search Labour's 2011 manifesto for yourself here. It seems it had been a pledge during the drafting process but didn't make it to the final document.
The rest of the First Minister's hurdles remain and it's still unlikely that any legislation to cut the number of councils would make it through the Assembly before 2016. But at least Carwyn Jones doesn't have to worry about breaking a manifesto pledge.
Advertisement
Plans to develop a Financial Services Enterprise Zone in Cardiff took a step forward today. The business support firm Deloitte is expanding its operation with an extra hundred staff over the next three years at a new Centre of Excellence at one of its two sites in the city centre.
Carwyn Jones' comments about local government reorganisation, which you can read about if you click here, mark the most significant public shift in the debate on the number of councils we need and the most high-profile acknowledgement that a shake-up is inevitable.
Until now ministers have agreed in public that 22 authorities are too many for a small country like Wales and in private that the number needs to be cut. But ask them in public and they will say it's a distraction, too expensive and collaboration needs to be given more time to deliver efficiencies.
Carwyn Jones isn't about to rip up Labour's manifesto commitment just yet. As he said any move would have to wait until after the Williams review reports early next year and would require cross-party support. A Bill, he said, is unlikely before 2016. But in the first months after that election...?
Powers delay 'raised with PM'
A Welsh Government source has dismissed criticism by Plaid Cymru MP Hywel Williams about the First Minister's campaign for a constitutional convention. Mr Williams accused Carwyn Jones of 'bluster' for not raising it with the Deputy Prime Minister's office which is responsible for the constitution.
But the source said:
The First Minister has led the way on calling for a Constitutional Convention. He has raised the issue many times in face-to-face discussions with both the Prime Minister and Deputy Prime Minister. As usual, Plaid Cymru are late to the table and have nothing useful to add to this debate.
The First Minister says he'll visit Flanders later this year to see for himself the condition of memorials to Welsh soldiers killed during the First World War and whether or not they need improving. He was speaking as the UK Government announced how it plans to commemorate the war's centenary.
He said a programme of events here in Wales is still being developed, but that it would be 'complementary' to that which happens in England. However he wouldn't say whether or not children from every Welsh school would visit WWI battlefield sites as is happening in England.
Load more updates
Back to top