Number of people turning to foodbanks higher than ever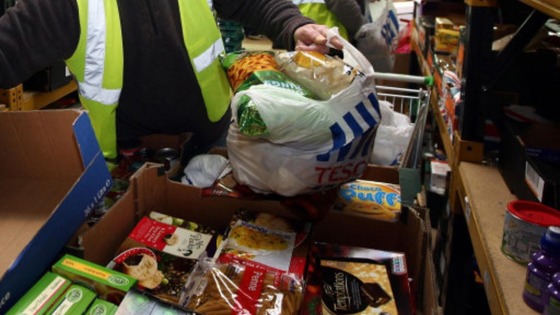 The number of people in the UK turning to foodbanks for help is higher than ever before.
ITV News has surveyed 45 of the UK's busiest independent foodbanks, and found in the last 12 months almost every single one had seen more people than ever.
In Wales, the busiest independent foodbank facility is in the Rhondda.
In the last 12 months, it said it's seen a 40-50% increase in the number of people visiting.
It also said it helped an average of 1600 people a week in 2013 - 500 of which were children.
Along with the other 44 foodbanks surveyed, it said 'benefit' problems were the predominant reason for people needing the service,
Other findings of the survey:
• 75% of foodbanks surveyed say they're lacking sufficient space and/or cold storage to feed the number of people that need their service.
• 60% said the people coming to them for food hadn't eaten for at least 24 hours.
• 60% said they provide special 'no cook' packs for kettle or microwave facilities, as many people are struggling to pay their energy bills.
• All 45 said they provide additional products to help people, like toilet roll, toiletries, baby milk and pet food.