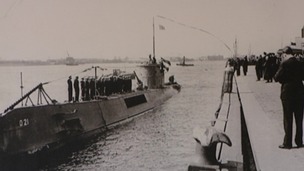 The town is about to get a new war memorial to sailors from the Dutch navy who were stationed there.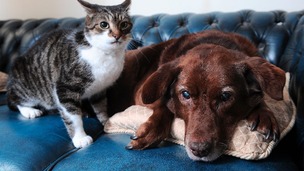 A Holyhead dog left basket-bound after losing his sight has found an unlikely guide in the form of a stray cat.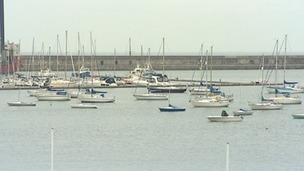 Coleg Menai is helping students learn cruise industry skills to recruit people into an industry with considerable growth potential.
Live updates
Two bodies recovered from sea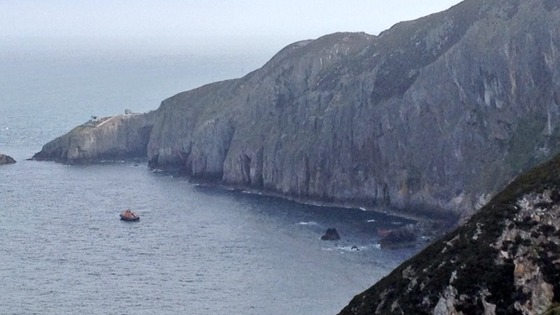 A major search has taken place overnight for two climbers who went missing near Holyhead on Anglesey.
Two RNLI lifeboats went out at around 10pm last night, alongside the coastguard and a search and rescue helicopter from RAF Valley.
The search was suspended at 1.30am due to poor weather conditions and resumed at 4am this morning.
The two men are understood to be in their 50s and 20s.
Welsh engine heads for Ireland
People on Anglesey have been given a reminder of the age of steam today with the shipping of an ancient steam locomotive from Holyhead to Dublin
Princess was built to serve the slate quarries of North Wales. Now, she's being sent to Ireland to encourage visits between the two countries.
Ian Lang reports
Advertisement
Welsh engine heads for Ireland
The steam engine was on display in a north Wales pub until November last year, when it was put on show in London. 'Princess' will travel to Dublin by ferry from Holyhead Port later today.
The original investment in the Ffestiniog Railway was with Irish money so we thought it fitting that 'Princess' should travel to Ireland as part of The Gathering Ireland where she can be enjoyed by thousands of people at Heuston Station in Dublin.

'Princess' will be positioned at the ticket barriers so everyone who visits the station will get the chance to see her in all her glory as we have lovingly restored her to her former condition.
– Paul Lewin, Ffestiniog and Welsh Highland Railways general manager
Welsh engine heads for Ireland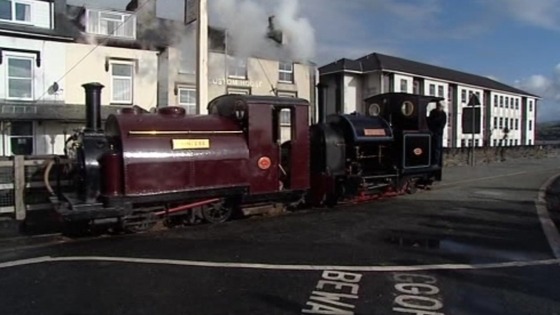 A 150-year-old steam engine is being shipped to Dublin to encourage more people to travel to celebrate the links between Wales and Ireland.
'Princess' will take pride of place at Heuston Station in Dublin for The Gathering Ireland festival.
The engine was built in London in 1863 and named in honour of Princess Alexandra of Denmark, who married King Edward VII when he was Prince of Wales. 'Princess' was originally built to be used in slate quarries in Blaenau Ffestiniog and was one of the world's first narrow gauge steam engines.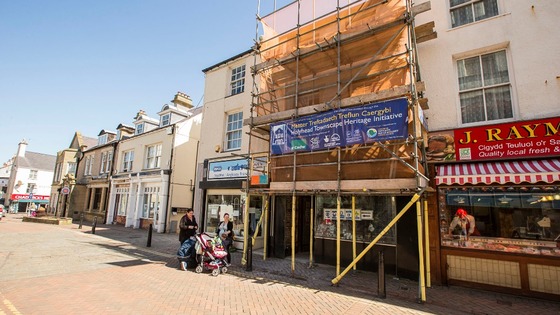 The Holyhead Townscape Heritage Initiative says a unique Art Deco storefront in the town centre will be restored to its 1930s glory as part of a £3 million redevelopment scheme.
Number 19, Stanley Street was unveiled as a shop before the Second World War with its rare black vitrolite coloured glass frontage.
It has lain empty for several years but is currently being refurbished with a Holyhead Townscape Heritage Initiative (THI) project to repair and encourage the reuse of many of the town centre's historic buildings.
THI says the mid-Victorian terraced property backs onto the Roman wall of St Cybi's Churchyard and finds have come to light as work has begun on the building.
An old butcher's delivery bike was found in the cellar and, in a back room, an old well more than ten feet deep.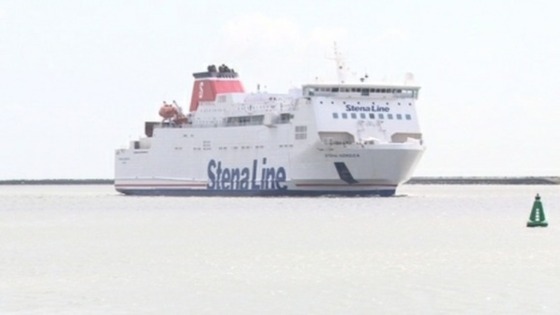 The ferry operator Stena Line - which operates out of Holyhead - says it's too early to say how many jobs will be lost in Wales follow a decision to make 200 workers redundant across Europe.
The positions under threat will be shore-based and not affect operations, says the company.
The RMT Union says around 50 staff will lose their jobs in the UK and they have been identified as clerical, call centre and managerial positions.
Advertisement
Welsh Sec meets Wylfa owners
The company behind a new nuclear power station at Wylfa on Anglesey have met with politicians on the island.
The Horizon project would create thousands of jobs if a new power station is built.
Welsh Sec meets Wylfa owners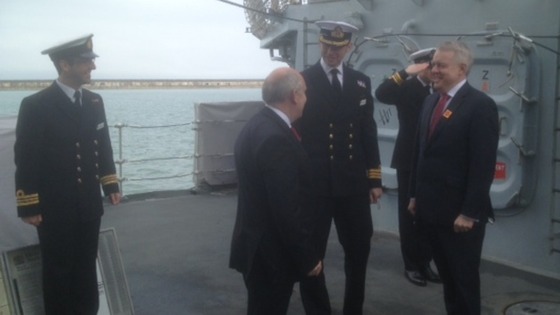 First Minister Carwyn Jones and MP for Anglesey, Albert Owen, have arrived at a meeting in Holyhead. They will be joined by Welsh Secretary David Jones as well as business leaders on the island.
The meeting is taking place on HMS St Albans which is docked in the town's harbour.
Welsh Sec meets Wylfa owners
"Not only does this reception provide us with the opportunity to mark the very important investment Hitachi has made in North Wales, it also allows us to demonstrate the value we place in the Royal Navy, and the role this ship in particular plays in keeping our international waters safe.

"I'm delighted to show Mr Hanyu and his Hitachi colleagues the significance of their investment in Horizon to our local and national economies."
– David Jones, Secretary of State for Wales
Welsh Sec meets Wylfa owners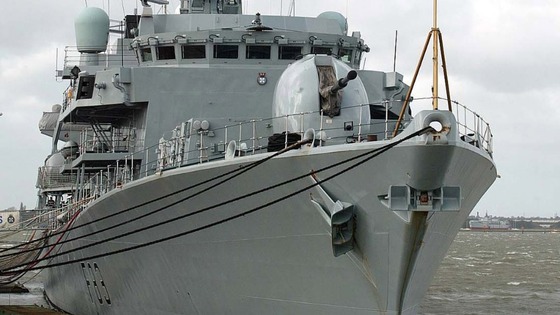 A business event to be held on HMS St Albans will celebrate Japanese firm Hitachi in buying Horizon Nuclear Power. The company holds the rights to build a nuclear reactor at Wylfa on Anglesey.
The deputy chairman of Hitachi Europe, Masaharu Hanyu will lead the Hitachi delegation for the reception.
Representatives from Anglesey Energy Island, the Welsh Government, the Office for Nuclear Development and local stakeholders looking to capitalise on investment opportunities will also attend.
Load more updates
Back to top