Katherine Jenkins dedicated her OBE to members of the UK's forces serving around the world.
The singer, who is also a trustee of the British Forces Foundation, described the honour as "a special thing."
My award was for services to music and charity, I definitely put most of that towards my work with the military and my charities like Macmillan (Cancer Support).

To be recognised for the things that I've done with the military is a really special thing for me and I feel it should be shared with all of them really, all our military personnel around the world.
It boosts morale, it shows them that the UK public really appreciate everything they do and think the world of them.

It's not a political thing, it's about showing support for the men and women - they go where they're told and they put their lives on the line, and I have massive admiration for that.
She said Prince Charles commented on her hat, saying he "loved the colour."
Singer Katherine Jenkins has collected her OBE from the Prince of Wales at Buckingham Palace.
The Neath-born operatic star, who has had a string of hits and has performed for royalty many times, was awarded an OBE for her services to music and charity work.
Advertisement
Katherine Jenkins has been exploring the history of some of the most important pieces of ancient jewellery found in Wales. As part of ITV's Britain's Secret Treasures programme shown last night, she looked at the discovery of the Boverton Hoard in 2005. The Iron Age find is around 2,000 years old.
Katherine Jenkins has returned from her morale boosting mission to Afghanistan where she performed special concerts for British troops at Camp Bastion.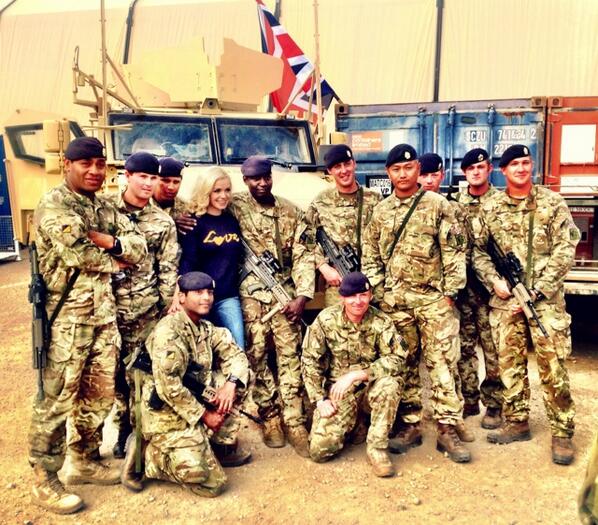 Katherine Jenkins has performed two special concerts for troops at Camp Bastion in Afghanistan.
Click below to watch a video of her performance.
Advertisement
The Neath church where Katherine Jenkins learned to sing has been given nearly £200,000 for urgent repairs.
The classical star returned home to St David's Church in May, singing in a concert to raise money for the church's tower and roof.
Today, the Heritage Lottery Fund has announced a grant of £199,300, which it says will neable repairs to the church tower, including re-roofing and timber repair.
Katherine said: "I am delighted that St David's church has received this development funding take out much needed repairs. I have been very proud to support this beautiful church over the years and have been closely involved in helping the congregation to secure its future."
"I fondly recall the many opportunities I had to sing at St David's when growing up in Neath, which played a big part in my development as a performer."
£180,300 has also been awarded to the Grade II listed St Barrwg's Church in Bedwas, near Caerphilly, as part of the Heritage Lottery Fund's new Grants for Places of Worship scheme.
Katherine Jenkins spoke to our Correspondent Carl Edwards live on the programme this evening in Neath, ahead of her charity concert at the town's St David's Church.
The classical star is launching an appeal to raise £500,000 for essential repairs to the church tower and roof.
It is where she was christened and started singing as a choir girl, and she told us "this is where everything happened for me musically" and coming back is "so special."
Katherine Jenkins will give a charity concert on Tuesday evening to help raise £500,000 for the church where she began singing.
The Welsh classical star returns to St David's in Neath to perform for its restoration appeal.
It hopes to raise enough money for essential repairs to the church tower and roof above the choir stalls.
St David's is where Katherine learned to sing and where she still performs at Christmas. The singer was also christened there.
Canon Stephen Ryan, Rector of Neath said "We are delighted that Katherine is helping us with our fundraising appeal.
"I know she holds St David's Church in great affection, and as a community we are extremely proud of her success. "
Classical star Katherine Jenkins will be performing in her hometown of Neath next month - to try to raise money to save the church where she learned to sing.
The tower and roof at St David's Church are in need of essential repairs, and an appeal is hoping to raise £500,000.
"St David's Church has been so important to the people of Neath; the church and the people of Neath are very special to me and so it's really important that as a community we come together to unite to help repair this wonderful tower", Katherine said.
"I often talk of Neath when I tour around the world, the history and the people all were formative in the person I am today".
The mezzo-soprano will perform some of her hymns and arias, and meet supporters of the appeal, at an "intimate evening" next month.
To raise money, she will also auction off a polka dot dress she wore on the final of the 2012 series of Dancing With The Stars in America.
Load more updates