Party leadership contenders Andy Burnham and Liz Kendall are in Wales today, as the contest for Labour's top job enters its final phase.
Read the full story ›
As the voting deadline looms for a new Labour party leader, hopeful contender Yvette Cooper visits Flintshire.
Read the full story ›
Advertisement
Labour leadership frontrunner Jeremy Corbyn, on a visit to the Aneurin Bevan Stones near Tredegar, has claimed that he would have a good working relationship with First Minister Carwyn Jones, who's said that the veteran leftwinger would be "an unusual choice" of party leader.
Earlier Mr Corbyn said his campaign needed to be a bit cautious about a poll giving him a commanding lead in the leadership contest but when he was asked about how he'd get on with the First Minister, he talked as if he expected to be Labour leader.
Carwyn and I are going to get along fine ... perhaps we can narrow the clear red water [between Labour in Wales and at Westminster] -and walk across it.
– Jeremy Corbyn MP
Mr Corby added that a big movement was growing "full of optimism and hope".
As Jeremy Corbyn continues his campaign tour of Wales, the latest poll puts him well ahead in the Labour leadership contest.
Read the full story ›
Those battling to become Labour's next UK leader visited Cardiff over the last few weeks in a bid to win Welsh support.
Read the full story ›
Advertisement
A Labour election candidate has apologised for anti-English remarks he made online nine years ago.
Huw Thomas, who's standing in Ceredigion, suggested throwing Tippex over cars flying England flags during the 2006 World Cup. He said they showed that Wales had been infiltrated by immigrants. Today he said he apologised wholeheartedly and deeply regretted his words.
Labour leader Ed Miliband has told ITV News there are 'huge challenges' facing Welsh hospitals and schools - but he also praised the work that the Welsh Government is doing.
Mr Miliband has faced months of taunts from Prime Minister David Cameron about the state of Wales' health and education services.
Today Mr Miliband held a summit with Welsh Labour leaders to thrash out how they'll defend the party's record in Wales ahead of the Westminster elections next year.
Ed Miliband told our Political Editor Adrian Masters he is "incredibly proud" of the Labour Welsh Government's record in Wales.
Visiting today alongside his Shadow Cabinet, he pointed to the success of Jobs Growth Wales, and defended its handling of the economy in Wales, and the NHS here.
He also laughed off a question about a tweet sent from the Labour press team, reading 'Everybody should have his own owl', after their Twitter account was apparently hacked.
Watch our presenters' extended studio interview with Labour leader Ed Miliband on ITV News Cymru Wales at 6pm
Labour leader Ed Miliband joined Owen Smith and Carwyn Jones for a Q&A session with workers at GE Aviation in Nantgarw this lunchtime.
Members of the Shadow Cabinet and Welsh Government ministers went out on a series of visits around South Wales.
Shadow Welsh Sec Owen Smith, First Minister Carwyn Jones & Ed Miliband taking questions from GE staff at Nantgarw. http://t.co/3QuuvZ4O26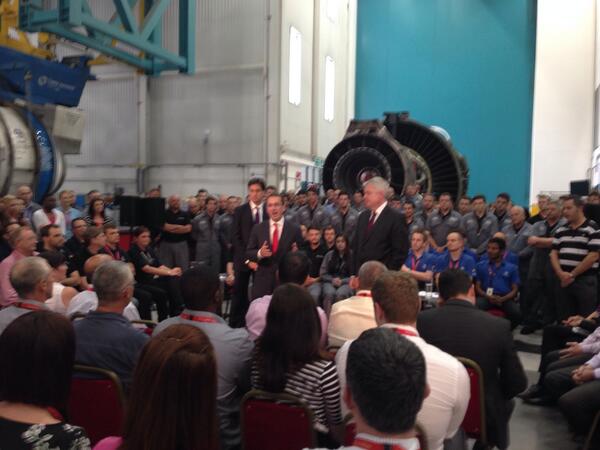 Meeting over in Natngarw. Labour volunteers are driving Welsh ministers and Shadow cabinet counterparts away in twos on a series of visits.
Load more updates