Ed Miliband paid his first visit to Wales as part of his General Election campaign, with a message that Labour would help working families.
Read the full story ›
Advertisement
Labour leader Ed Miliband is visiting Wales today for the first time in his general election campaign.
Speaking ahead of his visit, he said the choice at this election was between 'the Tories failing plan and Labour's better plan for working families.'
The Tories have failed working families because they choose to prioritise helping a few at the top. Labour's plan is based on a simple truth: Britain and Wales succeeds when working families succeed.There are only two possible outcomes on May 7th - a Labour government that will work with the Welsh Labour government to deliver for local communities or a Tory government that will continue with their extreme spending plans.
– Ed Miliband, Labour leader
A source for Welsh Labour has said David Cameron was the 'one clear loser', for not appearing in tonight's leader's debate.
The party have described Ed Miliband as 'the only alternative Prime Minister'.
1/2 Welsh Labour source on #BBCdebate 'One clear loser tonight: David Cameron, the man who didn't bother turning up…'
2/2 Welsh Labour source cont'd: 'Ed Miliband had serious answers and a serious debate. He's the only alternative Prime Minister.
Plaid Cymru's Leanne Wood issued a direct challenge to Ed Miliband tonight over the offer of an emergency budget to reverse Tory Cuts, should he form the next Government.
A source from the party says Miliband's refusal of this offer leaves Welsh Labour's criticism of 'Tory cuts' in tatters.
Plaid Cymru said 'continuing on this path of austerity will offer an uncertain future.'
Plaid source says Miliband's refusal of Wood's emergency budget offer leaves Welsh Labour's criticism of 'Tory cuts' in tatters #BBCDebate
Following Welsh Labour's manifesto launch this morning, rival political parties have criticised some of the pledges made.
Read the full story ›
Advertisement
Welsh Labour have launched their General Election manifesto promising an extra £375million in annual funding for Wales.
Read the full story ›
The Welsh Labour Party has pledged £375m extra annual funding for Wales at the launch of its general election manifesto in Llandudno.
The party says it will reward hard work and rebalance the economy.
The manifesto also includes plans to raise the minimum wage to £8 an hour and scrap zero-hour contracts.
This manifesto is a fair plan for Wales - a plan to rebalance our economy so that it works for ordinary people, not just a privileged few at the top. A plan to rebalance power so that more decisions affecting Wales can be made here, near the people and communities they affect.

With two Labour governments working together, we can put behind us the negativity of the past five years and forge a new, positive union for our people.
– Carwyn Jones, Leader of Welsh Labour
On the General Election campaign trail today Welsh labour say they will double childcare provision for working parents of 3 to 4 year olds.
Read the full story ›
Comedian and actor Eddie Izzard's in Cardiff today on the campaign trail with Labour. Mr Izzard says people should use their vote as others have died for it. He told ITV News he wants to run for election in five years and wouldn't rule out standing in a Welsh seat.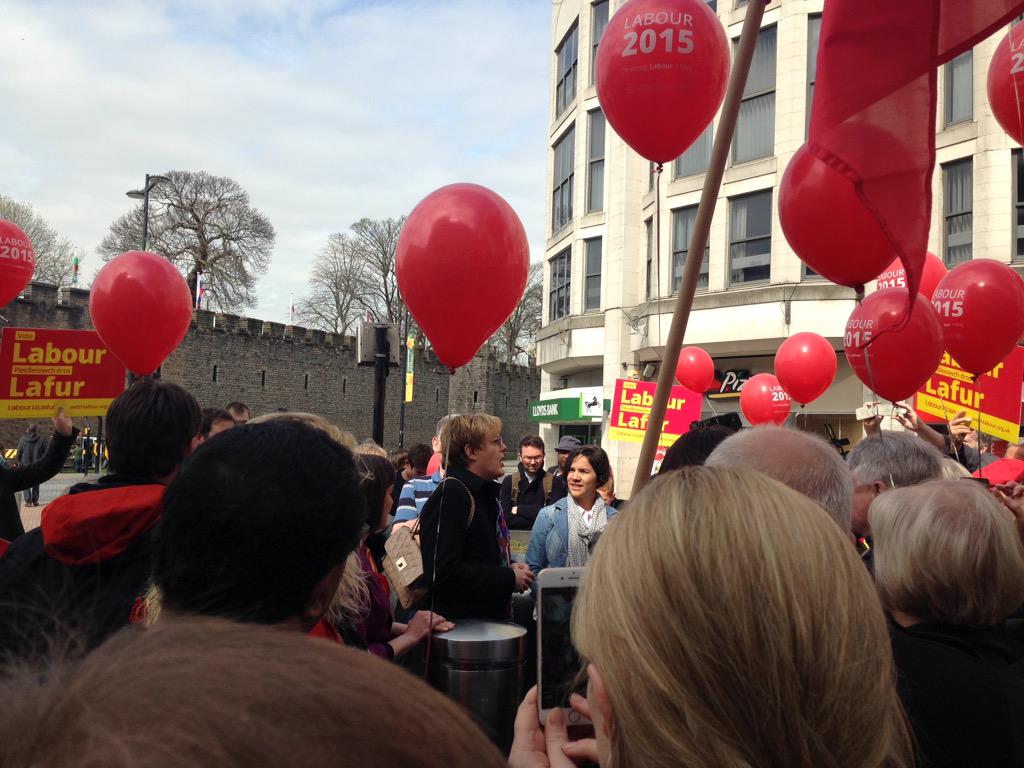 Load more updates