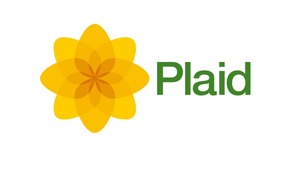 Plaid Cymru's spring conference gets underway on Anglesey with a promise to focus on 'transforming the economy'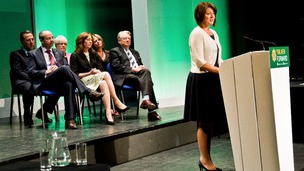 Leanne Wood says she'll gamble her political future by fighting a constituency in the 2016 Assembly election.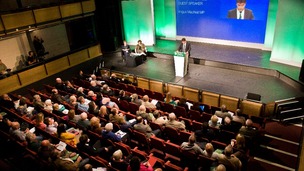 The Plaid Cymru Conference hears a keynote speech on tackling crime but votes against fighting November's Police Commissioner elections.
Live updates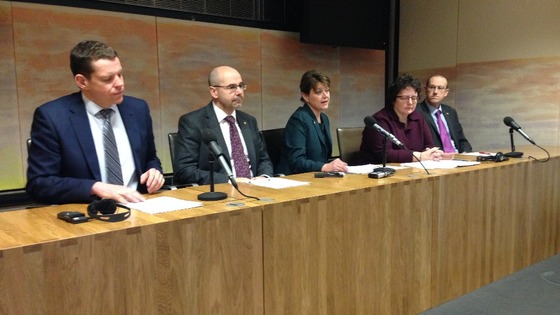 Plaid Cymru leader Leanne Wood has announced major changes to her top team, cutting the number of front bench spokespeople to just five including herself. She says the new 'cabinet-in-waiting' will enable Plaid to be 'more focussed and streamlined' in the Assembly.
The team includes newcomer Rhun ap Iorwerth who only became an AM last August, Simon Thomas, Llyr Gruffydd and deputy leader Elin Jones. Alun Ffred Jones will sepak on finance but as a 'backbench link person.'
Also left out of the top team are senior figures such as Dafydd Elis-Thomas, Jocelyn Davies and Rhodri Glyn Thomas. They and others are set to be named as 'back bench links' who'll work with the front bench team.
Plaid Cymru leader Leanne Wood has criticised the Welsh Government for a year of 'disappointment and failures.' She highlighted Wales' poor performance in the recent PISA international education league tables as well as 'crisis after crisis' in the NHS.
She also accused Labour of presiding over a 'lack of transparency,' citing the news that a controversial hospital reorganisation programme will be announced this coming Thursday which is the last day the Assembly will meet this year.
The Plaid leader said that was 'further evidence of a government afraid to front up' and accused Carwyn Jones' government of 'staggering complacency.'
Advertisement
Sharp End
In an interview for this week's Sharp End, Leanne Wood tells me that Plaid Cymru's 'central and core aim is to achieve an independent Wales.' Long-term Plaid-watchers will say that that aim hasn't always been clearly stated and she agrees.
She also agrees that Wales is a long way from being in the position Scotland finds itself and seriously deciding whether or not to break away from the rest of the UK. But she tells me 'things change and things can change very quickly.'
I'll be discussing what she says and any other ways that Wales could be affected by developments in Scotland with my guests in tonight's Sharp End at 1035pm on ITV Cymru Wales.
Row over winter operations cut
During First Minister's Questions, Plaid Cymru leader Leanne Wood said Carwyn Jones should take responsibility for problems in the Welsh health service. The Senedd exchanges following moves by Hywel Dda health board to postpone some operations to prepare for winter emergencies.
Leanne Wood said to the First Minister:
Are you aware of the level of outrage in Hywel Dda amongst clinicians who have been told that they will have a third of their workload taken away from them this winter. They will be underutilised for four months out of twelve. These staff members still have to be paid and people are stuck in waiting lists in pain and awaiting surgery. When can the people of Wales expect to see you take some responsibility for the problems in the Welsh NHS?
– Leanne Wood, Plaid Cymru leader
Plaid Cymru Annual Conference
Plaid Cymru leader Leanne Wood insists her plan for a not-for-profit company to take on the big energy firms is fully costed and would be cheap to set up.
She unveiled a raft of policy ideas at the party's annual conference in Aberystwyth.
Plaid Cymru Annual Conference
Plaid Cymru have elected a new party chairman at their conference in Aberystwyth.Dr Dafydd Trystan Davies, a former chief executive of the party, will succeed Helen Mary Jones.
I'm delighted to have been elected chair of Plaid Cymru. My aim is to build on the strong foundations left by my predecessor, Helen Mary Jones.

These are exciting times for Plaid Cymru and I intend to play my part in preparing the party as we head towards the National Assembly for Wales elections in 2016.

As chair I've a very important role to play as a voice for members in the party, bringing together the volunteers across the country and linking them into the elected members and the professional staff of the party.
As chair, I'm keen to engage with our young members, ensure a higher percentage of women candidates representing the Party and to attract people from all backgrounds to Plaid Cymru. I also want to hear from those who are interesting in contributing to Plaid Cymru, whether or not they are party members.
– Dafydd Trystan Davies, newly elected Plaid Cymru chairman
Advertisement
Plaid Cymru Annual Conference
Plaid Cymru leader Leanne Wood has made a series of policy pledges which she says she'd carry out if her party wins power in Cardiff Bay. They include a tax on sugary drinks and rent controls on private housing.
Leanne Wood was speaking at Plaid Cymru's conference in Aberystwyth.
Our Political Editor Adrian Masters reports.
Plaid Cymru Annual Conference
Plaid leader @leannewood calls for the creation of a non-profit gas & electricity company which could be arms-length govt company.
Plaid leader @leannewood pledges to reintroduce rent control for the private sector.
Plaid leader @leannewood promises to introduce a sugary drink levy of up to 20p per litre if she leads Welsh Govt to pay for more doctors.
Plaid Cymru Annual Conference
Plaid Cymru leader Leanne Wood is expected to unveil a new policy commitment to cut business rates for small businesses in Wales. In her speech to the party's conference in Aberystwyth she's due to say that a Plaid-led Welsh government would cut rates for firms with a rateable value below £15,000.
She's expected to say:
The Party of Wales' proposals to cut these rates will improve cash flow for small businesses and will hopefully enable them to not only survive but to grow and prosper, securing or even expanding job numbers.

Supporting small businesses and the thousands of people employed in them is a key priority for Plaid Cymru. We have demonstrated this with our budget deal on apprenticeships which was specifically tailored for small-to-medium sized enterprises.
It is sadly the case that many of our high streets have become ghost towns, characterised by empty and boarded up shops. The business rates policy of the Party of Wales will go a considerable way to breathing new life into our ailing town centres and local economies.
– Leanne Wood, Plaid Cymru leader
Plaid Cymru Annual Conference
Members of Plaid Cymru are gathering in Aberystwyth for their party's annual conference. Delegates' minds will be focussed on next year's European elections with the party unveiling its campaign slogan - 'Wales First!'
Party chiefs say the conference also marks an opening-up of decision-making with individual members able to vote on motions directly for the first time rather than through branch and constituency representatives.
Load more updates
Back to top