Plaid Cymru leader Leanne Wood has called for the Welsh Government to get income tax powers without the need to hold a referendum first. She told her party's conference in Caernarfon that Plaid's agreement with the other parties that there should be a referendum was no longer valid because Labour, Conservatives and Liberal Democrats had all failed to back in full the recommendations of the Silk Commission on further devolution.
Leanne Wood said she expected Plaid's MPs to have the influence in a hung parliament to secure many of the party's demands. She said that they would start by insisting on an end to economic austerity.
Austerity is ideologically-motivated. It's a policy with the aim of dismantling the state and social protection. It is not rooted in fiscal responsibility or economic sense. The experiment has failed. Plaid Cymru will end it.

In building post-austerity Wales, our country must have the tools to deliver not just a new constitutional framework, but to build a new society based on the aspirations of people in Wales.

In building post-austerity Wales, closing the resources gap between Wales and Scotland is crucial. The Barnett Formula has entrenched Wales' disadvantage, every single year since its introduction in 1978.

An additional £1.2 billion for our public services and greater resources to strengthen our country's economic prospects and end Wales' fiscal dependency for once and for all.

We'll take 70,000 Welsh businesses out of the rates system altogether and we'll reduce the burden on thousands more. Plaid Cymru is ambitious for Welsh business and we know that we won't realise our ambition of full employment in Wales without successful Welsh enterprises creating jobs and paying good wages.
– Plaid Cymru Leader Leanne Wood AM
The Plaid leader also called for a ring-fenced fund for new drugs and treatments, not ordinarily on the NHS. Requests from Welsh patients would be approved or rejected by a national panel, with no variations between health boards The requirement that patients demonstrate 'exceptionality' in order to be successful would be abolished.
Number Ten sources have suggested the Prime Minister would consider a 5-party debate but that would still exclude Plaid Cymru and the SNP. The Plaid leader Leanne Wood has written to the other parties saying that if they remain excluded, the Westminster party leaders should take part in a debate held in Wales. She said:
At the moment there is a danger that people in Wales will be sidelined by the television debates. If the debates take place without Plaid Cymru and the SNP, then it is clear that the discussions will be dominated by England only matters, and devolved issued will not be taken into consideration.

People in Wales have a right to scrutinise the parties that could have an impact on their lives after the election. With the prospect of a hung Parliament becoming ever more likely, it is very possible that Plaid Cymru will hold the balance of power.

The people of Wales should have the opportunity to hold Plaid Cymru to account.

For this reason it is important that the leaders come to Wales and hold a debate here in Wales. Welsh voters should be given the chance to properly scrutinise the parties that will represent them after the UK general election.
– Leanne Wood AM, Plaid Cymru leader
Advertisement
Plaid Cymru leader Leanne Wood says the Scottish referendum is not the end but only the beginning for devolution in the UK.
Speaking at the Scottish National Party Conference today, Leanne Wood called for Wales to have a say in all major UK decisions.
Our Political Editor Adrian Masters reports:
Plaid Cymru leader Leanne Wood has given a speech at the Scottish National Party conference in Perth.
She called for shared decision-making by all four UK nations in the future, with major policies needing a consensus between governments.
She also praised the impact of impact of the campaign for independence in the Scottish referendum.
.@leannewood: "You have built a new democracy and no party - no government - can disestablish that" #SNP14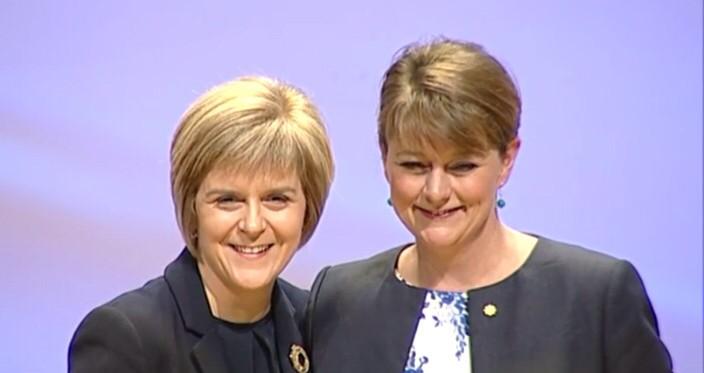 Plaid Cymru leader Leanne Wood will call later today for a new devolution settlement that will leave Wales and Scotland to decide what's still controlled at a UK level. She will add that even then any decision should require the agreement of the Welsh and Scottish governments.
In a speech to the Scottish National Party conference in Perth, Leanne Wood will set out how she expects the new system to work, now that there is all party support for Wales moving to the same "reserved powers" model as Scotland, where everything is devolved unless it is explicitly reserved to Westminster.
It is the peoples of the nations of the UK who are sovereign, not Westminster. That reality must be reflected as the relationships between our countries are reconstructed in the coming months.

Reserved powers should mean shared powers and let me make clear that a Plaid Cymru government from 2016 will insist on major decisions at a UK level requiring consensus between the governments.
– Plaid Cymru Leader Leanne Wood AM
The Plaid Cymru leader will praise the grass roots movement which campaigned for independence in the Scottish referendum and claim that "power will be delivered to the people" despite the defeat in September.
She will add that although a new state wasn't born, a new democracy has been built in Scotland, that "no party, no government can disestablish".
Plaid Cymru's annual conference has ended with Lord Dafydd Wigley backing the party leader Leanne Wood's call for more money for Wales. Our political reporter Owain Phillips reports from Llangollen.
Advertisement
Former Plaid Cymru leader Dafydd Wigley, who's running his party's 2015 Westminster election campaign, will tell Plaid's conference today that the only effective protest on behalf of Wales is made by voting Plaid Cymru. Lord Wigley will back the call by his successor, Leanne Wood, for Wales to get an extra £1.2 billion a year from the Treasury as part of a package to deliver partity with Scotland.
"In any discussion about future constitutional settlement, Wales demands parity with Scotland – full parity, not just parity of esteem, but parity of power – and parity of financial resources.

"If it isn't immediate independence, it has to be much more than devolution – for power devolved is power retained – as we in Wales well know.

"It has to be a new partnership between nations on these islands; and we, here in Wales too, have to be part of that partnership.

"If Wales got as much, pro-rata, as Scotland gets in comparison to England, then our National Assembly would be getting £1.2bn more each year. The financial treatment of Wales has been a scandal – and this issue, above all others, must dominate the coming general election here in Wales.

"Plaid Cymru will use the next six months to demand for Wales full parity with Scotland. In funding, in our National Assembly's powers, in our place within the UK as it evolves, and with other small nations within the EU.

"In the forthcoming election, there may be several ways in which the voters can protest, but protesting, of itself is not enough: it must be positive protest, protest to a purpose. And the only way of protesting for the purpose of getting Wales a new deal is to be voting for Plaid Cymru candidates the length and breadth of Wales."
– Lord Wigley
Plaid Cymru leader Leanne Wood has said her MPs won't back English votes for English laws until Wales gets an extra £1.2 billion a year.
Read the full story ›
Although Plaid Cymru's main focus is normally on winning power in the Assembly, it's holding a very Westminster focused conference in Llangollen over the next two days. The party's leader, Leanne Wood, sees her speech later today as an important opportunity to get her General Election message across, as she gets far fewer opportunities than the leaders of other Westminster parties.
She'll call them "four shades of Westminster grey", a four that includes UKIP, the new rival that out polled Plaid in the European election. Leanne Wood claims that Plaid's mission is to provide a positive alternative to what she calls "the dark side of politics". She says she saw that alternative -the politics of hope- when she campaigned for a yes vote in the Scottish independence referendum.
The Plaid leader says the party could emerge from the election with five Westminster seats, up from its current three, and form a group with its SNP and English Green allies that could hold the balance of power. They would use that influence to push for a move away from austerity in economic policy and demand that policing, justice and control of natural resources are devolved to the Assembly, together with major tax and borrowing powers.
Load more updates