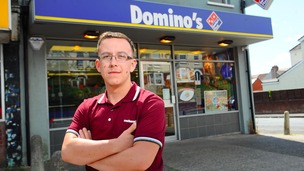 A Newport man was shocked after realising he'd been charged almost £180,000 for a pizza from his local Domino's.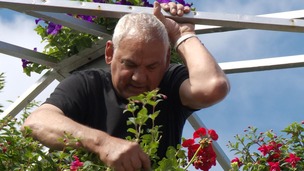 A Newport gardener has taken his horticultural skills to new heights, by building a 26-foot tower of flowers.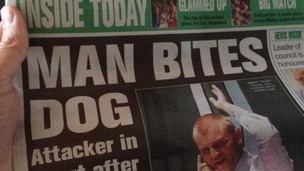 When Adrian Masters tweeted a photo of Saturday's dramatic South Wales Argus front page, he was surprised by the reaction.
Live updates
Some beautiful sunshine across Eastern parts of Wales this morning but it will be cloudier out towards the West.
Any remaining cloud will lift throughout the day, leaving a warm and dry afternoon, with plenty of sunshine.
Top temperature 25C.
A dry and mild night to come for most of us, with some cloud and showers possible in Eastern areas.
Temperatures feeling muggy at around 12-15C.
Advertisement
We want to see your pictures of last night's storm. We'll be sharing some of the best ones online and in our programme Wales at Six.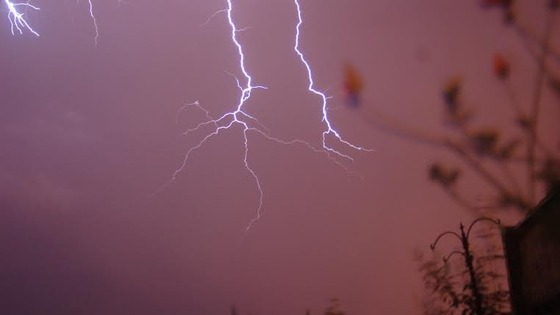 Read more: Weather warning upgraded to Amber
You can send them to us by email on wales@itv.com or on Twitter @ITVWales
Concerns over building of Newport M4 relief road
Labour's Mick Antoniw tells Political Editor Adrian Masters that the Welsh Government's decision on the M4 relief road project 'could have been handled better.'
He's a member of the Environment Committee which completed its report into the plan today. Other Labour members are also said to be disappointed that the announcement was made before the committee finished its scrutiny.
New M4 puts budget deal at risk
Plaid Cymru leader Leanne Wood explains why her party has pulled out of budget negotiations with the Welsh Government in protest at its announcement of plans for a new stretch of M4 motorway.
Concerns over building of Newport M4 relief road
Plans to improve the M4 corridor around Newport are a step closer after the Welsh Government approved proposals for a new section of motorway south of the city.
Iestyn Davies from the Federation of Small Businesses Wales says the relief road will be a 'billion pound mistake' and that other suggestions for the road should be considered.
Advertisement
New M4 puts budget deal at risk
The Welsh Lib Dems are now the only party talking to the Welsh Government about a deal to support the budget. Their leader, Kirsty Willaims, says that following Plaid Cymru's decision to quit the negotiations over the £1 billion Newport motorway announcement says she'll keep negotiating but the plan for the M4 makes it "difficult".
The Welsh Liberal Democrat priority for the next budget continues to be extra support for Wales' poorest school children through our Pupil Premium. However, it's very difficult to see how we can support a budget that prioritises the current M4 proposals and that is what we will explain to the Welsh Government in future negotiations.

The M4 announcement yesterday was a huge mistake. It completely flies in the face of the environmental and economic issues. Our proposed alternatives are far less expensive and less likely to damage vast swathes of the environment. A responsible Government wouldn't spend its entire borrowing powers on one single road, leaving no money left for other transport projects.
– Welsh Liberal Democrat Leader Kirsty Williams AM
New M4 puts budget deal at risk
Plaid Cymru leader Leanne Wood has pulled her party out of budget talks with the Welsh Government in protest at the decision to spend £1 billion on a new motorway around Newport. She claimed it was a reckless and undemocratic decision, arguing that cheaper and more effective solutions to the traffic jams on the existing M4 would have left more money to be spent in other parts of Wales.
The Welsh Government does not have a majority in the Senedd and needs the support of at least one other party to get its budget passed. In the past, it has reached a deal with Plaid Cymru, the Liberal Democrats or both. Plaid and the Welsh Lib Dems has reached an agreement to negotiate jointly in future.
This is a stand that Plaid Cymru has been compelled to make. The Welsh Government acted with complete disregard for the democratic institution when it took this decision without proper scrutiny and with no business case.

Plaid Cymru wants the M4 congestion problem resolved now and resolved properly. There is an option to do this at a more reasonable cost giving us the same answer and that is why Plaid Cymru in government turned down this more expensive and environmentally damaging option.

In budget negotiations, we would have worked hard to ensure the best value for money for the Welsh taxpayer, and yet the Welsh Government has blown a billion pounds on this extravagant project when there are more efficient and more cost-effective alternatives.
– Plaid Cymru Leader Leanne Wood AM
Concerns over building of Newport M4 relief road
Plaid Cymru's Shadow Transport Spokesman, Rhun ap Iorwerth says he believes that todays decision is a costly mistake. He believes that there will be a 15 year wait for the project to be delivered when an alternative route could have been completed a decade sooner.
Concerns over building of Newport M4 relief road
Environmental campaigners Friends of the Earth and sustainable transport charity Sustrans have both condemned the decision to go ahead with a new motorway. They claim it will devastate nationally important wildlife sites in the Gwent Levels south of Newport. They also predict that the motorway won't open to traffic for more than a decade and that the billion pound cost will starve more worthwhile transport projects of funds.
This vastly expensive, utterly unnecessary and terribly damaging motorway is the worst possible transport choice for south east Wales. And the billion pound price tag means that, at a time when traffic has actually decreased since 2007, it's going to come at the cost of the sustainable solutions that could benefit us all. Investment in public transport and some modest road improvements could improve transport in the area at a fraction of the cost, and we could be seeing the benefits almost immediately.
– Gareth Clubb, Friends of the Earth Cymru
£1 billion for a new section of motorway is the wrong transport priority for Wales. Investment in public transport must be the priority for building a sustainable and efficient economy, yet the Welsh Government's consultation on the need for an M4 relief road scheme didn't take into account other proposals that will reduce demand, such as the Metro programme, or evidence showing that car use is now in decline.
– Jane Lorimer, Sustrans Cymru
Load more updates
Back to top