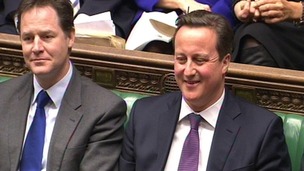 After David Cameron told ITV News that the Welsh Government should have tax raising powers, the details have been published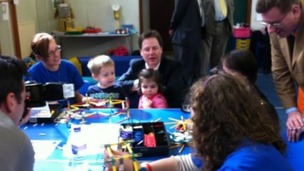 Nick Clegg, the Deputy Prime Minister, has arrived in Wales to help with the Welsh party's local council election campaign.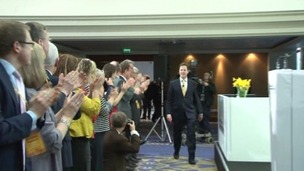 It's the final day of the Welsh Liberal Democrats' annual conference in Cardiff this weekend.
Live updates
Welsh Lib Dem conference
In his speech to the Welsh Liberal Democrats' conference in Cardiff, Deputy Prime Minister Nick Clegg said he was committed to increasing the powers of the Assembly and Welsh Government.
Our Political Editor Adrian Masters asked him why his government wasn't moving more quickly to devolve smaller taxes as recommended by the Silk Commission.
Welsh Lib Dem conference
In his speech to the Welsh Liberal Democrats' conference in Cardiff, Deputy Prime Minister Nick Clegg told delegates that he remains personally committed to increasing the powers of the Assembly and Welsh Government.
Advertisement
Welsh Lib Dem conference
The Deputy Prime Minister is expected to tell Welsh Liberal Democrats that he's committed to transferring more powers from Westminster to the Welsh Government. Nick Clegg will tell delegates that devolution remains central to his philosophy.
As Liberal Democrats we know that a fairer society for Wales means more power for Wales too. That's why we pushed for the Silk Commission and why we want a proper debate about how to devolve more power. This is something we can only do together. Together as nations; together as governments; and together as Liberal Democrats.
Devolution has always been and remains a basic tenet of our party and key to the sort of liberalism I believe in. We make compromises daily in government, but be sure of one thing: our commitment to devolution, indeed my commitment to more powers for Wales, is as strong as it ever was.
– Nick Clegg
Welsh Lib Dem conference
The Liberal Democrats are holding their Welsh conference in Cardiff this weekend. Deputy Prime Minister Nick Clegg will speak to delegates this morning and UK Business Secretary Vince Cable will speak this afternoon. Party leader in Wales, Kirsty Williams will close the conference tomorrow
The leader of the Welsh Liberal Democrats has been speaking about allegations concerning the former Chief Executive of the UK Lib Dems, Lord Rennard. Kirsty Williams says she's 'satisfied' that the investigations set up by the party are the 'best way to establish exactly what happened.'
She says that in 2008 she received an email which has been referred to in recent reports asking if any concerns had been raised about Lord Rennard's behaviour. She says 'I had no issues to report and nobody had discussed his behaviour with me' but she says she too wants answers.
Any allegation that people behaved inappropriately towards women makes me feel sick to the pit of my stomach.

Women report or don't report for a whole variety of reasons and we respect why they don't report.

It would be very difficult to find any women who haven't in their personal or professional life experienced some sort of inappropriate behaviour.

If you think that Wales and Welsh politics is immune from that behaviour, you're kidding yourself.
Two of the women who've made allegations have connections to the Welsh party. Kirsty Williams says the Welsh Lib Dems will ensure that their procedures are up to scratch although she's confident they are.
There's no evidence that there's any issue with Welsh Liberal Democrats' [complaints] procedure. I would like to satisfy myself that that advice is right and that the right procedures are in place. We will ask the NEC to look at existing policy and take it from there.
'Jones the Jag' row
National
London Mayor Boris Johnson left a pre-recorded message for Nick Clegg's LBC 97.3 radio phone-in to ask "when are you going to get all those Government ministers out of their posh limos and onto public transport".
Advertisement
Hazard FA charge over ball boy
When Chelsea footballer Eden Hazard appeared to kick a 17-year-old ball boy during last night's match against Swansea, it sparked a fierce debate.
Now even Deputy Prime Minister Nick Clegg has shared his views on the controversy. When asked about it during a radio phone-in, he said he believed both the player and the ball boy were at fault.
My early judgment is - this is going to sound like painful fence-sitting - but I think they are both at fault. Hazard absolutely should not have done what he did, that was absolutely out of order. Benitez has been clear on that. But the ball boy did seem to kind of cover the ball, which is frustrating for a player.
– Nick Clegg
Lib Dem party conference
Lib Dem party conference
Liberal Democrat leader Nick Clegg has insisted he is 'sceptical' about the idea of paying different salary levels to public sector workers in different parts of the UK.
His comments come ahead of Welsh Lib Dem efforts to persuade the party to halt plans for regional pay.
And they appear to be at odds with earlier support for the plans from fellow Lib Dem minister Danny Alexander.Mr Clegg told political editor Adrian masters:
No decision has been taken. We will not take any decision unless there is overwhelming evidence that it helps everybody and if there isn't, I've set the bar very high, of course we won't do this.
– Nick Clegg MP, Liberal Democrat Leader
Lib Dem party conference
Our political editor Adrian masters asked Liberal Democrat leader if he'll apologise to Welsh Lib Dems for heavy losses in May's council elections.
Speaking at the party's conference in Brighton, Mr Clegg said:
I totally accept that in a place like Wales whose heart has always beat on the left that seeing Liberal Democrats ... go into a coalition with the Conservatives has put some people off.

But what I would say is this: when the British people voted in 2010 they decided no one had won an absolute majority. Now we could have retreated and thrown stones at each other but that wouldn't have helped in creating jobs, wouldn't have helped deliver more apprenticeships in Wales in the way we have done.
– Nick Clegg MP, Deputy Prime Minsiter
Load more updates
Back to top