Plaid Cymru's annual conference has ended with Lord Dafydd Wigley backing the party leader Leanne Wood's call for more money for Wales. Our political reporter Owain Phillips reports from Llangollen.
Former Plaid Cymru leader Dafydd Wigley, who's running his party's 2015 Westminster election campaign, will tell Plaid's conference today that the only effective protest on behalf of Wales is made by voting Plaid Cymru. Lord Wigley will back the call by his successor, Leanne Wood, for Wales to get an extra £1.2 billion a year from the Treasury as part of a package to deliver partity with Scotland.
"In any discussion about future constitutional settlement, Wales demands parity with Scotland – full parity, not just parity of esteem, but parity of power – and parity of financial resources.

"If it isn't immediate independence, it has to be much more than devolution – for power devolved is power retained – as we in Wales well know.

"It has to be a new partnership between nations on these islands; and we, here in Wales too, have to be part of that partnership.

"If Wales got as much, pro-rata, as Scotland gets in comparison to England, then our National Assembly would be getting £1.2bn more each year. The financial treatment of Wales has been a scandal – and this issue, above all others, must dominate the coming general election here in Wales.

"Plaid Cymru will use the next six months to demand for Wales full parity with Scotland. In funding, in our National Assembly's powers, in our place within the UK as it evolves, and with other small nations within the EU.

"In the forthcoming election, there may be several ways in which the voters can protest, but protesting, of itself is not enough: it must be positive protest, protest to a purpose. And the only way of protesting for the purpose of getting Wales a new deal is to be voting for Plaid Cymru candidates the length and breadth of Wales."
– Lord Wigley
Advertisement
RAF veteran Andy Davies says the Royal British Legion helped him get back on his feet after problems with alcohol.
Read the full story ›
For more than sixty years he's been one of Wales' favourite actors, and now Glyn Houston has given ITV an insight into his life. The Rhondda born star has appeared in more than a hundred films and television plays.
Plaid Cymru leader Leanne Wood has said her MPs won't back English votes for English laws until Wales gets an extra £1.2 billion a year.
Read the full story ›
The First Minister, Carwyn Jones, has joined members of the Royal British Legion to help launch this year's Poppy Appeal in Wales.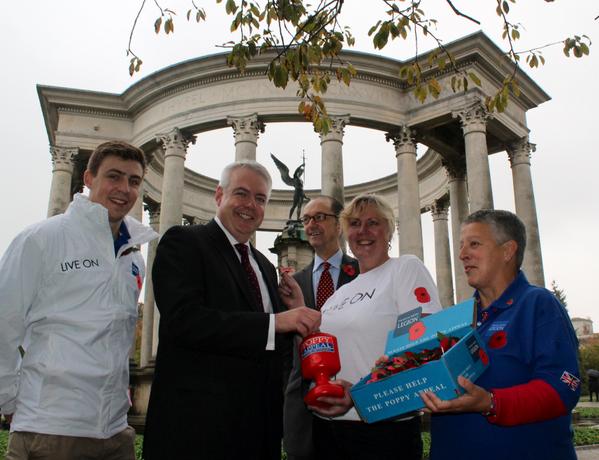 Advertisement
HMS Somerset has docked at Britannia Quay in Cardiff Bay for the official launch of the Poppy Appeal in Wales.
The Royal British Legion created the Poppy Appeal to help those returning form the First World War. A century on from the start of that conflict, money raised by the appeal is helping today's Armed Forces families.
Support is given with coping with bereavement, living with disability or finding employment. The money raised through the Poppy Appeal goes directly to The Royal British Legion's welfare work providing through life care to both Serving and ex-Service personnel and their families.
Ebola continues to ravage Africa, with Liberia, Sierra Leone and Guinea among the worst affected. Today, the First Minister, Carwyn Jones, has given his backing to Oxfam's appeal for action to tackle the virus.
The number of Ebola cases, and suspected Ebola cases, is almost 9,000, claiming more than 4,500 lives. The number of cases is doubling about every 20 days, and the World Health Organisation is now reporting that there may be 10,000 cases a week by early December without major action.
Many Assembly Members have put their names to a cross-party statement on the crisis.
It says the National Assembly for Wales:
Notes the United Nations and WHO's appeal that "the international community has a 60 day window to stop the spread of the Ebola virus from reaching catastrophic levels".
Recognises Welsh civil-society's longstanding relationship with the people of Liberia, Guinea and Sierra Leone.
Calls on the people of Wales, as well as other nations, to support the work of NGOs such as Oxfam in their effort to deliver humanitarian aid and undertake preventative measures to stop the spread of Ebola in those communities.
The First Minister, Carwyn Jones, has given his backing to a charity's call to combat Ebola. Oxfam is calling for continued and sustained pressure to stop the spread of the deadly virus.
I am delighted that the First Minister is able to support this appeal. Oxfam and other NGOs are currently working to prevent a crisis from developing into a tragedy.

The situation in West Africa could be turned around but this requires an extraordinary outlay of resources, effort and political will, in recognition of the huge long-term impacts of this crisis, in West Africa and beyond, if the UN plan is met, and the unimaginable consequences if the epidemic is not contained.
– Kirsty Davies, Oxfam Cymru
Load more updates