Live updates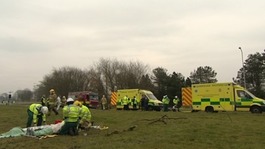 The exercise was carried out to test emergency procedures in the event of an accident involving radioactive materials.
Read the full story
Wylfa emergency test
Wylfa radioactive spill simulation gets underway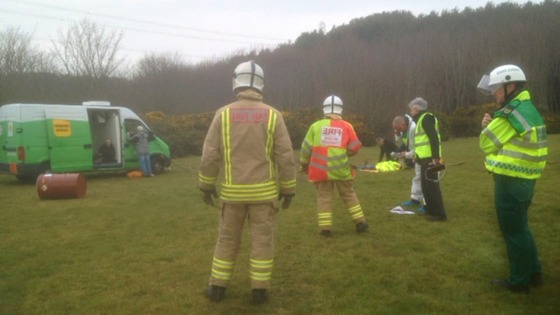 Today's scenario is an incident involving the transportation of radioactive materials.
"It's extremely unlikely that an event like this could happen for real" said a spokesman for Magnox.
"However we can't allow ourselves to be complacent and need to be prepare for such eventualities".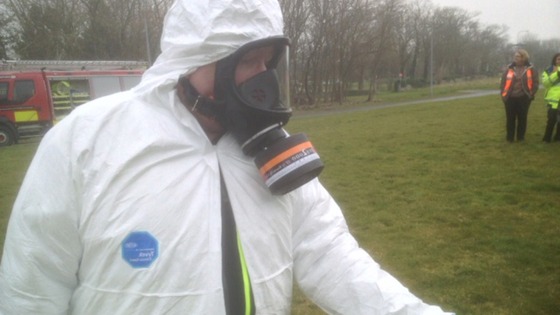 Advertisement
Wylfa emergency test
Responses of Wylfa emergency services will be tested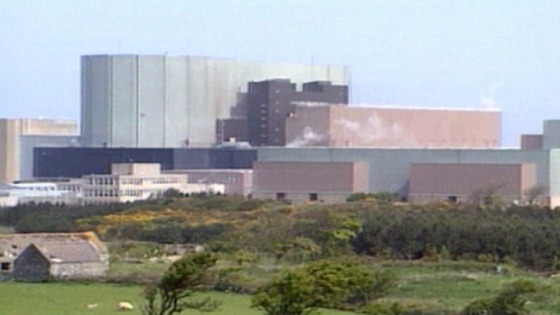 The emergency services will be tested today during an exercise at Wylfa nuclear power station on Anglesey.
The test will check the response of all the emergency services in the event of an incident involving the transport of radioactive material.
Wylfa reactor closure
Hopes for a Wylfa B - "We have the skills on Anglesey"
Gwilym O Jones is a Senior Production Technician at Wylfa power station and chairman of Anglesey County Council.
He has worked at the site since its opening in 1967, and says that the highly trained workforce that has been built up is keen for a replacement power station after the current one closes in 2014.
"We have the required skills" he says. "We've trained local lads, from Anglesey, from the Gwynedd and the surrounding area"
"They are trained and they are ready to do the work."
Wylfa reactor closure
Early shutdown for Wylfa reactor
One of the two reactors at the Wylfa nuclear power station on Anglesey has been shut down for good, it has been announced
Reactor 2 was deactivated last night following what owner Magnox Ltd described as 'an issue with the conventional [non-nuclear] plant'.
It had intended to shut the reactor on the 30th April, and decided to bring forward the closure as a result. The remaining reactor at the site will be kept in operation until 2014.
Today was a significant milestone in Wylfa's history. Although it is the end of anera, we must now focus our efforts on safe generation with Reactor 1
– Stuart Law, Wylfa Site Director
Wylfa reactor closure
Funding to help workers at nuclear plants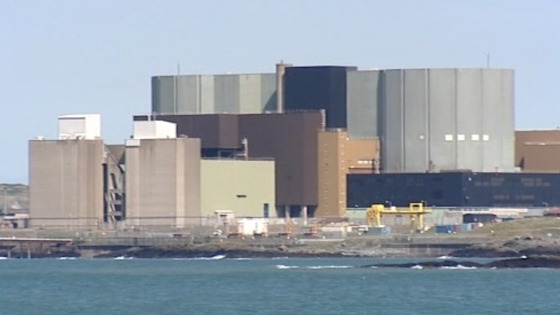 £4 million is being spent on helping nuclear energy workers in North West Wales back into work.
The funding aims to help 1,200 staff at the Wylfa and Trawsfynydd sites prepare for future careers.
Wylfa, on Anglesey, is due to stop generating electricity in 2014. Trawsfynydd has already closed, and is in the process of being decommissione d.
The funding comes from the European Social Fund, the Welsh Government, the Nuclear Decommissioning Authority and local councils. Workers will be given career advice, mentoring, training and job-search help.
Hopes for a new power station at 'Wylfa B' were set back last month when two leading power companies withdrew their plans for the site.
Advertisement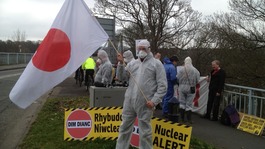 Anti-nuclear campaigners have marked the first anniversary of the Fukushima nuclear disaster by protesting in Anglesey
Read the full story
Nuclear protests
Protest at plans for 'Wylfa-B' construction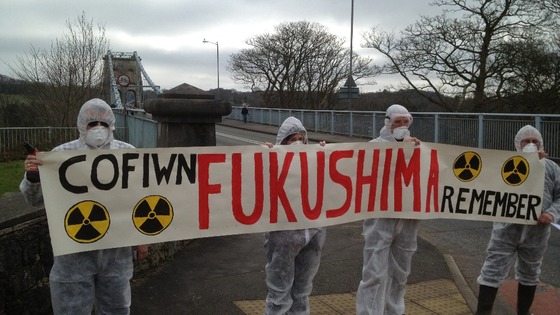 Campaigners opposing the construction of a new nuclear power station on Anglesey have held a protest at the Menai Bridge.
Ian Lang has been to meet them
Nuclear protests
"Safety is paramount", says Wylfa operator
A year on from the Fukushima disaster in Japan, campaigners in North Wales have been calling for an end to the development of nuclear power on Anglesey.
There are plans for a new nuclear power station - Wylfa B - on the island.
Richard Foxhall, from Horizon Nuclear Power, stresses that the existing power station has a strong safety record.
Nuclear protests
Campaigners from Wales have joined hundreds protesters at a demonstration today against a nuclear power station.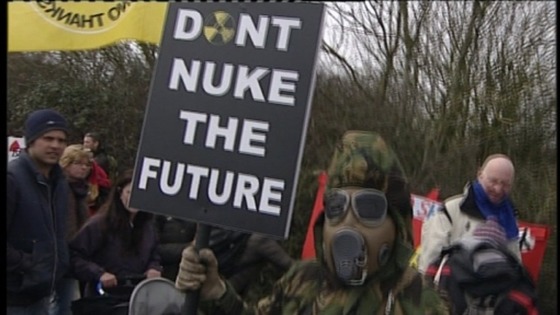 Load more updates
Back to top