Police are appealing for information after fake notes were used in shops in Penarth in the Vale of Glamorgan.
South Wales Police says four fake-notes were handed over on Sunday 18th October, in shops such as Subway and Funky Monkey on Windsor Road, and also the nearby PDSA Charity chop.
In each case high value notes were used to buy cheap goods and change was given.
Police say they would like to speak to a man caught on CCTV about the use of counterfeit money.
Anyone who recognises him is asked to call 101.
Advertisement
Police are investigating an assault on a woman by a man who then stole her BMW car.
South Wales Police say the incident took place at 6.30pm on Windsor Terrace in Penarth on Saturday.
The car was then involved in a collision with another vehicle injuring a second woman.
The man then left the area in a "new style" White VW Polo or Golf. He's described as a white, around 6ft 2ins tall, of stocky build with short brown hair and was wearing a green checked shirt underneath a blue woollen jumper.
This was an extremely frightening incident and has left the two female victims feeling shocked and with injuries requiring medical attention, a full investigation is continuing in order to trace the persons responsible.
– Detective Inspector Michelle Conque
Anyone with information is asked to contact the police on 101.
From flying pigs to Postman Pat, the Flintstones and Formula One - this year's range of hand made karts didn't disappoint at the Downhill Derby in Penarth.
The annual event, now in its fourth year, saw drivers launch their non-motorised karts down Cliff Hill towards Penarth pier on the esplanade.
The winner is the fastest to make it past the finish line after dodging various obstacles along the way.
Of course, in the fight for the fastest kart - there was also the occasional crash.
Watch all the action here:
Police in South Wales are warning residents to be aware of door-to-door scamming, after a series of suspected incidents in the Vale of Glamorgan.
A number of incidents are thought to have happened in Penarth, involving two men who appear to be canvassing for the charity Unicef.
But Unicef UK have since confirmed the men are not authorised to fundraise for the charity.
The scammers are currently using Unicef as a cover, but police are advising people to be aware that they may also use other charities.
Officers are asking anyone who suspects anyone of soliciting donations to contact the charity's supporter care team, and the police on 101.
An elderly woman has been found dead after a fire in Penarth in the Vale of Glamorgan.
Crews from the town and Cardiff were called out to a house, in Cedar Way, shortly before 7.30pm. They extinguished a fire on the ground floor and later discovered the body of an elderly woman.
A joint investigation by the fire service and South Wales Police is underway.
Advertisement
There are no trains expected to run between Cardiff Central and Penarth until 09:00.
A replacement bus service is running.
A 90-year-old woman remains in a critical condition after being involved in a collision with a car yesterday evening.
It happened on Lavernock Road in Penarth, in the Vale of Glamorgan, between the junctions of Augusta Road and Forrest Road.
South Wales Police are looking to speak to anyone who might have seen the silver Peugeot car involved, or the woman herself, who was walking along Lavernock Road at around 5.10pm.
Residents in Penarth have gathered outside a shop due to be opened by the UK Independence Party.
People are there with banners campaigning against the party's presence in the area.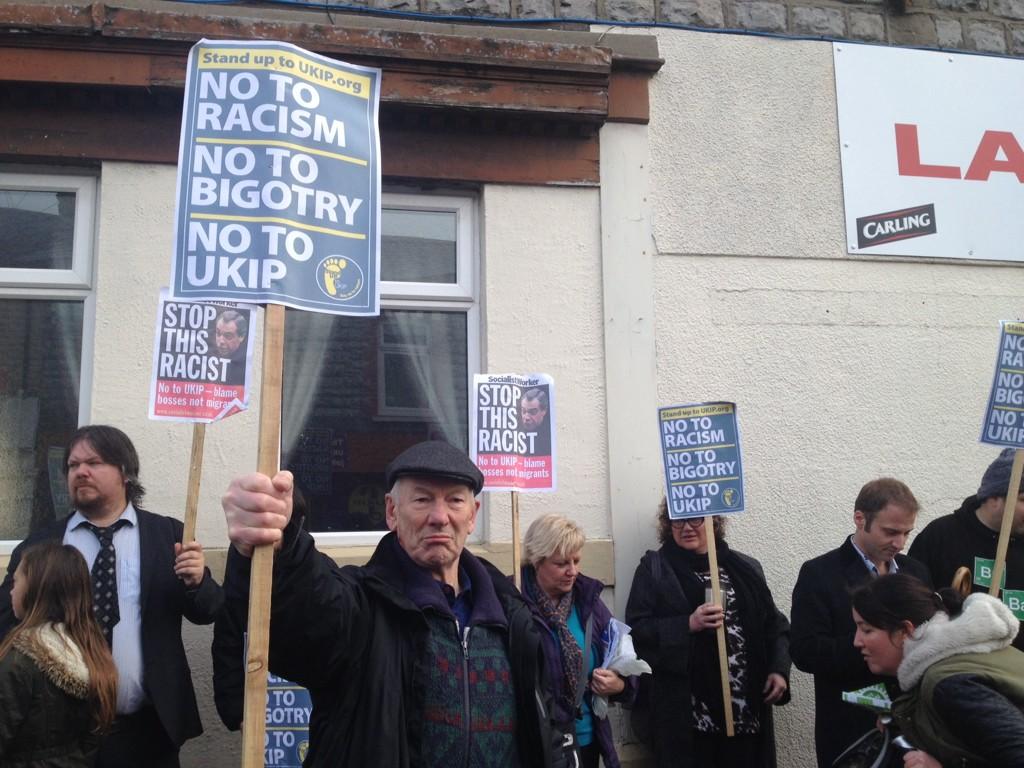 UKIP's Welsh MEP Nathan Gill was quick to respond to images from the protest.
UKIP are opening the shop in preparation for next year's general election. The seat has been held by the Labour party for decades.
UKIP are to open a campaign shop in Penarth in the Vale of Glamorgan today, as they prepare for next year's general election. The party's candidate for the Cardiff South and Penarth seat, John Rees-Evans, will be there.
The seat has been held by the Labour party for decades. In the 2012 by-election, prompted by Alun Michael's resignation in order to stand as Police and Crime Commissioner, Labour won with 47.03%, UKIP came in fifth with 6.07% of the vote.
Load more updates