An elderly woman has been found dead after a fire in Penarth in the Vale of Glamorgan.
Crews from the town and Cardiff were called out to a house, in Cedar Way, shortly before 7.30pm. They extinguished a fire on the ground floor and later discovered the body of an elderly woman.
A joint investigation by the fire service and South Wales Police is underway.
There are no trains expected to run between Cardiff Central and Penarth until 09:00.
A replacement bus service is running.
Advertisement
A 90-year-old woman remains in a critical condition after being involved in a collision with a car yesterday evening.
It happened on Lavernock Road in Penarth, in the Vale of Glamorgan, between the junctions of Augusta Road and Forrest Road.
South Wales Police are looking to speak to anyone who might have seen the silver Peugeot car involved, or the woman herself, who was walking along Lavernock Road at around 5.10pm.
Residents in Penarth have gathered outside a shop due to be opened by the UK Independence Party.
People are there with banners campaigning against the party's presence in the area.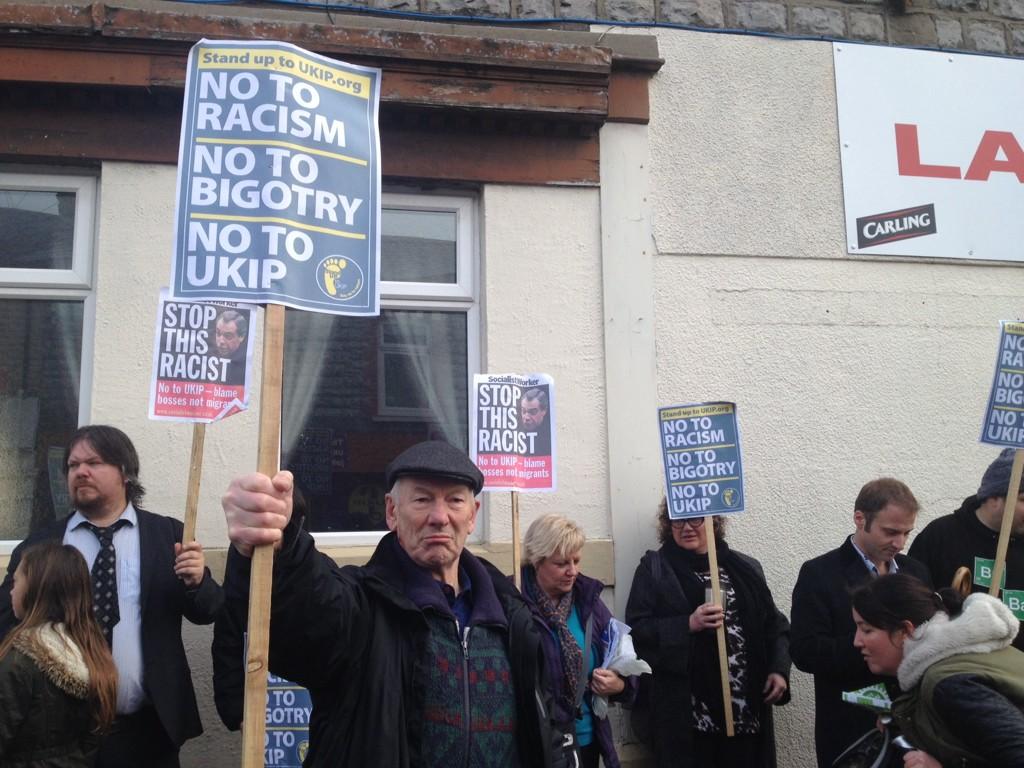 UKIP's Welsh MEP Nathan Gill was quick to respond to images from the protest.
UKIP are opening the shop in preparation for next year's general election. The seat has been held by the Labour party for decades.
UKIP are to open a campaign shop in Penarth in the Vale of Glamorgan today, as they prepare for next year's general election. The party's candidate for the Cardiff South and Penarth seat, John Rees-Evans, will be there.
The seat has been held by the Labour party for decades. In the 2012 by-election, prompted by Alun Michael's resignation in order to stand as Police and Crime Commissioner, Labour won with 47.03%, UKIP came in fifth with 6.07% of the vote.
Police in Barry are appealing for witnesses after an unprovoked attack which left a man with injuries to his face and mouth.
The 50-year-old man had been drinking with friends ar the Railway pub on Plymouth Road, Penarth, on Sunday 21st September.
He had gone outside with his wife around 1.45am where he was punched once by an unknown person to the left side of his face and knocked over.
We have yet to identify the attacker but we are sure that some of the people who had been in the pub must have seen something or may know something about this attack
– PC Emma Fitzgerald, South Wales Police
Anyone with information is asked to call South Wales Police on 101 quoting reference number 1400353386.
Advertisement
Penarth Pier has been named as the top special place in Wales by the National Trust.
For the past six weeks people across the country have been nominating their favourite locations across Wales as part of the Trust's Special Places campaign.
Cyfarthfa Castle has come second and the Lonely Tree in Powys has made it into third place.
Wales's favourite place is set to be unveiled by the National Trust today, following a public vote.
Read the full story ›
Police are appealing for witness after a cyclist died following an incident in Penarth in the Vale of Glamorgan.
Police say the rider, Martin Trinder aged 25 from Cardiff, was cycling along St Augustines Crescent, going down a steep hill towards St Augustine Road, when he appears to have lost control and fallen, causing himself serious injuries.
Mr Trinder was taken to University Hospital Wales, and remained there until 22nd July, where he died from his injuries.
South Wales Police is asking for anyone who may have witnessed the accident, or anyone with information connected to the incident, to contact them on 101 quoting reference number 1400256228.
South Wales Police are appealing for witnesses after an incident which occurred in Penarth at around 11.30pm last night.
A male cyclist was travelling along Lavernock Road, where he was involved in an incident which resulted in him coming off his bike.
He was taken to the University of Hospital for Wales where he is receiving treatment.
Police are asking anyone who may have witnessed the incident, or the manner in which he was riding beforehand, to contact them.
Load more updates