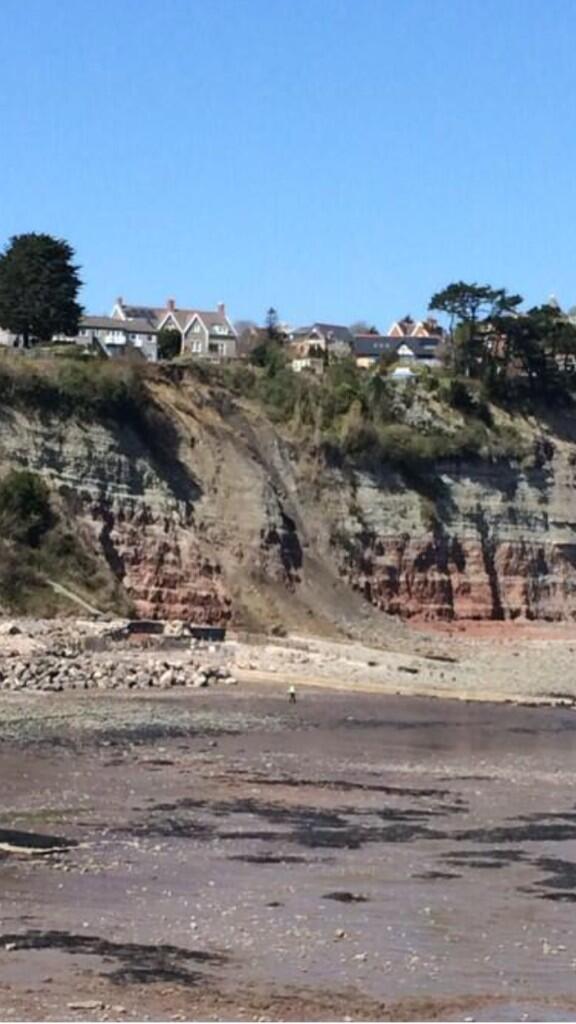 South Wales Fire and Rescue Service say they are dealing with a landslide near Penarth pier but there are no reports of anyone being hurt.
The area is currently being made safe and work is being carried out to try to prevent any further collapse.
Crews are working with the police and Vale of Glamorgan council and people are asked to avoid the area until further notice.
Advertisement
Penarth has been voted Pier Of The Year 2014 by the members of the National Piers Society. It received more than twice the number of votes of its nearest rival, Cromer.
Bangor was in third place, making it a good year for Welsh piers.
Penarth pier opened in 1895 and soon began to attract steamers offering trips to Ilfracombe, Lundy Island, Lynmouth, Minehead and Westward Ho!
Apart from its jetty the pier had a café and tea gardens, a florist's and a weighing machine.
In 1902 alone it attracted some 25,000 visitors who paid 2d (1p) to stroll along its deck, but it wasn't until 1907 that a pavilion, the Bijou, was built at the seaward end.
It was destroyed by fire in 1931.
Another pavilion opened at the shoreward end in 1929, costing £10,000. In 1932 it enjoyed a short spell as a cinema before becoming a dance hall (the Marina Ballroom).
During the 1960s it played host to the likes of Gene Vincent, Matt Monro and Tom Jones but eventually it was used, first as a snooker club and later a gym.
By 2005 the Grade II listed building had become seriously run down and the Penarth Arts & Crafts Trust campaigned for its restoration.
As well as raising money locally the Trust succeeded in obtaining grants from the Heritage Lottery Fund, CADW (Welsh Heritage), the Coastal Communities Fund and the Headley Trust.
At a cost of over £4 million the building has now been transformed into a gallery, cinema, café, observatory and community workspace. It reopened in December 2013.
Its full-time cinema is the only one on a pier and the first in Penarth for 43 years.
Fourteen geckos have been found dumped among communal bins in Penarth.
The lizards were discovered inside four plastic boxes by a local resident who was using the bins at Park View Court on Sunday.
The RSPCA says there was no food or water inside the boxes but the geckos were in good condition and were transferred to a local wildlife centre.
RSPCA Inspector Gary Lucas said, "We are trying to find out where these lizards came from and how they came to end up among these bins.
"It is unusual because there was such a large number of them which makes it more likely that someone will have information about where they came from."
Anyone with information is asked to call the RSPCA inspector information line on 0300 123 8018.
An investigation continues into a fire at Penarth Leisure Centre in the Vale of Glamorgan.
Around 30 firefighters were called to the facility in Cogan.
There are no reports of injuries and fire investigation officers are returning to the scene at 10.00am.
Advertisement
Update Penarth: The fire is now under control and specialist appliances are being released from the fire site.
Update Penarth: An area has been cordoned off by the Police and Emergency Planning are in attendance to assist persons evacuated from centre
Update Penarth: The incident is now being scaled down to 3 fire engines remaining at scene. Fire Investigation Officer is in attendance
6 pumping appliances are currently in attendance at a fire in Penarth Leisure Centre Time of first call 17:14
Update Penarth: Fire engines from Penarth Central (2) Barry Ely+Roath are in attendance along with an Aerial appliance+water bowser
Update Penarth: All persons are accounted for. Fire involving Leisure Centre, 4BAs 3jets in use crews have gained access to plant room
Members of the public are still urged to stay away from University Hospital Llandough following an outbreak of the winter vomiting bug Norovirus.
The public are being asked to stay away from Llandough hospital if they can after a norovirus outbreak. Please RT. http://t.co/xErDYWF6EI
Cardiff and Vale University Health Board, which first issued the warning on Saturday, said precautions will continue over the next few weeks in a bid to contain the spread.
Load more updates