Police are appealing for information to identify a cyclist injured in an accident in Penarth.
The man, who is believed to be between 25 and 30 was thrown from his bike on St Augustines Crescent at its junction with St Augustines Road at around 5.40pm today.
South Wales Police say he is around six foot tall, of slim build, with short brown curly hair and is unshaven with a short moustache. He has a 'sizeable scab' on his left elbow and wearing a black, red and grey 'Muddy Fox' cycling top with 'MFX' on the bottom, white and navy Nike shorts and black Nike trainers.
The cyclist has a grey and black 'Trax' brand cycling helmet and his bike is a Globe hybrid pedal cycle, which is silver.
Police say he is being treated for his injuries at the University Hospital of Wales in Cardiff.
Anyone with information is asked to contact South Wales Police on 101 quoting incident number 669.
The crossing warnings are being trialled by the RNLI which has had to rescue hundreds of people who have been cut-off by the tide.
Read the full story ›
Advertisement
A pedestrian has been injured by a shop front sign falling in strong winds in the Vale of Glamorgan. It happened in Windsor Road in Penarth town centre this lunchtime. One person suffered minor injuries.
Three people have been injured by a shop front sign falling in strong winds in the Vale of Glamorgan. It happened in Windsor Road in Penarth town centre this lunchtime. It's understood none of the injuries are serious.
Service update - All services in Penarth Town Centre diverted via Plassey st and Albert Rd due to a police incident on Windsor Rd.
Viewers footage: Roy Blackburn and Julia Shearn
Advertisement
South Wales Fire and Rescue Service have told ITV News that they have reassessed the cliff fall in Penarth, and now believe 150 tonnes was involved in the landslide. That's five times their initial estimate.
No one is believed to have been injured, but emergency services are warning people in the area to keep away from cliff edges.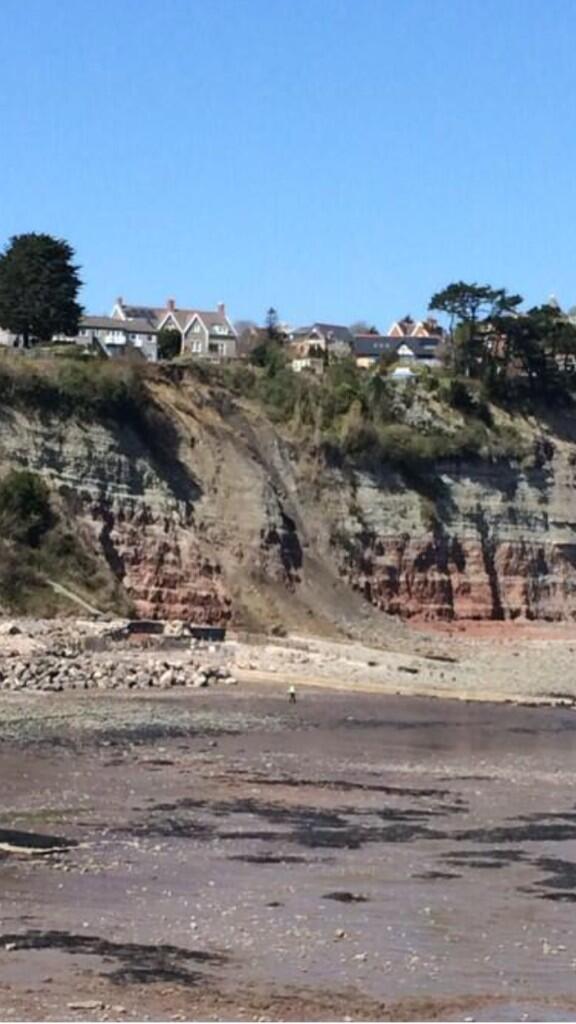 South Wales Fire and Rescue Service say they are dealing with a landslide near Penarth pier but there are no reports of anyone being hurt.
The area is currently being made safe and work is being carried out to try to prevent any further collapse.
Crews are working with the police and Vale of Glamorgan council and people are asked to avoid the area until further notice.
Penarth has been voted Pier Of The Year 2014 by the members of the National Piers Society. It received more than twice the number of votes of its nearest rival, Cromer.
Bangor was in third place, making it a good year for Welsh piers.
Penarth pier opened in 1895 and soon began to attract steamers offering trips to Ilfracombe, Lundy Island, Lynmouth, Minehead and Westward Ho!
Apart from its jetty the pier had a café and tea gardens, a florist's and a weighing machine.
In 1902 alone it attracted some 25,000 visitors who paid 2d (1p) to stroll along its deck, but it wasn't until 1907 that a pavilion, the Bijou, was built at the seaward end.
It was destroyed by fire in 1931.
Another pavilion opened at the shoreward end in 1929, costing £10,000. In 1932 it enjoyed a short spell as a cinema before becoming a dance hall (the Marina Ballroom).
During the 1960s it played host to the likes of Gene Vincent, Matt Monro and Tom Jones but eventually it was used, first as a snooker club and later a gym.
By 2005 the Grade II listed building had become seriously run down and the Penarth Arts & Crafts Trust campaigned for its restoration.
As well as raising money locally the Trust succeeded in obtaining grants from the Heritage Lottery Fund, CADW (Welsh Heritage), the Coastal Communities Fund and the Headley Trust.
At a cost of over £4 million the building has now been transformed into a gallery, cinema, café, observatory and community workspace. It reopened in December 2013.
Its full-time cinema is the only one on a pier and the first in Penarth for 43 years.
Load more updates