Plaid Cymru AMs have decided to oppose the suggested £10,000 salary increase proposed by the pay review board.
The Plaid Cymru group of AMs believes that the recommendation made by the Remuneration Board for salaries post-2016 is inappropriate. We fully expect this view and wider public opinion to be taken into consideration as part of the Remuneration Board's consultation.
– Plaid Cymru Spokesperson
Other parties are expected to take a similar stance. Under rules brought in to stop AMs deciding their own pay, they can only make representations in the same way as members of the public. The final decision rests with the board unless the Assembly votes to change the way AMs' pay is determined.
Plaid Cymru says Wales will continue to lose out after the Prime Minister told MPs that there is no reform 'on the horizon' for the Barnett Formula, which limits any change in the funding that the UK Treasury gives to the Welsh Government.
The Prime Minister's confirmation that the unfair Barnett Formula is here to stay proves that Westminster just isn't working for Wales. If Wales received the same money as Scotland per head, we would have £1.2bn more per year to radically improve our schools, hospitals, roads and railways.
– Plaid Cymru MP Hywel Williams
Advertisement
Plaid Cymru leader Leanne Wood says the Scottish referendum is not the end but only the beginning for devolution in the UK.
Speaking at the Scottish National Party Conference today, Leanne Wood called for Wales to have a say in all major UK decisions.
Our Political Editor Adrian Masters reports:
Plaid Cymru leader Leanne Wood has given a speech at the Scottish National Party conference in Perth.
She called for shared decision-making by all four UK nations in the future, with major policies needing a consensus between governments.
She also praised the impact of impact of the campaign for independence in the Scottish referendum.
.@leannewood: "You have built a new democracy and no party - no government - can disestablish that" #SNP14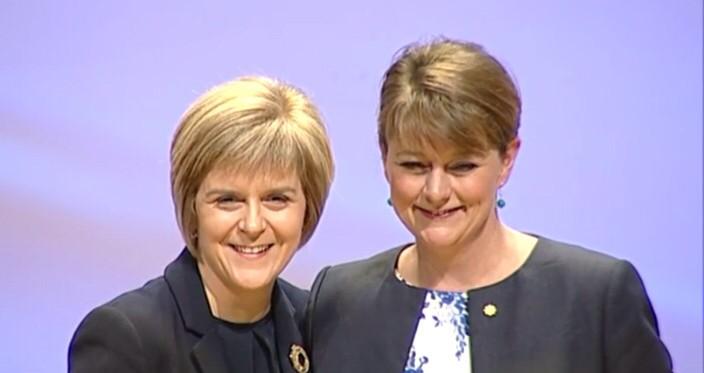 Plaid Cymru leader Leanne Wood will call later today for a new devolution settlement that will leave Wales and Scotland to decide what's still controlled at a UK level. She will add that even then any decision should require the agreement of the Welsh and Scottish governments.
In a speech to the Scottish National Party conference in Perth, Leanne Wood will set out how she expects the new system to work, now that there is all party support for Wales moving to the same "reserved powers" model as Scotland, where everything is devolved unless it is explicitly reserved to Westminster.
It is the peoples of the nations of the UK who are sovereign, not Westminster. That reality must be reflected as the relationships between our countries are reconstructed in the coming months.

Reserved powers should mean shared powers and let me make clear that a Plaid Cymru government from 2016 will insist on major decisions at a UK level requiring consensus between the governments.
– Plaid Cymru Leader Leanne Wood AM
The Plaid Cymru leader will praise the grass roots movement which campaigned for independence in the Scottish referendum and claim that "power will be delivered to the people" despite the defeat in September.
She will add that although a new state wasn't born, a new democracy has been built in Scotland, that "no party, no government can disestablish".
Plaid Cymru has welcomed a poll which shows a majority of people in Wales want the Assembly to have the same powers as the Scottish parliament. According to the survey, which was carried out by YouGov for the pro-independence group Yes Cymru, 63 per cent of respondents agreed with the statement 'The powers devolved to Wales should be the same powers as Scotland.' 37 per cent disagreed.
Welcoming the poll findings, Plaid leader Leanne Wood said:
This poll is consistent with others that show that most people in Wales believe that more decisions over the issues that affect us should be made here in Wales.

The so-called vow made to people in Scotland by the three UK party leaders during their referendum campaign is falling short of expectations, demonstrating yet again that the Westminster establishment lags behind public opinion. People in Wales want progress. Parity with Scotland is a must.
– Leanne Wood AM, Plaid Cymru leader
Advertisement
Plaid Cymru MEP Jill Evans has called on the UK Government to apply for European funding to help the 400 workers facing redundancy with the closure of the Murco refinery in Milford Haven. Production there is expected to end after a sale to a Swiss company fell through.
Jill Evans wants Welsh Secretary Stephen Crabb, who's also the local MP, to get the UK Government to apply for funding from the European Union's Globalisation Adjustment Fund. It supports workers who lose their jobs and small businesses which close down as a result of changes in world trade and the global economic crisis.
Any payment from the fund would reduce the size of Britain's EU rebate.
The Secretary of State for Wales has called this 'a hammer blow for the local economy'. That merits the strongest response and I call on him to ensure the UK government does not block an application to the globalisation adjustment fund.
– Jill Evans MEP
Plaid Cymru's annual conference has ended with Lord Dafydd Wigley backing the party leader Leanne Wood's call for more money for Wales. Our political reporter Owain Phillips reports from Llangollen.
Former Plaid Cymru leader Dafydd Wigley, who's running his party's 2015 Westminster election campaign, will tell Plaid's conference today that the only effective protest on behalf of Wales is made by voting Plaid Cymru. Lord Wigley will back the call by his successor, Leanne Wood, for Wales to get an extra £1.2 billion a year from the Treasury as part of a package to deliver partity with Scotland.
"In any discussion about future constitutional settlement, Wales demands parity with Scotland – full parity, not just parity of esteem, but parity of power – and parity of financial resources.

"If it isn't immediate independence, it has to be much more than devolution – for power devolved is power retained – as we in Wales well know.

"It has to be a new partnership between nations on these islands; and we, here in Wales too, have to be part of that partnership.

"If Wales got as much, pro-rata, as Scotland gets in comparison to England, then our National Assembly would be getting £1.2bn more each year. The financial treatment of Wales has been a scandal – and this issue, above all others, must dominate the coming general election here in Wales.

"Plaid Cymru will use the next six months to demand for Wales full parity with Scotland. In funding, in our National Assembly's powers, in our place within the UK as it evolves, and with other small nations within the EU.

"In the forthcoming election, there may be several ways in which the voters can protest, but protesting, of itself is not enough: it must be positive protest, protest to a purpose. And the only way of protesting for the purpose of getting Wales a new deal is to be voting for Plaid Cymru candidates the length and breadth of Wales."
– Lord Wigley
Plaid Cymru leader Leanne Wood has said her MPs won't back English votes for English laws until Wales gets an extra £1.2 billion a year.
Read the full story ›
Load more updates