Labour have responded to Plaid Cymru's 'Vote Green' call by accusing the party of arrogance and failing to stand up for Wales. The party's issued a statement from its candidate in Carmarthen East and Dinefwr criticising Lord Wigley's comments.
The latest Welsh poll shows that this election is a race between Labour and the Tories with just one in ten people in wales considering supporting Plaid.

Rather than arrogantly telling people in England who they should vote for, Plaid politicians would do well to focus - as Welsh Labour are - on standing up for Wales against the Tory-led UK government.
– Calum Higgins, Labour PPC
The Green Party leader in Wales has welcomed Plaid Cymru's call for Welsh voters in England to consider voting Green. Plaid's Election co-ordinator Dafydd Wigley says the two parties share values and aims and would work together in parliament in parliament to try to force concessions from whichever party or parties form the UK Government. You can see Lord Wigley's comments by clicking here.
He's also said that he's not expecting Greens in Wales to return the favour and vote Plaid, although he'd like them to consider the option. The leader of the Wales Green Party, Pippa Bartolotti, says voters in Wales and England are looking for a change.
I've a great deal of time for Dafydd Wigley. He's telling people to vote Green because he knows that Green policies and Green politics are essential for this country to pull away from austerity and turn the agenda towards protecting and helping the next generation who will be trapped in an impoverished world of dwindling resources.

Support for the Green Party in Wales is growing at an unprecedented rate. Voters in both England and Wales know that Punch and Judy politics must be consigned to the dustbin of history, and we must quickly move to a more inclusive, more thoughtful and more progressive kind of politics where the needs of everyone are properly considered. That means no more politics for the vested interests of the few.
– Pippa Bartolotti, Wales Green Party Leader
Advertisement
People from Wales living in England should think about voting for the Green Party in the General Election, according to the man in charge of Plaid Cymru's election campaign.
Lord Wigley says the two parties, along with the SNP share many of the same values and will work together after the election to win concessions from whichever party is in government.
He says he's not expecting Green supporters in Wales to vote Plaid (although he'd like them to consider it!) but he told our Political Editor Adrian Masters that it makes sense for Plaid-leaning voters living in England to lend their support to the Greens.
Despite Carwyn Jones' position that Wales should be offered all the extra powers being given to Scotland, Plaid Cymru's claiming that the Welsh Government isn't even actively seeking the power over fracking that Scotland already has.
The people of Wales should have the power to decide on licensing for fracking in their communities. Plaid Cymru wants Wales to have responsibility over fracking so that we can introduce a moratorium on a process that carries a host of unknown risks for the environment and public health. The Scottish Government has made this happen there, but unfortunately the Welsh Government has done absolutely nothing to stand up for Wales' interests.

It is now clear that the Labour Government has not made any representations to the UK Government for these powers to be devolved which suggests that Labour sees no need to challenge Westminster's policy of promoting and encouraging fracking in Wales.
– Llyr Gruffydd AM, Plaid Cymru
Number Ten sources have suggested the Prime Minister would consider a 5-party debate but that would still exclude Plaid Cymru and the SNP. The Plaid leader Leanne Wood has written to the other parties saying that if they remain excluded, the Westminster party leaders should take part in a debate held in Wales. She said:
At the moment there is a danger that people in Wales will be sidelined by the television debates. If the debates take place without Plaid Cymru and the SNP, then it is clear that the discussions will be dominated by England only matters, and devolved issued will not be taken into consideration.

People in Wales have a right to scrutinise the parties that could have an impact on their lives after the election. With the prospect of a hung Parliament becoming ever more likely, it is very possible that Plaid Cymru will hold the balance of power.

The people of Wales should have the opportunity to hold Plaid Cymru to account.

For this reason it is important that the leaders come to Wales and hold a debate here in Wales. Welsh voters should be given the chance to properly scrutinise the parties that will represent them after the UK general election.
– Leanne Wood AM, Plaid Cymru leader
Plaid Cymru AMs have decided to oppose the suggested £10,000 salary increase proposed by the pay review board.
The Plaid Cymru group of AMs believes that the recommendation made by the Remuneration Board for salaries post-2016 is inappropriate. We fully expect this view and wider public opinion to be taken into consideration as part of the Remuneration Board's consultation.
– Plaid Cymru Spokesperson
Other parties are expected to take a similar stance. Under rules brought in to stop AMs deciding their own pay, they can only make representations in the same way as members of the public. The final decision rests with the board unless the Assembly votes to change the way AMs' pay is determined.
Advertisement
Plaid Cymru says Wales will continue to lose out after the Prime Minister told MPs that there is no reform 'on the horizon' for the Barnett Formula, which limits any change in the funding that the UK Treasury gives to the Welsh Government.
The Prime Minister's confirmation that the unfair Barnett Formula is here to stay proves that Westminster just isn't working for Wales. If Wales received the same money as Scotland per head, we would have £1.2bn more per year to radically improve our schools, hospitals, roads and railways.
– Plaid Cymru MP Hywel Williams
Plaid Cymru leader Leanne Wood says the Scottish referendum is not the end but only the beginning for devolution in the UK.
Speaking at the Scottish National Party Conference today, Leanne Wood called for Wales to have a say in all major UK decisions.
Our Political Editor Adrian Masters reports:
Plaid Cymru leader Leanne Wood has given a speech at the Scottish National Party conference in Perth.
She called for shared decision-making by all four UK nations in the future, with major policies needing a consensus between governments.
She also praised the impact of impact of the campaign for independence in the Scottish referendum.
.@leannewood: "You have built a new democracy and no party - no government - can disestablish that" #SNP14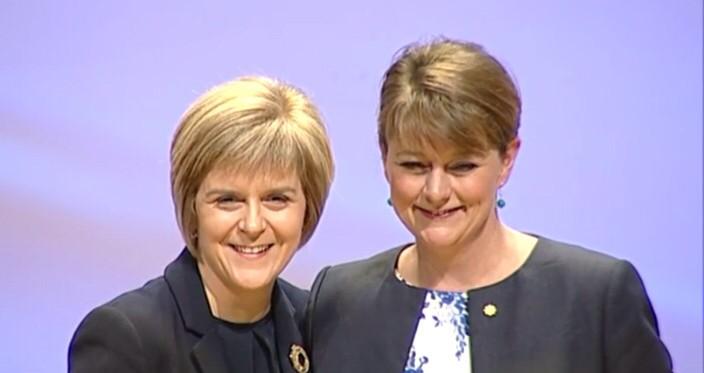 Plaid Cymru leader Leanne Wood will call later today for a new devolution settlement that will leave Wales and Scotland to decide what's still controlled at a UK level. She will add that even then any decision should require the agreement of the Welsh and Scottish governments.
In a speech to the Scottish National Party conference in Perth, Leanne Wood will set out how she expects the new system to work, now that there is all party support for Wales moving to the same "reserved powers" model as Scotland, where everything is devolved unless it is explicitly reserved to Westminster.
It is the peoples of the nations of the UK who are sovereign, not Westminster. That reality must be reflected as the relationships between our countries are reconstructed in the coming months.

Reserved powers should mean shared powers and let me make clear that a Plaid Cymru government from 2016 will insist on major decisions at a UK level requiring consensus between the governments.
– Plaid Cymru Leader Leanne Wood AM
The Plaid Cymru leader will praise the grass roots movement which campaigned for independence in the Scottish referendum and claim that "power will be delivered to the people" despite the defeat in September.
She will add that although a new state wasn't born, a new democracy has been built in Scotland, that "no party, no government can disestablish".
Load more updates