Live updates
Caerphilly A&E campaign
Campaigners march through Caerphilly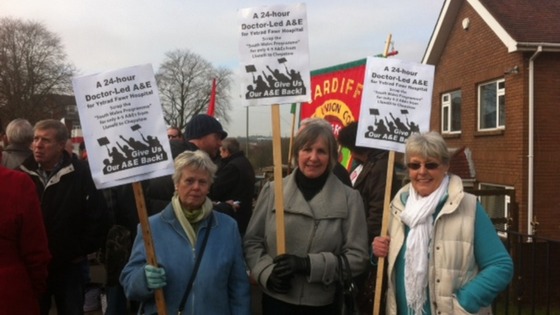 Caerphilly A&E campaign
Lack of A&E service due to 'doctor staffing shortages'
Aneurin Bevan Health Board says that the reason there can't be an accident and emergency department in Ysbyty Ystrad Fawr is because they can't "provide the doctors."
It says that the Caerphilly District Miners' Hospital, which has now closed, did not have the services in place that would support a full A&E service due to doctor staffing issues and so this means the Ystrad Mynach Hospital will also never operate an A&E.
It adds that the opening hours at the new hospital have been extended and there are now 8,000 extra patients being seen every a year. Other activities such as Out of Hours services with GPs and emergency medical admissions are also now supported there.
The model now in place for Ysbyty Ystard Fawr was subject to a long public consultation, prior to starting the construction of the new hospital.

It will be impossible for the hospital to provide doctor-led services for an A&E; there are already doctor vacancies for A&E services locally and significantly across South Wales. We already know that A&E doctors training posts will never be placed at Ysbyty Ystrad Fawr.
– Aneurin Bevan Health Board
Advertisement
Caerphilly A&E campaign
Calls for A&E department at Ystrad Mynach Hospital
Campaigners will take to the streets of Caerphilly today to campaign for an accident and emergency department at Ystrad Mynach Hospital.
Marching through Caerphilly with banners flying will put the campaign for an A&E on the map.

Everyone we tell about the campaign supports what we're doing. All we need to do is make sure that everyone knows about it.
– Brenda Tibbett, Campaigner

Posters and petitions have been taken around every pub and café in Caerphilly and Bedwas to raise awareness of the campaign, with 1700 joining the Facebook group 'A&E needed at Ystrad Mynach hospital'.
Every minute counts when you need emergency care. Delays waiting for an ambulance or having to travel a far distance yourself puts lives and longterm health at risk.

We've asked people to send in their experiences and we're collecting them as evidence of how important it is that we have a local 24-hour doctor-led A&E. Now, we're asking people to come march. Over 25,000 people marched in Lewisham recently for their hospital. Let's see what we can do.
– Siân Denatale, Campaigner

Proposed changes by Aneurin Bevan Health Board would see the area from Llanelli to Chepstow with just 4-5 Accident and Emergency departments.

Public consultation on the issue was supposed to finish in January but due to the amount of opposition it will finish at some point in Spring instead.
Public sector pensions strike
TUC leader attacks "gang of millionaires"
President of the Wales Trade Union Congress (TUC) has heavily criticised the UK Government over cuts to public sector workers pensions.
Public sector pensions strike
"Things are getting tough"
Stephanie Wilkins has worked as a bio medical scientist for the NHS for over twenty years.
She claims she has been forced to join fellow NHS workers, and others from across the public sector, on the picket line in sending a message to the UK Government.
Like all those taking part in this 24 hour strike Stephanie says she doesn't want to pay more to work longer and get less.
The changes will mean that she will be £30 a month or £1,400 a year worse off.
Public sector pensions strike
NHS staff join forces on picket lines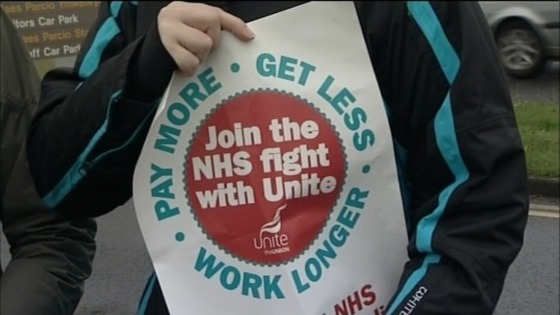 NHS staff from across Wales have formed picket lines outside hospitals today as part of a 24 hour strike over UK Government planned changes to their pensions.
Amongst those striking are health visitors, pharmacists and paramedics.
Advertisement
Off duty police in protest
Off-duty police march in their thousands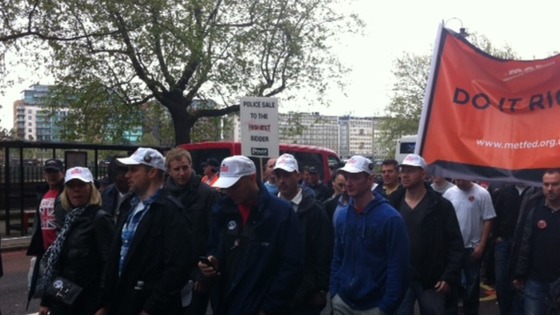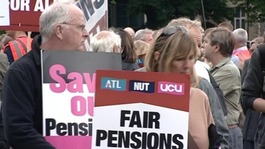 Thousands of public sector workers in Wales are set to strike today over plans to change their pensions.
Read the full story
Back to top