A van driver from Abercwmboi in Rhondda Cynon Taf has been sentenced to four-and-a-half-years in prison for causing the deaths of three people in a crash in Wiltshire.
Stephen Jenkins, who's 39, fell asleep behind the wheel of a work van while driving his colleagues.
James Stark, 37, Steven Sheldon, 35, and Martin Williams, 36, all from south Wales, died when the van crashed into a lorry on the M4 in 2014.
Stephen Jenkins was convicted after a trial at Swindon Crown Court.
He was also disqualified from driving for four years and three months.
You caused the deaths of three men and the serious injury of a fourth.

You had fallen asleep behind the wheel because you had not made sure you were properly rested before setting off.

You had a responsibility for the safety of the men. You had a duty to make sure you were fit to drive.
– Judge Timothy Mousley
We had to make the heart-breaking decision to turn off our son's life support machine.

Since then, our lives have been torn apart.

He made our family complete and there is a hole in our lives.

Now none of our lives will be complete again.
– Tina Pople, James Stark's mother
Finley Thomas was a "lovely, happy beautiful baby" and changed in the months leading up to his death, a court has heard.
Read the full story ›
Advertisement
Lee Phillips was caught by litter officers and gave false details to escape a £75 fine. But he ended up with a court bill of £1150.
Read the full story ›
A road crash involving two cars and two cyclists is causing tailbacks in Rhondda Cynon Taff.
Police say both cyclists suffered non life threatening injuries and both people have been taken to hospital.
The A4119 was closed both ways after an Air Ambulance landed in the road between Gelli Road and Clydach Vale Roundabout.
2 casualties have been airlifted to hospital following RTC involving 2 vehicles and cyclists on A4119 Tonypandy at 09.15
Traffic delays along A4119 near Tonypandy/Clydach Vale due to incident. Emergency services are in attendance
Witnesses are asked to call police on 101.
Doctors and nurse practitioners will now meet patients at the door and assess their medical needs.
Read the full story ›
Police raided 17 properties across Tonyrefail and Tonypandy early this morning as part of a major operation targeting drug dealers in the Rhondda.
Officers made ten arrests and seized cocaine and cannabis.
This morning's activity was all about providing reassurance to communities in the Rhondda that we are taking action against those suspected of being involved in dealing Class A drugs.

We recognise this is an issue that can be linked to crime and anti-social behaviour that affects the lives of residents and this operation was designed to send a strong message that we will deal with this type of criminality.
– Superintendent Jim Dyson
Seven other people have been arrested previously. Police say the operation has led to cocaine with a street value of £500,000 being recovered along with a large quantity of cash. Two vehicles worth £50,000 were also seized under the Proceeds of Crime Act.
Advertisement
Chloe Dobbin is no stranger to a rugby pitch having scored the first ever try for Taffs Well ladies last month.
Read the full story ›
Parents in Rhondda Cynon Taf have lost their latest legal challenge against the council's plan to remove full-time nursery education for three-year-old children.
Campaigners' application for a judicial review over the council's decision was dismissed by a High Court judge.
From September, nursery education for three-year-olds will be cut to part-time, up to 15 hours per week - before full-time provision begins at age four.
Rhondda Cynon Taf Council says the changes will save £2.16m per year.
Its plans to cut nursery provision have been hugely controversial over the last 18 months. Last May, parents won a previous legal battle, with the council judged to have acted unlawfully in its decision-making process.
The council re-introduced its plans earlier this year and, this afternoon, Mrs Justice Patterson ruled it had carried out a fair consultation exercise on this occasion.
Parents now say they will discuss whether to appeal the decision.
South Wales Police says a missing Rhondda Cynon Taf Council worker has now been found safe and well.
Martyn Robins, 53 and from Porth, had gone missing yesterday morning.
Parents in Rhondda Cynon Taf gathered today to protest against the council's plans to introduce part-time education for three and four year olds in the area.
A march took place in Pontypridd town, organised by members of the group Parents Against the Cuts to Education.
The group have been fighting the council's plans for more than 18 months.
Jo Caddy is one of its members.
A spokesperson for Rhondda Cynon Taf Council said it had been forced to consider these decisions as part of the UK Government's Austerity Measures.
The Council's Cabinet recently agreed to amend the funding of nursery education to support part-time nursery education for three year-olds and full-time for four year olds.

The Cabinet determined that this decision will continue to ensure the provision of sufficient nursery education for the children of Rhondda Cynon Taf.

Even after these changes Rhondda Cynon Taf will be offering one of the most favourable provisions in Wales.This difficult decision will contribute over £2million in savings to bridge a funding gap of £30million which was initially faced by the Council.
– Spokesperson, Rhondda Cynon Taf Council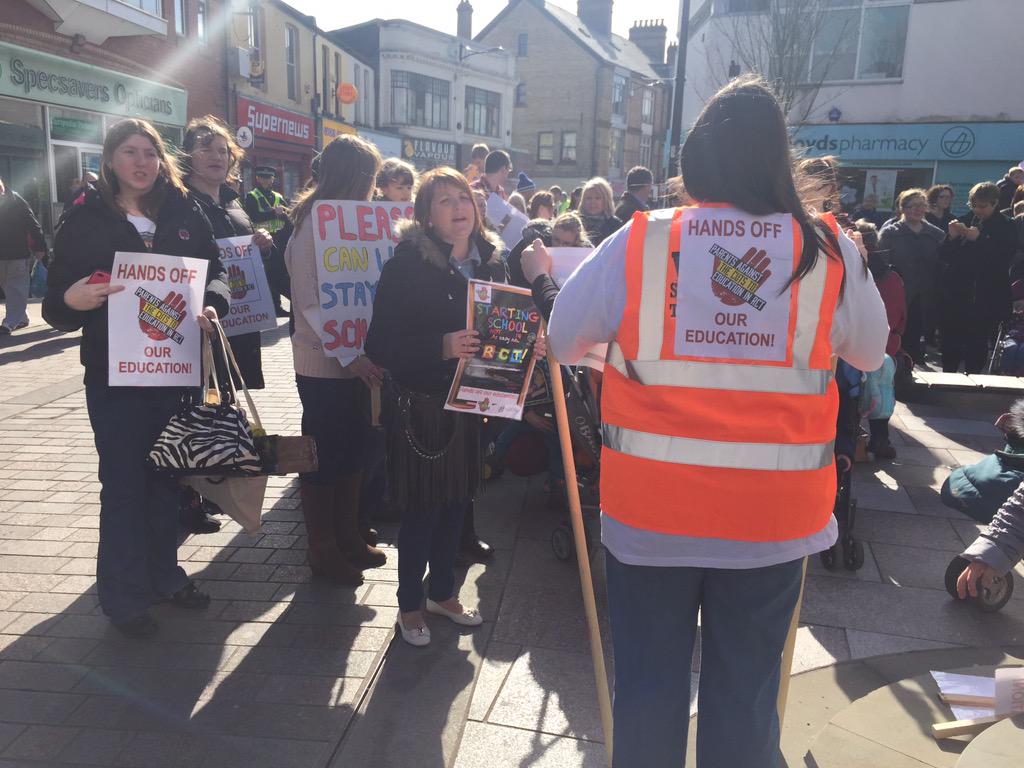 Load more updates