Parents in Rhondda Cynon Taf have lost their latest legal challenge against the council's plan to remove full-time nursery education for three-year-old children.
Campaigners' application for a judicial review over the council's decision was dismissed by a High Court judge.
From September, nursery education for three-year-olds will be cut to part-time, up to 15 hours per week - before full-time provision begins at age four.
Rhondda Cynon Taf Council says the changes will save £2.16m per year.
Its plans to cut nursery provision have been hugely controversial over the last 18 months. Last May, parents won a previous legal battle, with the council judged to have acted unlawfully in its decision-making process.
The council re-introduced its plans earlier this year and, this afternoon, Mrs Justice Patterson ruled it had carried out a fair consultation exercise on this occasion.
Parents now say they will discuss whether to appeal the decision.
South Wales Police says a missing Rhondda Cynon Taf Council worker has now been found safe and well.
Martyn Robins, 53 and from Porth, had gone missing yesterday morning.
Advertisement
Parents in Rhondda Cynon Taf gathered today to protest against the council's plans to introduce part-time education for three and four year olds in the area.
A march took place in Pontypridd town, organised by members of the group Parents Against the Cuts to Education.
The group have been fighting the council's plans for more than 18 months.
Jo Caddy is one of its members.
A spokesperson for Rhondda Cynon Taf Council said it had been forced to consider these decisions as part of the UK Government's Austerity Measures.
The Council's Cabinet recently agreed to amend the funding of nursery education to support part-time nursery education for three year-olds and full-time for four year olds.

The Cabinet determined that this decision will continue to ensure the provision of sufficient nursery education for the children of Rhondda Cynon Taf.

Even after these changes Rhondda Cynon Taf will be offering one of the most favourable provisions in Wales.This difficult decision will contribute over £2million in savings to bridge a funding gap of £30million which was initially faced by the Council.
– Spokesperson, Rhondda Cynon Taf Council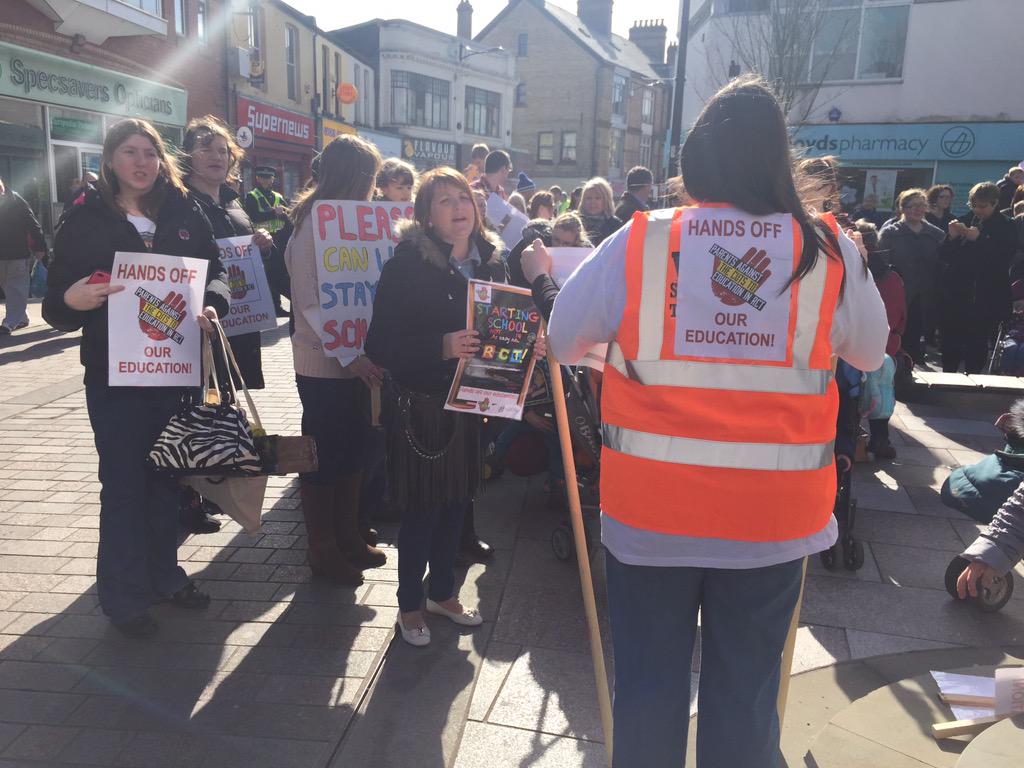 Former care home workers have been told they won't get redundancy pay until property is sold.
Read the full story ›
Police have seized around five kilogrammes of what they suspect to be cocaine from a property in Tonypandy.
The drugs, which could be worth as much as £350,000 – were discovered in a box concealed in plastic packaging.
Our enquiry is still in its early stages but this looks like a substantial recovery of cocaine, which will undoubtedly have a huge impact on the supply of drugs throughout Rhondda.
– Detective Chief Inspector Mark Lewis
Drug processing equipment was also recovered from the house.
A 33 year-old man has been arrested on suspicion of drugs offences and is currently in police custody. The investigation is ongoing.
Anyone with information is asked to contact 101 or call Crimestoppers anonymously on 0800555 111.
The RSPCA is appealing for information after an owl was found in Rhondda Cynon Taf.
According to the charity, it is believed that the bird is owned by someone as it appears tame and has a metal ID ring on its leg, but efforts to trace the owner from the ring have so far failed.
The eagle owl was found on the road near Danycoed, Ystrad in Pentre on Saturday.
A member of the public saw the owl in the road and crows were attacking it. The bird couldn't fly away, so it was thought the owl was injured.

The owl has had a health check at a local vets and has no injures, but was lethargic. The bird is doing really well, but it has been a stressful experience.
– Sarah Davies, RSPCA animal collection officer
Advertisement
Visitor numbers to this year's Big Welsh Bite topped 10,000. The annual Welsh food and agricultural show showcases a variety of produce from across the country.
"The 2014 Big Welsh Bite was an amazing success, attracting large crowds on both days. "It was a wonderful event that continues to promote all that we have to offer in Rhondda Cynon Taf."
– Cllr Maureen Webber
A ceremony is being held to celebrate the replacement of the Abercynon Mining Memorial.
The original plaque at Navigation Park was stolen by metal thieves in 2012. The memorial was erected in memory of those who lost their lives or worked in the mine.
At the height of its production, almost 3,000 people worked at Abercynon Colliery, which was later connected underground to Lady Windsor Colliery in Ynysybwl.
Abercynon Colliery was opened in 1889 by the Dowlais Iron Company to feed the steelworks in Cardiff.
During the construction of the colliery, 18 men lost their lives. A further five men lost their lives underground during an accident in 1906.
Former miners who worked at the colliery will attend the ceremony today and the plaque will be unveiled by the Mayor of Rhondda Cynon Taf Cllr John Watts.
"This will be an important day for the whole community and I urge everyone who is able to, to come along and join in this event to mark our strong industrial heritage."
– Cllr John Watts
Pontypridd Lido's multi-million pound restoration project is continuing to gain momentum as the site is transformed into a Wales-wide visitors' destination.
The work is already way under way, after Rhonnda Cynon Taf Council's contractors were appointed a few months ago.
The restoration, which is due to be completed in summer 2015, will include new features such as heated changing facilities, a cafe, and a viewing gallery space to depict the history of the lido and the park.
Built in 1927 the lido was a popular attraction for the local community, but closed in 1991 after falling into decline in the '80s.
"This ambitious project will create an exciting, high quality visitor attraction right in the heart of Pontypridd which promises to attract visitors from throughout the country.

"It will not only create more local jobs but attract tens of thousands of visitors to Pontypridd town centre.

"It is wonderful to see the transformation take place and we all look forward with great excitement and expectation for what promises to be a truly magnificent complex fit for the 21st century."
– Cllr Ann Crimmings, Rhondda Cynon Taf Council
A Rhondda man, who performed indecent acts in front of women on trains between Cardiff and Porth. has been jailed for a total of 16 months.
Gareth Rhys Stewart, aged 21, of Park View, Ynyshir, was sentenced at Cardiff Crown Court after pleading guilty to indecent exposure and outraging public decency.
The court heard that in January a 25-year-old victim caught a packed train from Cardiff Queen Street to Treherbert.
During the journey, Stewart offered his seat which she accepted. Shortly after, while stood in the aisle next to her, he began subjecting her to lewd behaviour and touched her.
Then, as the train became quieter, Stewart took a seat across the aisle and performed an indecent act on himself.
A police appeal was issued and a further two victims – aged 22 and 16 - also came forward.
Unemployed Stewart was sentenced to 16 months' imprisonment and ordered to register as a sex offender for 10 years. He was also banned from using the rail network for five years.
Detective Constable Dilwyn Lewis, who led the British Transport Police investigation said, "This kind of unwanted sexual behaviour is exactly the kind of conduct we are committed to identifying and stamping out.
"If someone has made you feel uncomfortable on your journey – however minor it may seem to you – I would encourage you to follow the example set by Stewart's victims by reporting it to us."
Load more updates