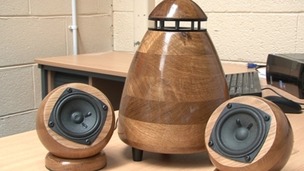 The company is giving away its surplus wood to local schools, where woodwork students are turning it into beautiful creations.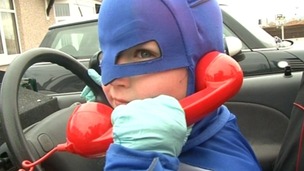 Rhyl grandfather Alan Dennett spent more than £5,000 converting an old banger for his grandson Alfie.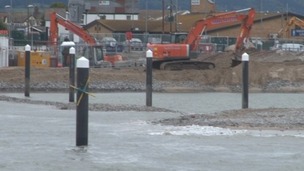 West Rhyl is the poorest council ward in the whole of Wales. Now, millions of pounds are being spent transforming the area around it.
Live updates
67% of people aged between 16-64 in Rhyl West are claiming unemployment benefit, higher than anywhere else in the country. The statistic has been revealed by the Centre for Social Justice in research released today.
The report warns of 'welfare ghettos' where the majority of working age people are unemployed.
The Director of the Centre for Social Justice, Christian Guy, says these statistics "represent years of tragic failure and indifference from the political class. People in these neighbourhoods have been consistently written off as incapable and their poverty plight inevitable."
Last year Denbighshire Council approved a £16 million regeneration package for Rhyl. The new development will include a hotel complex and improved housing in Rhyl's West End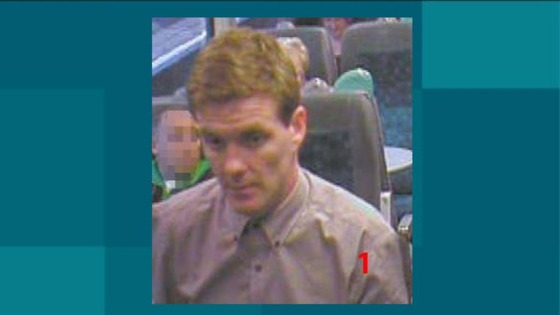 British Transport Police are appealing for information after an assault on a girl as she was leaving a train at Rhyl last month.
They have released a CCTV image of a man they want to speak to in connection with the incident.
The victim was on the Manchester Piccadilly to Llandudno train with two friends.
During the journey they talked with a man who subsequently assaulted her.
British Transport Police say the man was travelling with another man and is believed to have joined the train at Chester, travelling to Abergele.
Advertisement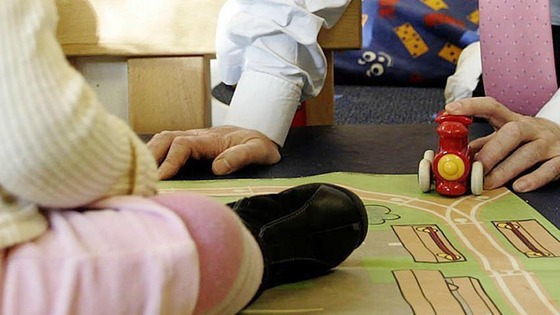 A series of first aid films are being launched by St John Cymru Wales to help parents and carers treat babies and children in an emergency situation.
The eight BabySafe films will provide advice on how to deal with common accidents and injuries, including choking, fever and burns.
UK figures show more than half a million children under the age of five are taken to hospital each year after having an accident at home, and a further 67,000 are injured or killed simply playing in their gardens.
The BabySafe project has so far provided first aid training to more than 1,000 young parents in Merthyr and Rhondda Cynon Taf, with the programme soon to be rolled out in Rhyl and Bedwas.
British Transport Police has issued a fresh warning over young people playing on the railway.
It comes after pictures taken on the North Wales main line showed two children messing around on the tracks and, at one point, lying down on a line where trains travel at almost 100 miles an hour.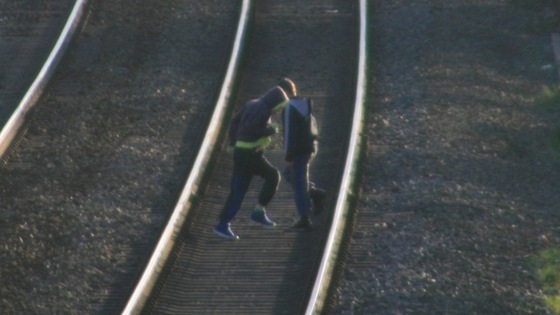 British Transport Police has warned of the dangers of trespassing on railway lines, after two children were photographed on the North Wales main line with a train approaching.
The signaller at Rhyl station stopped the train with a red signal, after the youngsters had been noticed.
A British Transport Police spokesman said: "Trespass may not sound like a serious offence but it can be a major safety hazard."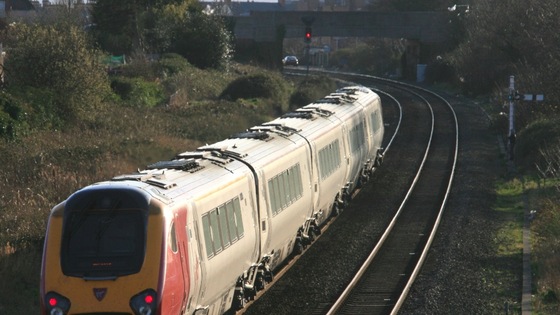 Five people 'cut-off' by the tide on mudflats near Rhyl harbour were rescued last night, including one with a suspected broken leg.
The coastguard say the person was airlifted by RAF Sea King helicopter to Ysbyty Gwynedd in Bangor for further treatment.
HM Coastguard say they received the call at around 8:20pm.
The Rhyl inshore lifeboat, volunteer coastguard team and RAF SAR helicopter from Valley were involved in the rescue.
The four others were treated by an ambulance crew at the scene.
Advertisement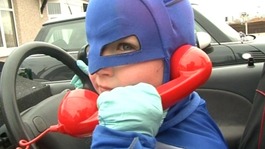 Rhyl grandfather Alan Dennett spent more than £5,000 converting an old banger for his grandson Alfie.
Read the full story
Six-year-old superhero
Doting grandfather Alan Dennet says his grandson Alfie was 'amazed' when he unveiled his very own Batmobile.
The converted Daihatsu cost more than £5,000 and came about after the car failed its MOT.
"When we gave the car to him he was absolutely amazed. He couldn't believe his eyes, he was so excited, it was worth all the effort just to see the look on his face. He loves Batman but he tells me that I'm his real hero now.

"He comes down whenever he can he loves playing games in the car. He sits on the drive pretending to be Batman, singing the theme song and acting out fight scenes, shouting 'Kapow, smash, biff, boff'. It's a big toy for him, something that he will remember all his life."
– Alan Dennet, Alfie's grandad
Six-year-old superhero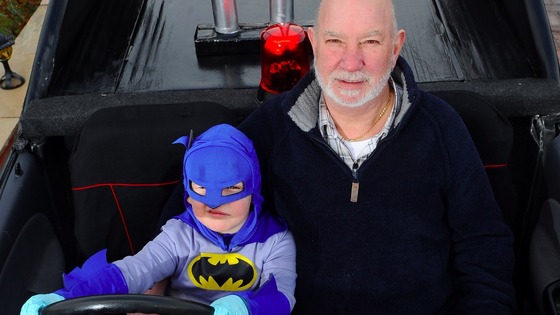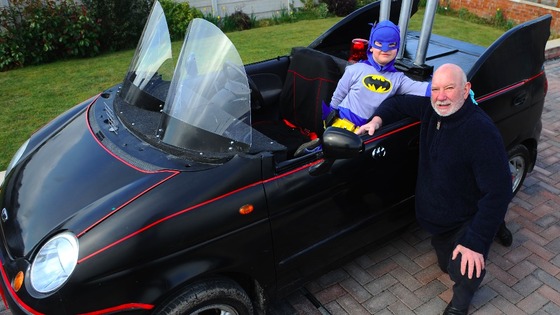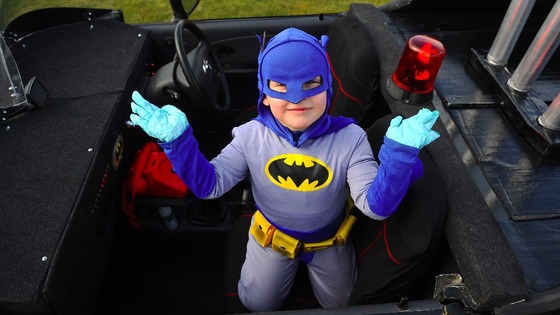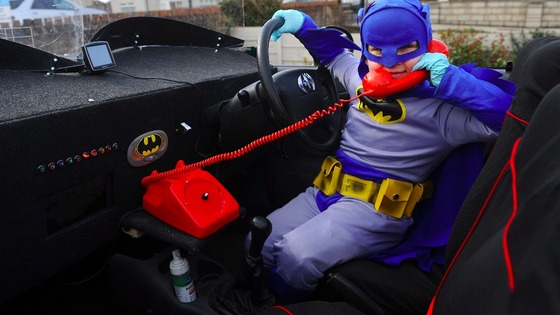 It cost £5,000 and started life as a Daihatsu, but after some work from Alan Dennet, this four-wheeled wonder became a Batmobile. The proud owner is six-year-old superhero enthusiast Alfie, Alan's grandson.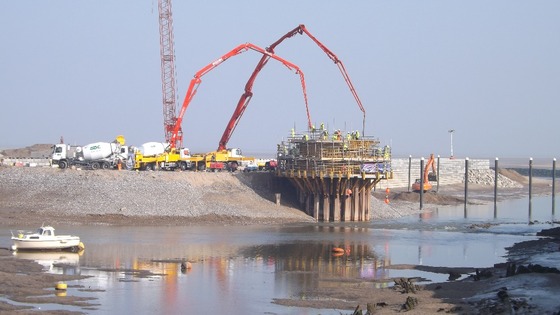 The council says Denbighshire's project team is forging ahead with the construction work on the Rhyl Harbour redevelopment.
The project is funded by Denbighshire, Sustrans, the Welsh Government and the European Regional Development Fund.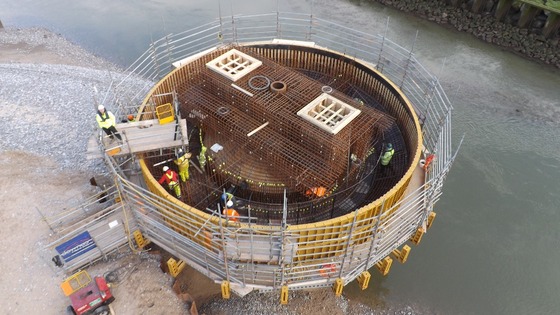 Over the last few months, some 27 tonnes of steel reinforcement have been fitted within the central caisson for the bridge, in readiness for a mass concrete pour that took place last week.
This has formed the plant room for the lifting mechanism and will provide the base for the mast of the bridge.
Load more updates
Back to top