Live updates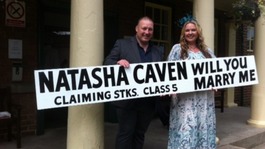 Simon Roberts from the Rhymney Valley paid £500 to rename the second race 'Natasha Caven, Will You Marry Me?'
Read the full story
An artist from Ystrad Mynach has launched an exhibition of her work promoting the beauty of the moorland in the Rhymney Valley.
Gigi Rogers says Gelligaer and Merthyr Common are hidden treasures and she's collaborated with other artists to create music and poems to accompany her paintings.
Our Correspondent Carl Edwards has been to meet her.
Advertisement
Police on patrol over metal theft
British Transport Police are appealing for help to catch thieves who stole fourteen thousand pounds worth of cabling from tracks in the Rhymney Valley.
They say recent legislation, which makes it illegal for scrap metal dealers to give cash, is going some way to reducing the problem. But as Hannah Thomas reports, they've still got a big fight on the hands to stop it altogether.
Police on patrol over metal theft
£14,000 worth of metal has been stolen from the railway in the New Tredegar area .
The British Transport Police is asking anyone who may have seen anything suspicious between the 2nd and 8th of January, when the thefts occurred, to contact them on 0800 405040.
Officers are investigating four separate incidents in and around the Brithdir area.
We will be carrying out directed patrols along the Rhymney Valley line, including officers patrolling on foot, in vehicles and with police dogs, to catch and deter criminals, and will link with Gwent Police to gather intelligence on suspects in the area.

The irony is that the stolen items are of no real value to anyone outside the railway industry, yet the cost to replace them is extremely high. In fact, the thieves will struggle to get any money at all, as scrap metal dealers are highly unlikely to accept them.
– Sergeant Dave Morris, British Transport Police
The company behind plans for an opencast mine in Nant Llesg says it would bring in almost three hundred jobs.
But locals say that they're 'devastated' by the idea of having an opencast mine in the area.
The company behind plans for an opencast mine in the upper Rhymney Valley says it would bring in almost 3 hundred jobs and lift the economy. Mining company Miller Argent say at a neighbouring mine, 26 million pounds has been spent in the last 3 years.
But a campaign's been launched by some businesses opposing the plan for Nant Llesg.
Advertisement
Back to top