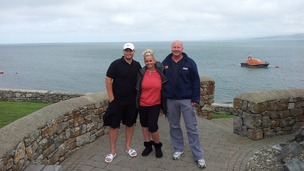 The former Brookside cast member, who had been out sea fishing with her husband, later tweeted to thank crew members.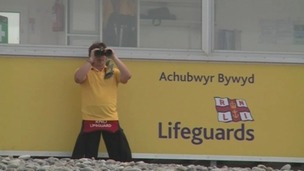 RNLI crews at Newgale sprang into action to save a man and a woman caught in a rip current as they went surfing.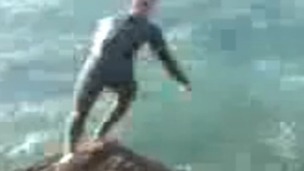 The RNLI is warning people who dive off cliffs - also known as 'tombstoning' - that they are risking their lives.
Live updates
A group of teenage surfers who got into difficulty in waters off Llanrhystud had to be rescued on Saturday afternoon - during an RNLI fundraising event.
The annual Flag Day collection and Aberystwyth Ship 2 Shore festival was in full swing when the four youngsters found themselves being carried out to sea due to strong wind and currents.
RNLI volunteers at the fundraising event had to flag down taxis to take them to the lifeboat station, where they were able to answer the call for help.
The crew of the Atlantic 85 Class lifeboat Spirit of Friendship then quickly rescued the surfers, who were cold and exhausted but otherwise unharmed.
A spokesperson for Aberystwyth RNLI said: "RNLI crews never know when the call for help will come, but this was one of the more unusual 'pager moments' witnessing our crew all arrive by taxi at the same time. We'd like to track down the drivers to thank them for their kindness.
"Today's rescue was a timely reminder of the important work that is undertaken by the volunteer RNLI Lifeboat Crews, which is reliant on the continued support of the public for our fundraising activities."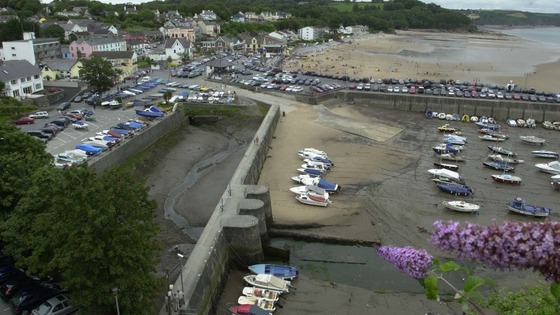 A 12 year-old boy has been rescued from cliffs near Saundersfoot after being cut off by the tide.
He climbed up to avoid the rising water at Perrys Point at 9pm last night and the Tenby lifeboat was launched.
Coastguards say wind, complete darkness, low cloud and vegetation prevented a helicopter rescue so rescue teams from Tenby and St Govans used specialist equipment to lower him to the lifeboat.
He was cold but none the worse for his ordeal.
Advertisement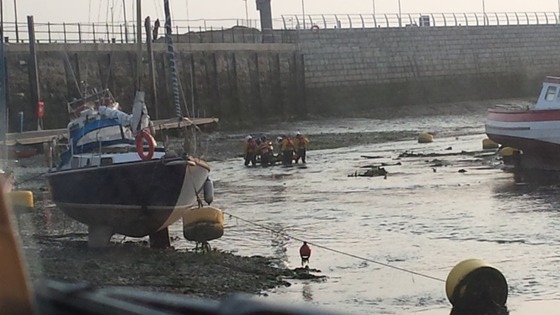 The RNLI helped the mud rescue coastguard volunteers of Rhyl and Flint to rescue the man from a sandbank in the middle of Rhyl harbour.
It says he was stuck in mud and had been there some time.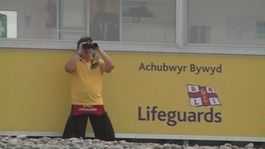 RNLI crews at Newgale sprang into action to save a man and a woman caught in a rip current as they went surfing.
Read the full story
RNLI award for beach rescue
This weekend the RNLI Lifeguards return to work at Pembrokeshire's beaches. Ahead of a busy summer ensuring the safety of beach goers, their efforts in the rescue of two surfers last June have been praised.
It's a pleasure to recognise the great work that the RNLI team were involved in at Newgale last year. RNLI lifeguards face all kinds of scenarios on the beach, and due to the intensive training they take part in throughout the season, they've got the skills and abilities to face anything and help those in trouble on the coast.'
– Philip Davies, RNLI Lifeguard Manager
RNLI award for beach rescue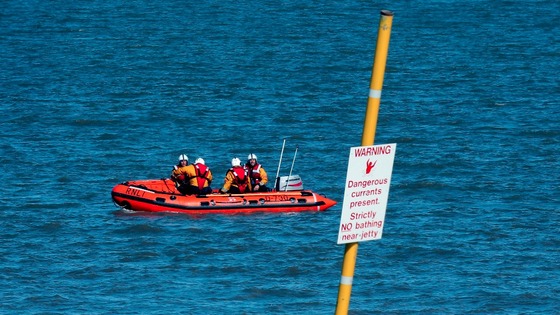 Pembrokeshire lifeguards are to receive a special award from the Royal National Lifeboat Institution (RNLI) for the rescue of two surfers last year.
The surfers - a male and female in their 20s - had climbed onto some rocks and were unable to return to shore after getting caught in a rip current.
Scott Candler, Ben Ablitt, Cameron Chancey and George Strotter will be presented with the RNLI Alison Saunders Lifeguarding Awards - named after the former RNLI Deputy Chairperson - for the 'daring' rescue carried out on Newgale beach last June.
Advertisement
Flint's lifeboat crew and the Fire Service helped rescue a cow stuck in the mud in the Dee Estuary earlier in the week.
Straps were fastened around the animal, which was then hauled to safety.
A woman has been rescued from the sea by a Barry Dock RNLI crew.
The wind and tide had pulled her offshore while she was swimming on Barry Island beach yesterday afternoon, and she was unable to get back to shore.
An RNLI lifeboard, and two pilot boats were launched, and the swimmer was pulled to safety.
She was taken to shore where she was treated for hypothermia and shock by a waiting ambulance crew.
The RNLI has warned that people should only swim on beaches where there is a lifeguard present.
Thanks to a member of the public calling 999 and asking for the Coastguard, we were able to launch to this swimmer in time to save her life. This is a timley reminder that you should only swim on a lifeguarded beach.
– Senior RNLI volunteer crew member, Dave Phillips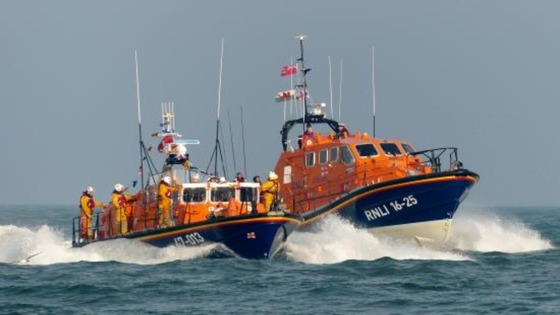 Moelfre RNLI's Tyne class lifeboat will be launched down the slipway for the last time today, after 25 years in service.
The Robert & Violet is being replaced by modern Tamar class lifeboat, Kiwi.
Two retired crew members, Tony Dennis and John Payne, who were part of the passage crew who sailed the boat to Moelfre for the first time in January 1988, will be board for her last voyage.
Since its arrival, the Robert & Violet has launched 394 times on rescue missions, saved 92 lives and rescued 419 people. The Moelfre RNLI lifeboat volunteer crew have now completed their training on the new £2.7 million Tamar class lifeboat Kiwi which arrived at the station on 4 March.
Moelfre RNLI lifeboat Operations Manager Rod Pace said: "The Robert & Violet has been an outstanding lifeboat and served the RNLI at Moelfre well.
"I have served as a volunteer crew member and second coxswain on board her and have nothing but praise for the way she has always performed in all weather conditions. It will be sad to see her leave Moelfre, where she has served for over a quarter of a century. "
The Robert & Violet will now become the Lough Swilly Lifeboat and continue saving lives from the sea off the Irish coast.
Two kayakers were rescued by an inshore lifeboat from Llandudno last night after getting into difficulties off the West side of the town's Great Orme.
One of the men, in their 20s, was suffering from hypothermia and was taken to Ysbyty Glan Clwyd for a check-up.
The alarm had been raised by a member of the public.
Load more updates
Back to top