One of Britain's most endangered breeds of sheep may be seeing numbers rise, more than a decade after it was badly hit by the foot and mouth outbreak of 2001.
The Hill Radnor, as it's known, suffered heavy losses when the disease affected Radnorshire - this year's Royal Welsh Show host county.
Farmer Brian Rees says it's good news for the breed.
Advertisement
Meat Promotion Wales is warning that the beef industry in Wales is under enormous threat.
It claims farmers are receiving 300 pounds less per animal than they were a year ago.
It was hoped the horsemeat scandal would encourage more retailers and consumers to buy local.
James Crichton-Smith reports.
The Prime Minister made the announcement during a visit to the Royal Welsh Show.
The scheme only involves public services in England, the Welsh Government has its own similar plan - but David Cameron said it will still benefit farmers here.
A spokesperson said the chain works with farmers to provide "great quality, affordable lamb".
We sell more British lamb than any other retailer, and we are proud to sell and promote British lamb to our millions of customers right across the UK.

This season we expect to sell more British lamb than ever before and over the next few weeks we are running fantastic half price promotions on British lamb in our stores.
– Tesco spokesperson
Prime Minister David Cameron, who's visiting the Royal Welsh Show at Llanelwedd, has announced plans for the UK Government to buy locally sourced seasonal food whenever possible. The Welsh Government already has a similar scheme.
In England, it's estimated that the public sector spends £1.2 billion a year on food, half of which is imported. The Prime Minister expects that most of the imported food could be replaced by British produce, much of it locally sourced.
No-one does more or works as hard in Wales and the rest of Britain today than our farmers. By opening up these contracts, we can help them create more jobs, invest in their businesses and make sure people in Wales have a healthier lifestyle. It's a triple win –and will mean a brighter future for our country.
– Prime Minister David Cameron MP
Advertisement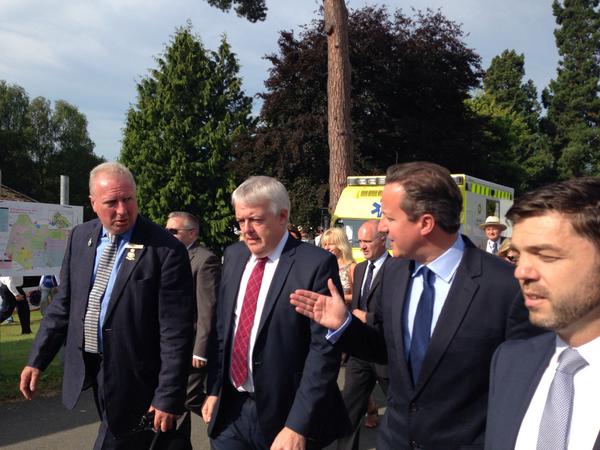 Prime Minister David Cameron is visiting the Royal Welsh Show this morning.
I'm told the talks between Carwyn Jones and David Cameron were constructive and in keeping with the new 'mood music' between the two govts.
Farmers affiliated with NFU Cymru have held a protest outside the Tesco base at the Royal Welsh Show.
ITV News asked Tesco representatives for a response, but they declined to comment.
The Royal Welsh Show begins today at Llanelwedd, with warnings over the future of the beef industry here on the agenda.
Meat Promotion Wales says supermarkets and other retailers are stocking too much beef from outside the UK, having gone back on pledges to stock more British meat after the horsemeat scandal.
It says the amount received by farmers in Wales and around the UK has fallen meanwhile, with some paid up to £300 less per animal compared to last year.
The Welsh Retail Consortium, which represents retailers here, has responded by saying that beef prices are related to wider market conditions, and are projected to rise later in the year.
"Large quantities of imported beef products are now present in some UK retailers and we must presume – for want of a better explanation - it's because it's a penny or two cheaper than our own produce....The big danger for our industry is that some farmers will feel they have little choice other than to get out of beef altogether and that will be a tragedy, not only for our industry, but also for the consumer....Our message to the entire retail trade is simple - use our products or lose them."
– Dai Davies, chairman of Meat Promotion Wales
Welsh farmers say they hope supermarkets will finally sit up and listen to their message at this year's Royal Welsh Show. The event, at Llanelwedd, gets underway tomorrow amid concerns that retailers are stocking less British produce than they did last year. Hannah Thomas sent this report from the showground.
Load more updates