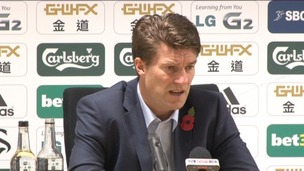 Swansea City v Stoke City at the Liberty Stadium in Swansea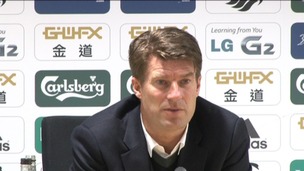 Swansea City 0 West HAM 0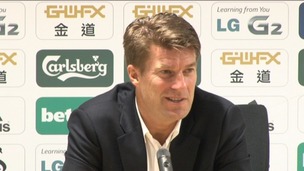 A look back at Swansea City v Sunderland
Live updates
Fulham 1 - 2 Swansea City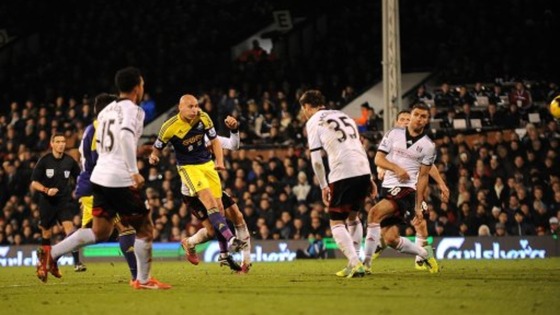 Swansea City clinched a 2-1 win away at Fulham this afternoon, as Jonjo Shelvey came off the bench to secure the club's first win in six matches.
The visitors went ahead in the 56th minute after Fulham's Aaron Hughes netted an own goal.
Fulham soon levelled the scoreline, when Captain Scott Parker scored his first goal for the Craven Cottage side just eight minutes later.
But Shelvey responded ten minutes before the final whistle, which will have delighted manager Michael Laudrup, who spoke before the game of the importance of today's game ahead of a packed schedule of fixtures in the coming months.
Fulham 1 - 2 Swansea City
Swansea City manager Michael Laudrup says today's Premier League match away at Fulham is a "very important" game for the club, with 12 games in 43 days ahead for the club.
"I know all managers, me included.. always say all the games are important, they are, but then again there are games because of the moment or circumstances or whatever, which are especially important," he said.
"I don't know if this one on Saturday is the most important, or the second one, but it's up there, for so many reasons.
"This is about the result for us, it's very, very important"
Advertisement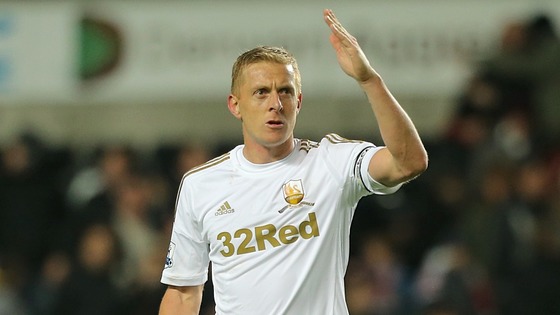 Police are appealing for information after the home of Swansea player Garry Monk was burgled.
South Wales Police say the break-in happened on Gower Road in Swansea over the weekend.
Detectives say a large quantity of property was taken included high-value watches and jewellery, laptop computers and computer equipment, mobile phones and a Swansea City kitbag marked with the Number 16 and Garry Monk's name.
Detective Inspector Darren George of Swansea CID said, "The burglary has resulted in a significant amount of property being stolen, much of which is of great sentimental value to Garry and his family."
Anyone with information should call police on 101 or Crimestoppers anonymously on 0800 555 111 quoting occurrence number 62130363685.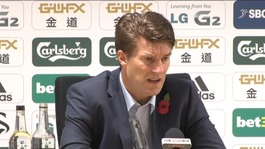 Swansea draw 3-3 with Stoke
Swansea City staged a thrilling comeback from two goals down, but were then denied victory by a last-gasp Stoke City penalty in the Premier League this afternoon.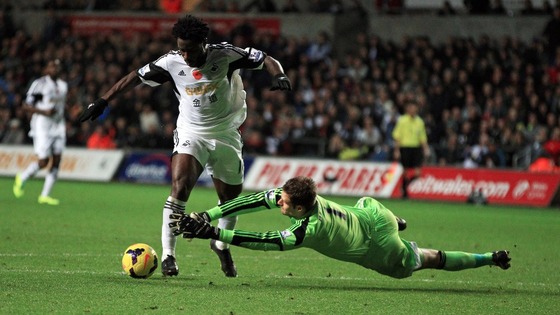 Jonathan Walters and Stephen Ireland scored for the visitors in the first half, at the Liberty Stadium.
Swansea came back strongly after the break, with two goals from Wilfried Bony and one from Nathan Dyer.
An injury-time penalty converted by Charlie Adam made it 3-3.
Swansea draw 3-3 with Stoke
Swansea are 2-0 down at half time against Stoke City at the Liberty Stadium.
The goals came from Jonathan Walters and Stephen Ireland.
Advertisement
Swansea draw 3-3 with Stoke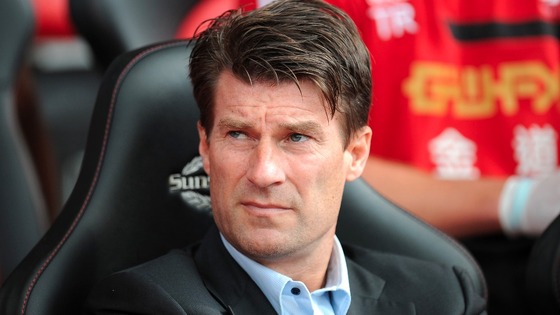 Swansea City are back in action in the premier league this afternoon hosting Stoke City at the Liberty Stadium.
They'll be hoping to bounce back from last weekend's derby defeat.
Kick off is at 16:10
Kuban v Swansea City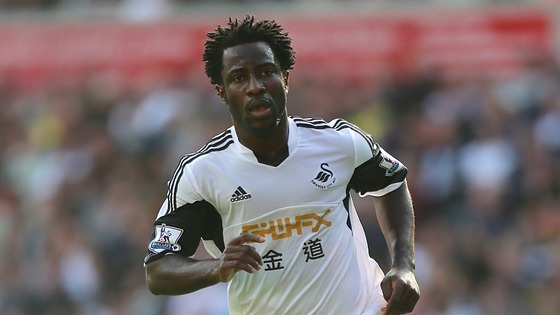 Click here to watch Swansea City's clash with Kuban Krasnodar live on the ITV Sport site.
Cardiff v Swansea derby
No arrests were made by South Wales Police at yesterday's Cardiff v Swansea derby at the Cardiff City Stadium.
Police have praised the behaviour of supporters before, during and after the game which was attended by a capacity crowd of 27,463 people.
Working in partnership with both football clubs in the run-up and during tonight's game we were able to provide a trouble free environment for everyone who attended as well as a positive impression to the millions of people who were watching on television around the world.

"The good behaviour of the fans, the stewarding at Cardiff City Football Club and effective policing all combined to create an enjoyable evening for everyone."
– Match Commander Superintendent Tony Smith
Cardiff v Swansea derby
Cardiff City fans react to the one nil defeat at the Cardiff City Stadium this afternoon.
Former Swansea defender Steven Caulker scored the only goal of the match in the 62nd minute.
Load more updates
Back to top