UKIP's Welsh MEP says his party plans to open a branch in the traditional Labour heartlands in the South Wales Valleys.
Speaking at the party's annual conference in Doncaster, Nathan Gill says Labour has taken Wales for granted and UKIP hopes to change that.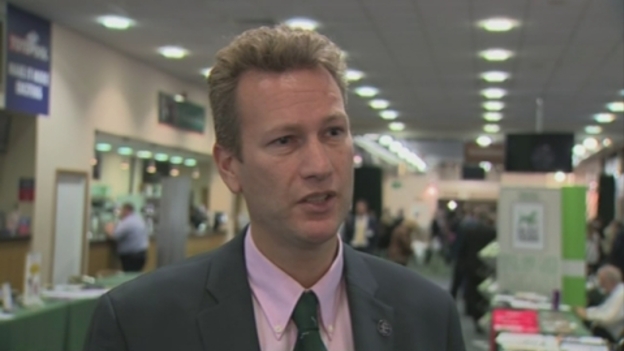 UKIP leader Nigel Farage has pulled out of an expected walkabout in the centre of Swansea after arguments between UKIP supporters and opponents who'd gathered for his arrival. He's expected to go ahead with a meeting in the city later.
Advertisement
UKIP Leader Nigel Farage will arrive in Swansea today as part of his UK wide tour in the run up to the European Elections.
Mr Farage is due hold a walkabout in the city centre and a rally at the Liberty Stadium in the evening.
Welsh Labour have welcomed today's opinion poll that puts them on course for two seats in the European Parliament, with support well ahead of the second placed party, UKIP.
The poll also suggests that if voters were choosing a new Assembly, Labour would slip from 30 seats to 29 in the Senedd, leaving the party outnumbered by the combined opposition.
UKIP's lead candidate in the European election, Nathan Gill, has taken to twitter to hit back.
Advertisement
The first data from the latest Wales Barometer opinion poll shows UKIP now in second place for the European Election in May. A big increase in the party's support since the last poll in December means it has overtaken the Conservatives. Labour are still well ahead.
Labour 39% (41% in December)
UKIP 18% (13% in December)
Conservatives 17% (20% in December)
Plaid Cymru 12% (13% in December)
Liberal Democrats 7% (9% in December)
Others 7% (4% in December)
Wales has four seats in the European Parliament. At the last election, in 2009, UKIP won a Welsh seat for the first time, with 13% support. The Conservatives, with 21%, Labour on 20% and Plaid Cymru on 19%. each also won a single seat.
If the latest opinion poll figures are repeated on election day, Labour would win the first two seats, UKIP the third seat and the Conservatives the fourth. Plaid Cymru would be without an MEP for the first time since the present voting system was introduced in 1999.
UKIP has unveiled its Welsh candidates for next year's European Parliament elections. The party currently has one of the four MEPs sent from Wales to Brussels. The four candidates are:
Nathan Gill
James Cole
Caroline Jones
David Rowlands
Load more updates