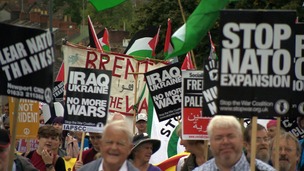 Missed Wales This Week, The NATO Summit? Catch up here: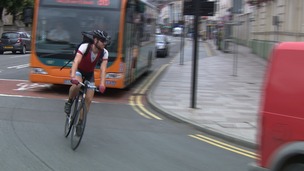 If you missed Wales this Week, Cycling's New Roots, you can now catch up online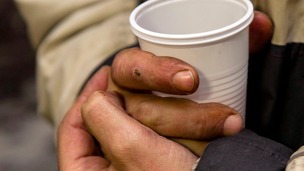 Away from the dark corners of our city streets, a whole range of people with nowhere to call home are struggling to survive.
Live updates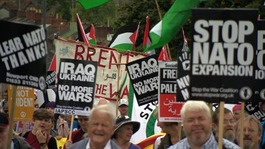 Preparations for NATO summit underway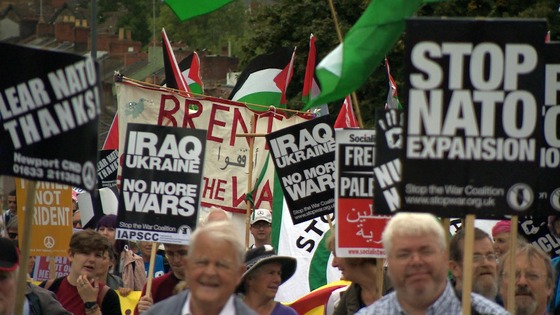 It's the biggest security operation that Wales has ever seen.
After months of preparation, the NATO Summit is almost here, with over 60 world leaders and hundreds of international delegates descending on Newport and Cardiff. But their welcome won't be entirely warm, with an estimated 20,000 protesters expected to make their voices heard.
Saturday saw the first of a number of planned demonstrations, with around 600 protesters gathering in Newport. They included Côr Cochion, Cardiff's Red Choir, who voiced their anti-NATO arguments in song.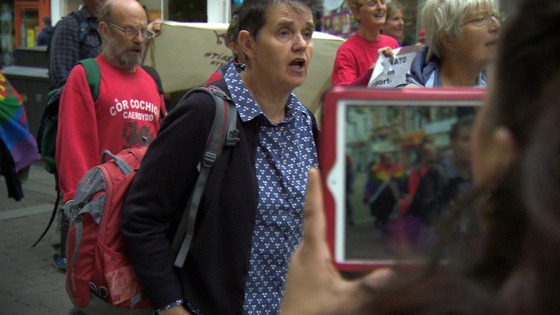 The strength of feeling is very passionate against what NATO is doing. We didn't want NATO to come to Wales but now they're in Wales we want to give them a message, that Wales is a peaceful country, Wales wants a peaceful country for our children, Wales wants hospitals and schools. We don't want war.
– Ray Davies, Founder member of Côr Cochion

But for others, NATO represents security at a time of increasing international instability. Lord Heseltine, former UK Defence Secretary, told ITV Wales that NATO was absolutely fundamental to British safety: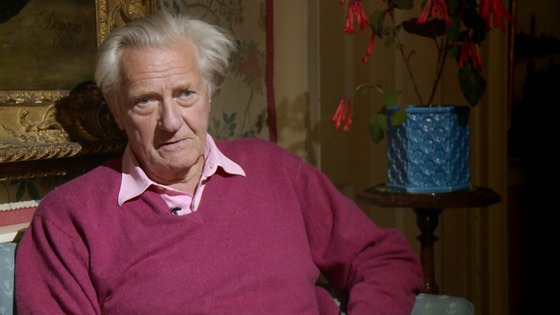 It has preserved the peace of Europe in a way quite uncharacteristic with our history… look at the cost of the Second and First World Wars. The cost in human life, the cost in money. This is just why NATO exists. It's to stop Europe's habit of indulging in carnage every generation. And it works.
– Lord Heseltine

So just what is NATO? Why is it here, and what are the arguments for and against? Wales This Week finds out, Tonight at 8pm, ITV Wales
Advertisement
Wales This Week: Smoke Without Fire
E-cigarettes: a saviour for smokers or just another harmful habit? As the Welsh Government looks to ban them from public places, Wales this Week finds out more about the booming business of E-cigarettes.
Wales This Week: Smoke Without Fire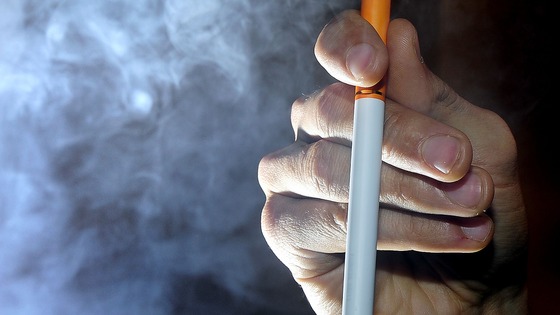 Plans to ban the use of e-cigarettes in enclosed public places would be broadly welcomed by a majority of Welsh people.
That's the conclusion of an exclusive ITV Wales poll, which found that 52% of respondents backed the proposal by Health Minister Mark Drakeford. The Welsh Government will decide whether to go ahead with the plan later this year. But, for many people, e-cigarettes seem to be a life saver. Rob Heyes from Cardigan has suffered serious health problems as a result of smoking tobacco for 33 years. He's now given up with the help of e-cigarettes.
"I'm furious about it to be honest, that's one of the reasons people start using these because they can use them indoors, once they've started then they can move onto eventually switching completely."
– Rob Heyes, Cardigan

Dr Ruth Stone from Llandaff Surgery thinks e-cigarettes are a huge public health success:
"I think they are a very good substitute for ordinary cigarettes, they do provide nicotine which is often needed when one is giving up cigarettes. They don't supply the tar and the smoke and the tobacco that are harmful to people. So they're very useful as an adjunct treatment."
– Dr Ruth Stone, Llandaff Surgery

Almost half of those who answered our opinion poll seem to agree with the doctor. 42% said they think e-cigarettes help reduce smoking and only 15% think they encourage people to take up the habit.

But despite the research suggesting e-cigarettes do help people quit cigarettes, the Health Minister is convinced they normalise the act of smoking. He also claims there is not enough evidence to assume they're completely safe.
"What we have to do is consider the emerging evidence in this field and I have to proceed on the precautionary principle, if there is evidence that e-cigarettes do no harm, but a pile of evidence that suggests that they may be harmful to people's health in the future. Then I cannot afford to take the risk with the Welsh population's health."
– Mark Drakeford AM, Minister for Health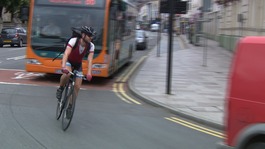 If you missed Wales this Week, Cycling's New Roots, you can now catch up online
Read the full story
Wales leads the way with new Active Travel Act
While the Welsh Government focuses on increasing the number of cyclists in Wales through its new Active Travel Act, our local authorities are tasked with the challenge of making cycling more accessible.
Below is a list of the resources which are available in Wales, to help us to gain the confidence and skills we might need to get on our bikes.
Please contact your local authority offices if you would like more information about the support which is available to cyclists in your area.
Road safety training A number of local authorities in Wales, including Cardiff Council and Powys Council, offer free road safety classes for adults. If you're based in Caerphilly, The Caerphilly Travel Hub offers free cycle training for adults and children on Wednesday afternoons.
If you work in either Pontypridd, Cardiff or Caerphilly, you may also be entitled to free cycle training as part of the Smarter Journeys to Work Project
www.sustrans.org.uk/wales/what-we-do/workplaces
And if you don't qualify for free cycle training, then CTC and Cycle Training Wales both offer some great value cycle training packages.
www.ctc.org.uk www.cycletrainingwales.org.uk
Route Planning Google Maps offer clear and up to date route planning for cyclists. Simply enter the location that you wish to travel to, choose 'Cycling' as your mode of transport, and Google Maps will demonstrate a variety of cycle routes along with an estimated journey time. It can also highlight cycle trails, cycle-friendly roads and the types of terrain that you might encounter.
Visit Wales have also compiled a list of the most picturesque cycle routes in Wales, including the Mawddach trail in Snowdonia and the Elan Valley Trail in Mid Wales.
www.visitwales.com/holidays-breaks/family-holidays/bike-riding-routes
Cycle to Work Scheme A growing number of employers across Wales are signed up to Cycle Scheme, a scheme that allows employees to obtain a free bicycle in order to cycle to work. To find out if your employer is signed up to this scheme, you should speak with your manager or HR department. If your employer is not signed up to the scheme but you'd like to invite them to join, you can find out how by visiting the Cycle Scheme website.
Bike MOT
Got a bike in the garage that's gathering dust? Sustrans Cymru recommend you pay a visit to your local bike shop, who will offer services to get your bike back into shape for very reasonable prices. And if you work in Pontypridd, Caerphilly or Cardiff, you might also be entitled to free bike maintenance sessions as part of the Smarter Journeys to Work project.
www.sustrans.org.uk/wales/what-we-do/workplaces
Cycling Clubs
If you fancy a bit of company, The British Cycling Organisation has compiled a database of different cycling clubs across the UK. Simply select 'Wales' or enter your postcode and you can choose from a variety of cycling clubs across the country.
www.britishcycling.org.uk/clubfinder
For the Kids
Cycling proficiency classes are increasingly offered free of charge in schools. However, there are also a number of classes, activities and resources accessible for kids across Wales.
Beicio Cymru have outlined a few, including kids classes in Aberaeron and Carmarthenshire.
www.britishcycling.org.uk/wales/article/wcst-Welsh-Cycling-kids-activities
Sustrans have also produced a detailed webpage dedicated to children's cycling, including information on where to cycle, how to stay safe and the different types of bike seats available.
www.sustrans.org.uk/change-your-travel/children-and-families/cycling-kids
Bike Security
North Wales police offer free bike marking at a variety of events, and launched their 'Bicycle Watch' scheme in 2012 which they encourage cyclists to join for free by visiting www.north-wales.police.uk.
South Wales police also offer free bike marking at a variety of events, which they announce via their Facebook page
They have also compiled a detailed webpage on how to keep your bike safe, available at
www.south-wales.police.uk/more-about-us/protect-bike/
For updates on road safety initiatives in Wales, check out:
Advertisement
Wales leads the way with new Active Travel Act
Later this year the Welsh Government will implement a pioneering act which will place a requirement on local authorities to create and maintain so called Active Travel routes, for walking and cycling.
The aim of the act is simple - to increase the number of cyclists in Wales from a modest 2% of adults to a much fitter 10% by the year 2020. But many have been left questioning if our roads are ready for such an increase.
With increasing concern over issues of congestion, and ill health caused by some of the highest inactivity levels in Europe, many believe that the active travel act could offer multiple benefits. But with a total of one hundred deaths or serious injuries caused to cyclists in Wales last year, it is not without its risk.
Dr Rhodri Martin, from the Royal Glamorgan Hospital in South Wales, specialises in the benefits of exercise to our everyday health
"As a nation we are already suffering from a huge amount of chronic disease as a result of our inactivity levels. But by making it easy for people to cycle to work, by making people feel safe when they are cycling, little steps like that will help drive forward our physical activity levels"
– Dr Rhodri Martin, Medical Exercise Registrar

It is Dr Martin's belief that the introduction of the active travel act could solve our inactivity problems and help to promote a fitter, more active nation, which could potentially lead to huge benefits to our health system.

Tonight, Andrea Byrne takes to two wheels to find out more about the Active travel Act, and to ask how safe our roads really are.

Wales This Week, Cycling's New Roots is on Tonight at 8 on ITV Cymru Wales
Calls for more cycle routes in Wales
An exclusive poll for ITV Wales reveals more than one in ten of us would ride to work if there were more cycle routes available.
It comes as the Active Travel Bill comes into force later this year, which will force local authorities to map and plan for suitable cycling and walking routes.
Minister for Natural Resources, Culture and Sport says it will be an opportunity for a "Healthier Wales with less pollution and a stronger economy."
Calls for more cycle routes in Wales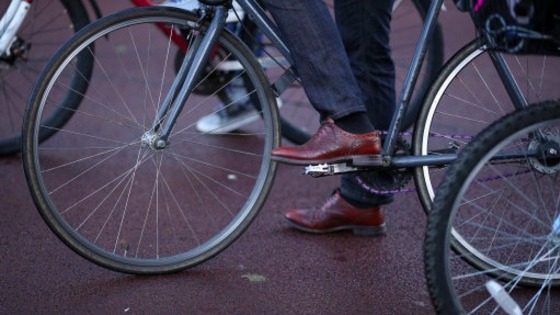 An exclusive poll for ITV Wales reveals more than one in ten of us would cycle to work if there were more cycle routes available.
The poll found only 2% of Welsh adults class cycling as their main mode of transport.
But it also revealed this figure would rise to a more respectable 12%, if designated cycle routes were more widely available - that's 2% higher than the Welsh Government target for the year 2020.
Later this year, a new law will come into force in Wales which has been hailed as the first of its kind in the world.
The aim of the Active Travel Act is simple, to get more of us to leave the cars behind and to take our bikes.
The Act will force local authorities to map and plan for suitable routes for walking and cycling.
You can see more on this story on tonight's Wales This Week at 8pm.
Load more updates
Back to top