RAF veteran Andy Davies says the Royal British Legion helped him get back on his feet after problems with alcohol.
Read the full story ›
Andy King will serve a two-match Euro 2016 qualifying ban for his red card against Cyprus, the Football Association of Wales has announced.
The Leicester midfielder was shown a straight red card for fouling Cyprus captain Constantinos Makridis in Wales' 2-1 win at the Cardiff City Stadium on October 13.
UEFA has increased King's suspension for violent conduct and the 25-year-old will now miss Wales' away games in Belgium next month and in Israel in March.
"The FAW has been informed by UEFA that Andy King has been suspended for two matches," the Football Association of Wales said in an official tweet on Friday afternoon.
Wales manager Chris Coleman defended King after his dismissal early in the second half left Wales clinging on to their slim 2-1 advantage.
"It's not really his fault," Coleman said at the time.
"The timing was wrong and he had a red but that's probably down to myself and the staff.
"We've been firing the lads up the last two games.
"We've been into the lads all week saying 'whatever they give to us, we give to them' and I can't blame Andy for that."
Advertisement
This evening and tonight:
Variable amounts of cloud and some isolated showers across western coasts and hills. Clearer skies and lighter winds in the east will allow it to turn fairly chilly in some sheltered rural areas with mist patches possible. Minimum temperature 5 deg C (41 deg F).
Saturday:
Breezy with variable amounts of cloud and some sunny spells, especially to the east of high ground. However there will be a few showers too, these mainly in the west. Maximum temperature 15 deg C (59 deg F).
Outlook for Sunday to Tuesday:
Breezy, mild and often rather cloudy with a few showers on Sunday and Monday. More organised rain will arrive from the northwest on Tuesday, but with winds falling lighter.
For more than sixty years he's been one of Wales' favourite actors, and now Glyn Houston has given ITV an insight into his life. The Rhondda born star has appeared in more than a hundred films and television plays.
Plaid Cymru leader Leanne Wood has said her MPs won't back English votes for English laws until Wales gets an extra £1.2 billion a year.
Read the full story ›
Advertisement
The First Minister, Carwyn Jones, has joined members of the Royal British Legion to help launch this year's Poppy Appeal in Wales.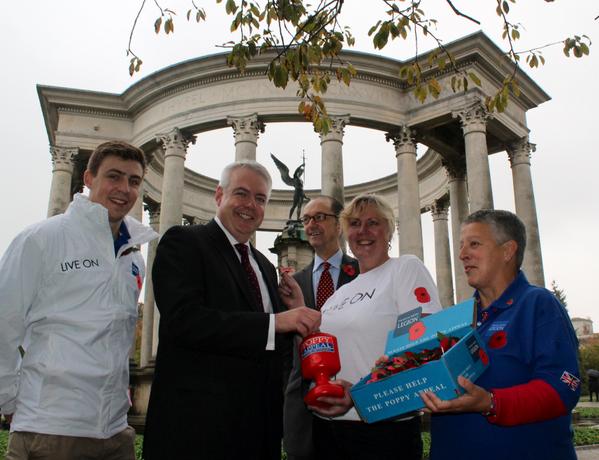 The father of a man who was forced to labour on a farm without pay for 13 years has called his son's ordeal "appalling" and said it has "caused a lot of harm".
Urging the public to be vigilant, he said that "this form of slavery could be happening right under your noses," and urged anyone who suspects they may be a victim of slavery to call the police on 101.
HMS Somerset has docked at Britannia Quay in Cardiff Bay for the official launch of the Poppy Appeal in Wales.
The Royal British Legion created the Poppy Appeal to help those returning form the First World War. A century on from the start of that conflict, money raised by the appeal is helping today's Armed Forces families.
Support is given with coping with bereavement, living with disability or finding employment. The money raised through the Poppy Appeal goes directly to The Royal British Legion's welfare work providing through life care to both Serving and ex-Service personnel and their families.
Load more updates