Welsh Secretary Alun Cairns has issued a statement aimed at calming the fears of Welsh businesses and other organisations affected by Britain's decision to leave the European Union. He emphasised that there will be no sudden change, as the UK remains a full member of the EU for now and European projects currently underway are not affected.
The voters of Britain have made their wishes clear and we respect that decision. We must show confidence in our resilience and work together in the most effective way during this transitional period.

Of course there are going to be challenges. Funding and support will inevitably be delivered in different ways in the future. This week I am meeting leaders from business, the unions, agriculture, universities and many other areas to understand their priorities and discuss how I can address their concerns. I am also talking to the UK trade and industry department about trade opportunities for Wales beyond Europe.

The Welsh economy is in robust form because the UK Government fixed the roof when the sun was shining. The jobs market in Wales is outperforming the rest of the country and we have an increasingly dynamic business sector.

The business of Government goes on and the priority is to ensure the UK is in the best possible shape for when the new Prime Minister begins the formal process of leaving the European Union.

I have absolute confidence in our great nation and I will ensure that the voice of Wales is clearly heard right at the heart of Government as we take our next steps in this momentous process.
– Welsh Secretary Alun Cairns MP
Around 100 students and young people have marched from Cardiff City Centre to the Senedd in Cardiff Bay over the EU referendum vote.
Read the full story ›
Advertisement
Owen Smith has followed Chris Bryant and Nia Griffith out of the Shadow Cabinet. He said the Labour leader's team could split the party.
Read the full story ›
The latest Labour MP to resign as a shadow minister is Nick Thomas-Symonds who represents Torfaen.
The Shadow Employment Minister said the decision was made with "enormous regret".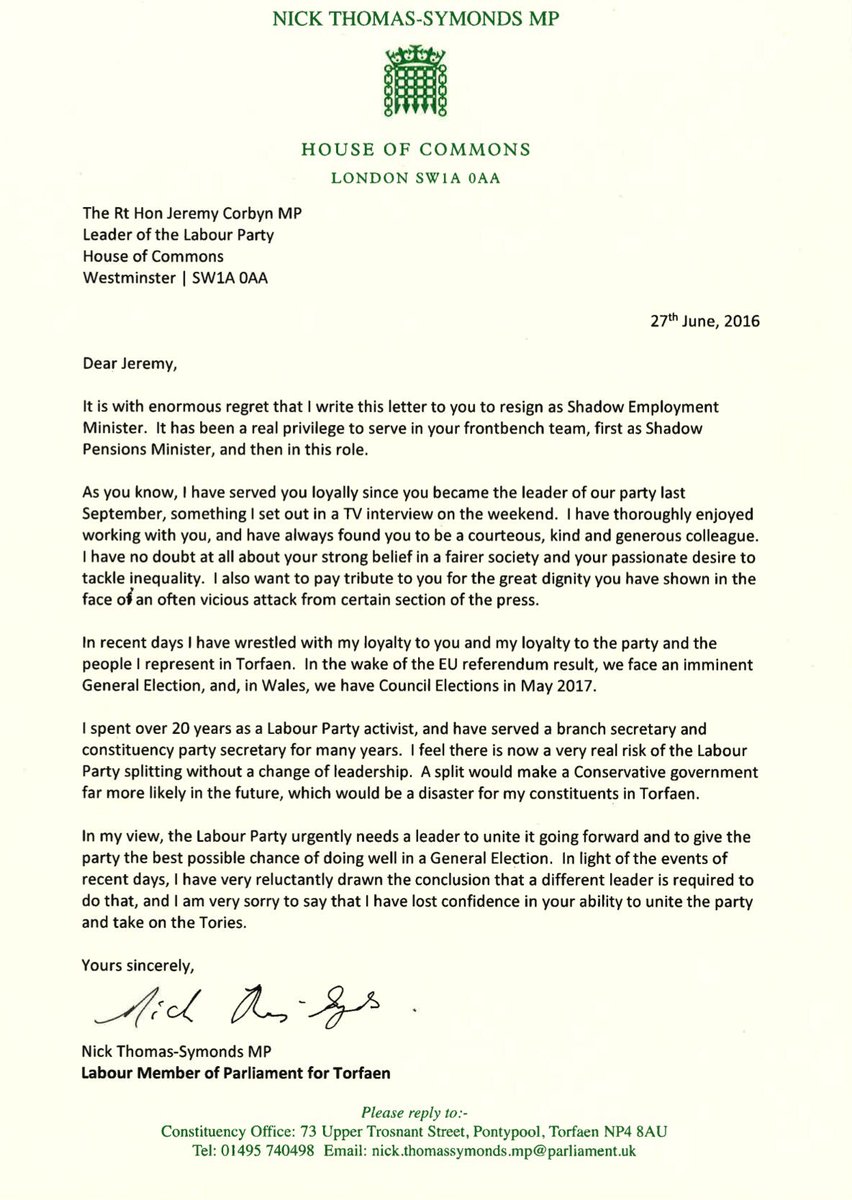 An exhibition tour of many 'never before seen' photographs of David Bowie is set to visit Cardiff.
Read the full story ›
Police in Bridgend are appealing for information to find a missing 14-year-old girl.
Ffion Meredith hasn't been seen since Tuesday, 21st June.
Officers suspect that Ffion – who is 5ft 6 and has purple coloured hair - is in the North Cornelly area and are appealing to anybody in or around that area who may have seen her to get in touch.
Anyone who has information about Ffion's whereabouts is asked to contact South Wales Police on 101.
Advertisement
Shadow Welsh Secretary Nia Griffith has become the latest MP to resign from Jeremy Corbyn's shadow cabinet.
This morning I met with Jeremy Corbyn, to discuss the much needed leadership and unity that the Party needs in the light of the referendum aftermath and a potentially imminent general election.

However I do not feel that our discussions this morning gave me the confidence that he could now achieve this unity. I have therefore tendered my resignation as Shadow Secretary of State for Wales.

I made clear to Jeremy that I have always admired his commitment to the causes that matter to him, but last week's referendum result and the likelihood of an early general election mean that the party now requires new leadership. Jeremy has lost the confidence of the party, including many members who initially supported him, and he should now do the honourable thing and resign.

It has been a tremendous privilege to serve as Shadow Welsh Secretary for the past nine months, in particular to play my part in re-electing a Welsh Labour Government which is now more important than ever before.
– Nia Griffith MP, Llanelli
Research by Swansea University claims that high use of the social media site can have a negative impact on pregnant women.
Read the full story ›
Senior Labour MP Chris Bryant says he suspects that Jeremy Corbyn voted for Brexit after the party leader declined to tell him which way he cast his ballot.
Chris Bryant said he posed the question directly as he warned Mr Corbyn he would "destroy" the party unless he stepped aside and did not seek re-election, but received no answer.
Jeremy's management of the campaign for the referendum left many voters on polling day not even knowing which way Jeremy himself was going to vote.

I suspect that Jeremy may have voted to leave.

Not only is that a betrayal of Labour's historic position on the European Union - a fundamental economic and foreign policy objective of ours - but also it means that if he were to lead is into a general election, the latest poll shows we would lose 150 seats, we would be a rump of 75 Members of Parliament.

I said to Jeremy last night 'look, I've tried to make this work but the only person who can make this work is you, by stepping aside and not standing in the subsequent election and letting somebody else take over the reins because otherwise you will destroy the Labour Party'.
– Chris Bryant, Rhondda MP
Load more updates