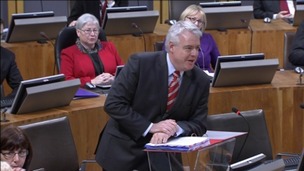 Our weekly look at First Minister's Questions.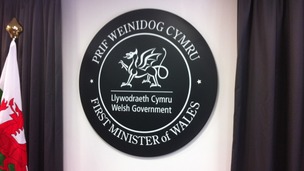 Further details on the transfer of tax and borrowing powers from London to Cardiff are due later in a joint announcement in the Commons.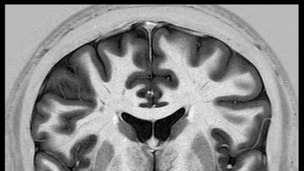 What causes a brain tumour isn't known, but its impact can be devastating.
Live updates
Welsh 'most reliant' on cars
Opposition party Plaid Cymru respond to the latest RAC figures which show workers in Wales are most reliant on a car or van to get to work. The Welsh Government say they acknowledge there needs to be a better public transport system.
These statistics make a compelling case for a South Wales Metro - a longstanding Plaid Cymru campaign.

A Metro would transform public transport in south Wales, better connecting towns and cities and offering people a more reliable and regular service than trains or buses.
"A Welsh Metro has been costed at between £1bn and £1.5bn over the next 15 years. This is the kind of long-term infrastructure investment needed to boost the Welsh economy by bringing people closer together and making travel quicker and easier throughout the region.
– Jonathan Edwards MP

Read more: Welsh Government announces money for South Wales Metro system
Welsh 'most reliant' on cars
Phillip Gomm from the RAC foundation says there's been a significant rise in the cost of running a car in the last decade.
He speaks after a report by the RAC showed that people in Wales rely on their car, more than anywhere else in the UK. The Welsh Government acknowledges that public transport is crucial.
Advertisement
Welsh 'most reliant' on cars
The RAC says workers in Wales are buying and running cars they can't afford as there are no other transport options to get them to 'the office'. The Welsh Government acknowledges that public transport is crucial.
We are aware of the financial pressures facing people in Wales. Even though our budgets have been stretched by the cuts imposed by the UK government, we are aiming to create an accessible and affordable public transport system that offers a viable alternative to the car. This is a key part of our plans to tackle poverty and create jobs.
– A Welsh Government spokesperson
Welsh 'most reliant' on cars
A report out by the RAC reveals a record number of people are now reliant on a car or van to go to work. 16.7 million workers in England and Wales get to 'the office' either by driving themselves or catching a lift. Here are a few more facts and figures for Wales:
Welsh commuters more dependent on cars for getting to work than rest of UK
Blaenau Gwent is the most car-dependent with 82% of workers using a car or van
Cardiff is the least car-dependent but even here 62% of those employed use a car or van
In Wales 74.2% of workers commute by car or van. The figure for England is 62.7%.
The average length of a car journey to work in Wales is 9.5 miles (19 miles for a round trip)
Welsh 'most reliant' on cars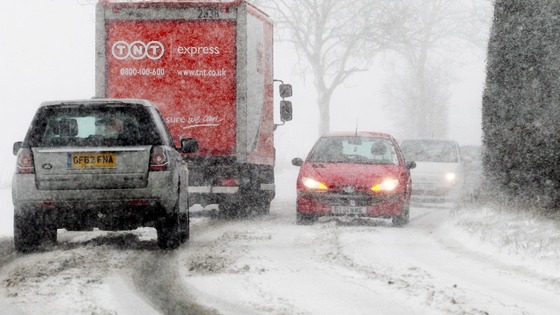 A record number of workers in Wales rely on a car or van to get them to work - more than any other area of Britain.
And it's Blaenau Gwent - one of the poorest areas of the country - where there are the fewest bus or train alternatives for getting to work.
The RAC, which published today's figures, says some people are even put off from taking up a job because they just can't afford the commute.
It also says the poorest car-owning households are spending more than a quarter of their disposable income on buying and running a vehicle.
"Transport poverty is a real threat to the economy. There would be uproar if domestic heating was taxed at 60% so why is it acceptable for road fuel to attract such high taxation?", says Professor Stephen Glaister, director of the RAC Foundation.
The RAC is calling on the government to act on what it calls 'transport poverty'.
"Westminster politicians must remember how the nation actually travels to work. People are still driving despite a decade in which the cost of running a car has outstripped wage inflation. The reason for this is that most people have no practical choice." says Prof Glaister.
Speaking on a visit to Wales, the UK Justice Secretary and Lord Chancellor Chris Grayling said the Conservative party wants 'to be very much part of devolution in Wales.' But he told me that he's 'a bit of a sceptic' about the idea of transferring control over the criminal justice system to Wales.
Advertisement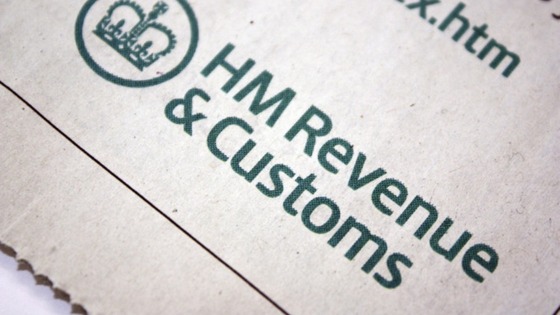 Hundred of workers at four tax offices in Wales are being offered redundancy by Her Majesty's Revenue and Customs.
Workers in Carmarthen, Pembroke Dock, Merthyr Tydfil and Colwyn Bay are affected.
Bosses say an increase in customers using online services means less staff are now required.
A spokesman said, "This change has seen the nature of our work shift away from mass-processing work to more specialist, but less labour-intensive, roles required in effective policing of the tax system. As a result, some areas of our work do not require as many staff."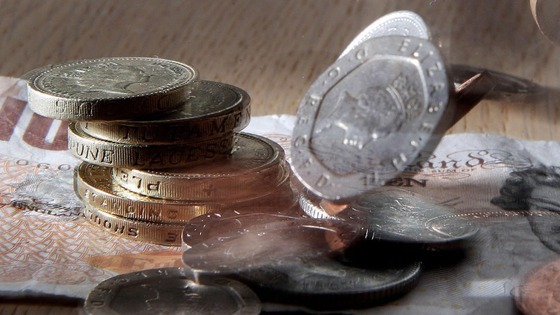 An independent think-tank claims a almost a third of Welsh workers have been stuck on low pay for a decade.
The Resolution Foundation also says women are more likely than men to be stuck.
It says people working in sectors like administration are far likelier to be stuck in low pay than others.
Entertainer Stan Stennett dies
The Welsh entertainer Stan Stennett has died at the age of 88. He passed away in hospital after a short illness. Stan, who enjoyed a long career on the stage and television, counted entertainment legends like Eric Morecambe and Ken Dodd as friends. Sarah Powell reports.
Entertainer Stan Stennett dies
Performer Johnny Tudor paid tribute to his friend Stan Stennett saying 'showbusiness was his life.' Mr Tudor told ITV News that he spoke to Mr Stennett shortly before he died and he always made him laugh.
Load more updates
Back to top