For more than sixty years he's been one of Wales' favourite actors, and now Glyn Houston has given ITV an insight into his life. The Rhondda born star has appeared in more than a hundred films and television plays.
Advertisement
Plaid Cymru leader Leanne Wood has said her MPs won't back English votes for English laws until Wales gets an extra £1.2 billion a year.
Read the full story ›
The First Minister, Carwyn Jones, has joined members of the Royal British Legion to help launch this year's Poppy Appeal in Wales.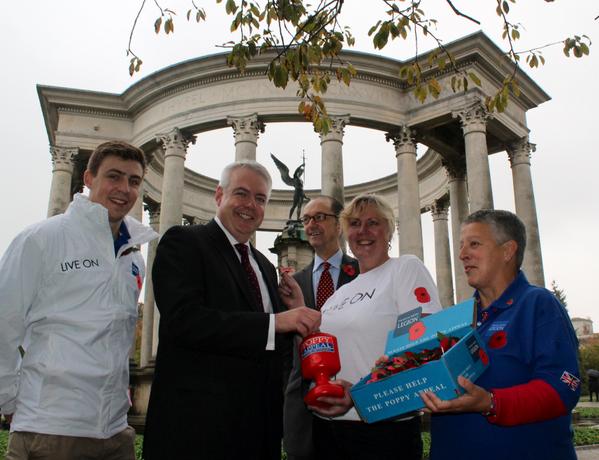 The father of a man who was forced to labour on a farm without pay for 13 years has called his son's ordeal "appalling" and said it has "caused a lot of harm".
Urging the public to be vigilant, he said that "this form of slavery could be happening right under your noses," and urged anyone who suspects they may be a victim of slavery to call the police on 101.
Advertisement
HMS Somerset has docked at Britannia Quay in Cardiff Bay for the official launch of the Poppy Appeal in Wales.
The Royal British Legion created the Poppy Appeal to help those returning form the First World War. A century on from the start of that conflict, money raised by the appeal is helping today's Armed Forces families.
Support is given with coping with bereavement, living with disability or finding employment. The money raised through the Poppy Appeal goes directly to The Royal British Legion's welfare work providing through life care to both Serving and ex-Service personnel and their families.
A farm owner has been jailed in south Wales after forcing a "vulnerable" labourer to work for free for 13 years while living in squalor.
Read the full story ›
Gwent Police have paid tribute to the '"remarkable courage and resilience" of Darrell Simester as Dan Doran Jnr was jailed for four-and-a-half years.
The years of exploitation of Darrell Simester by Dan Doran Jnr was an appalling betrayal, which took advantage of Darrell's vulnerable and timid nature.

This conviction is a culmination of the Police, CPS and partners working closely together, and the strength and fortitude of the Simester family. Throughout this investigation and trial, Darrell and his family have shown remarkable courage and resilience and I again pay tribute to them for their determination to help to bring an offender to justice.

I sincerely hope that they can now move on with their lives.

Whilst this kind of prosecution is rare, incidents of slavery, servitude and forced labour continue to be identified across the UK. The police remain committed to working with partners in supporting vulnerable victims and prosecuting the offenders.

This kind of exploitation has no place in our modern society.
– Detective Superintendent Paul Griffiths, Gwent Police
In the last of the current series of Face to Face, Adrian Masters talks to the journalist and author Nesta Wyn Ellis
Read the full story ›
Load more updates