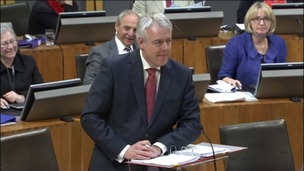 A weekly political sketch on the stand up comedy that is First Minister's Questions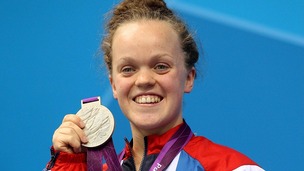 New figures show more disabled people are taking up sport in Wales nearly a year after the London Olympics and Paralympics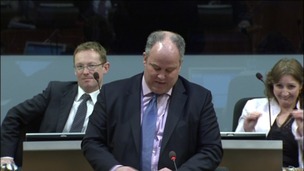 A weekly sketch on the political goings on at the Assembly
Live updates
Gatland names 2013 Lions squad
Lions 2013: Twitter reaction
Triple-dip recession avoided
Disposable incomes across Wales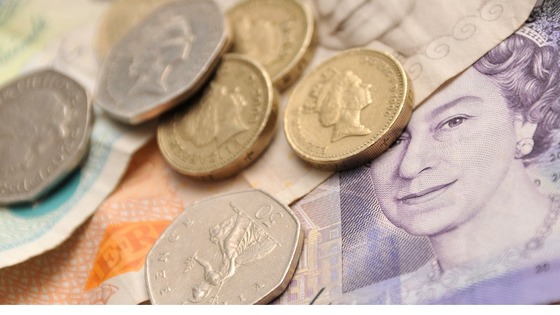 Figures from the Office for National Statistics show variations in disposable incomes.
In parts of the South Wales Valleys it's £13,081, that's £2,953 less than the UK average of £16,034.
Advertisement
Measles cases increase again
National
Report: MMR vaccines being stockpiled across UK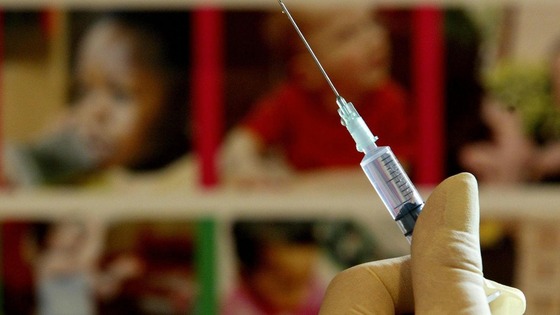 Health officials are stockpiling hundreds of thousands of doses of the MMR vaccine across the UK in case the outbreak of measles in South Wales spreads, the Times (£) reports.
The report comes just before the government is due to outline a nationwide strategy to combat a potential measles epidemic.
National
Mother urges others to get measles vaccination
The mother of a young man who died during the south Wales measles epidemic has urged others to get vaccinated urgently.
It has not been confirmed whether measles contributed to the 25-year-old Gareth Williams' death, but it has been confirmed that he had the disease, and his family are convinced it killed him.
Measles death tests inconclusive
A measles epidemic death is 'inevitable' says doctor
Dr Marion Lyons of Public Health Wales says with 20 new cases of measles daily in Wales at the moment a death would not be surprising.
An investigation is underway on Friday to find out if a 25 year-old man from Port Tennant near Swansea died from the virus.
Measles death tests inconclusive
National
Welsh Government 'aware of possible measles death'
The coroner for Swansea, the centre of the epidemic, has ordered an examination of the body of a 25-year-old man to establish whether measles caused his death.
We are aware of a possible death from measles, and extend deepest sympathies to the family and friends at this difficult time.

We continue to be in close contact with Public Health Wales and to stress the importance of vaccination as the most effective way to protect against measles.
– Welsh Government spokesperson
Advertisement
Measles death tests inconclusive
Reports: Swansea man died from 'suspected measles'
It is reported that a 25 year old man found dead at a flat on Port Tennant Road in Swansea yesterday died from 'suspected' measles.
South Wales Police have confirmed that the death is not being treated as suspicious and that officers are awaiting the results of a post mortem examination.
Public Health Wales have told ITV News that they will be releasing a statement 'shortly.'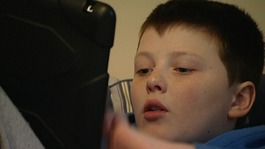 A mother convinced the MMR vaccine led to her son's autism has not immunised her daughter, despite the link being disproved.
Read the full story
Measles cases increase again
National
Measles 'cannot be taken lightly'
Although we want children of all ages who have missed vaccinations to catch up now, we are particularly concerned about those aged between 10 and 18. These are the children who would have missed vaccination because of concerns about the safety of MMR in the late 1990s. The vaccine is safe, effective and the only protection against a potentially fatal disease.
We can't bring this outbreak to an end unless the parents of unvaccinated children either arrange vaccination with their GP, call into one of the weekend drop-in sessions or ensure that if their child attends a school where vaccinations are being offered, they have signed a consent form for them to be vaccinated.
Measles cannot be taken lightly because you can never tell who will go on to develop the more serious complications of pneumonia or encephalitis (inflammation of the brain). MMR vaccination offers the only protection against these complications.
– Dr Marion Lyons, Director of Health Protection for Public Health Wales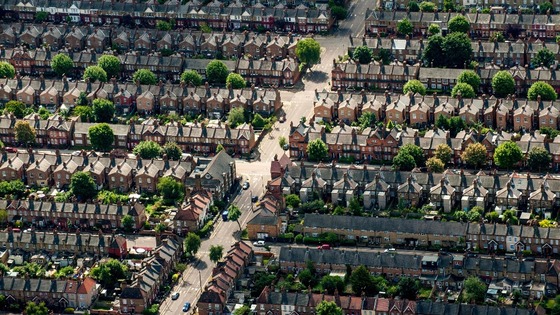 Official figures show house prices across Wales rose in February to an average of £160,000.
That's up by just over 4 percent, one of the biggest rises in the UK, just behind London.
The average cost of a UK house is around £233,000.
Load more updates
Back to top