Rankings for Wales' primary and secondary schools have been published under a new colour-coded 'categorisation' system.
According to their performance, schools are categorised as green, yellow, amber or red.
It replaces the controversial 'banding' method for ranking secondary schools.
Out of 1,332 primary schools assessed, 206 have been put in the green support category and 58 have been put in the red support category.
Out of 211 secondary schools, 30 have been put in the green support category and 23 are in the red support category.
A cold and windy day across Wales with sunny spells and showers of rain, sleet and snow
Read the full story ›
Advertisement
Pembs Cl leader Jamie Adams proposes new motion - not to close Ysgol Dewi Sant in St Davids, just to remove its sixth form
The proposals were passed by Pembrokeshire Council and will now go to consultation.
Hundreds of people have turned up outside Pembrokeshire Council offices in Haverfordwest this morning, protesting against planned school closures - particularly Ysgol Dewi Sant in St Davids.
Past, current and potential future pupils, as well as parents, chanted "save our school" as councillors entered to start the extraordinary council meeting.
At least 14,000 homes a year need to be built in Wales by 2020 in order to tackle the housing crisis, according to a UK trade association.
The Federation of Master Builders says only half the number of new homes required to meet the demand in Wales are being built.
Brian Berry, Chief Executive of the FMB said:
"This is a realistic target and one that can be achieved if we remove barriers to small local builders.
"The construction industry, which includes housing, is vital to the health of the economy across the UK – for every £1 invested in construction, 92p stays within the UK. Construction is also central to delivering key social and environmental objectives, which is why we hope decision-makers in Wales will take on board all our proposals".
The Welsh Government said its policies are helping to boost growth in the Welsh housing sector.
"Our £170 million Help to Buy - Wales scheme is making home ownership easier for buyers of new properties. To date, the scheme has received the backing of over 150 house builders and has helped over 1,100 families buy their own home.
"Figures released by the National House Building Council show new-build registrations in Wales were up more than 60% in July to September 2014 when compared to the same period last year. This was the second highest growth rate in the UK, second only to Northern Ireland."
The funeral of a young woman killed in a car crash in Newport is to be held today.
Xana Doyle, 19, died when the silver Toyota Avensis she was travelling in hit two lamp posts and a no entry sign close to the centre of Newport.
Xana was travelling with two other people when the crash happened earlier this month.
A 22-year-old man is accused of causing death by dangerous driving and is due to appear at Newport Crown Court on February 13.
Sakhawat Ali was also charged with unlawfully taking a vehicle, driving without insurance, driving under the influence of alcohol and dangerous driving.
Advertisement
Wales head coach Warren Gatland believes George North should be exerting greater influence on matches and has warned the Northampton wing he is not guaranteed selection against England.
North missed the 12-6 victory over South Africa last autumn with concussion and Gatland insists it will be hard to drop his replacement Liam Williams for the visit of Stuart Lancaster's men to Cardiff in the RBS 6 Nations opener on February 6.
Gatland highlights the number of 22-year-old North's involvements in a game as an area for improvement.
Having spoken to (Northampton assistant coach) Alex King, Northampton have the same issues with George about touching the ball more.

We want to see more touches and have the ball in his hands. When he does that he is dangerous and makes some metres for us.

We will see how training goes, but if you are a player who has won against South Africa and started the game it's sometimes difficult to be dropped.

We won't sit down as a coaching team until next Monday or Tuesday and start talking about a team.

It's early in the week and we will see how players front up. It's a nice position for us to be in and we have options.
– Warren Gatland, Wales Head Coach
Rankings for Wales' primary and secondary schools will be published later today, under a new colour-coded 'categorisation' system.
It replaces the controversial 'banding' method for ranking secondary schools, which was criticised for being crude and overly volatile.
The new model will include primary schools too, rating them according to performance data like attendance and exam results, but also taking into account schools' self-evaluation on their prospects for improvement.
Schools will be ranked from green at the top, to yellow, amber and then red for those at the bottom - which "will receive immediate, intensive support", and closely monitored.
Teaching unions here have criticised the new system though.
ASCL Cymru Secretary Robin Hughes said: "It is a concern that the calculations may actually make it harder for the schools with the greatest number of disadvantaged pupils to show the progress they are making."
Education Minister Huw Lewis has responded: "Outcomes for our free school meal students are simply not good enough. Under the new system you don't get to call yourself a top performing school, unless the results of your poorest pupils reach a certain basic standard. If there are those who seriously want to argue with the basic fairness of that, then good luck to them."
A yellow 'be aware' weather warning is in place for much of the country, with wintry showers expected across north and mid-Wales.
Temperatures will drop to between three and four degrees with strong winds making it feel much colder.
But where is this colder weather coming from? The Met Office says the cold snap is sweeping in from Greenland and Iceland.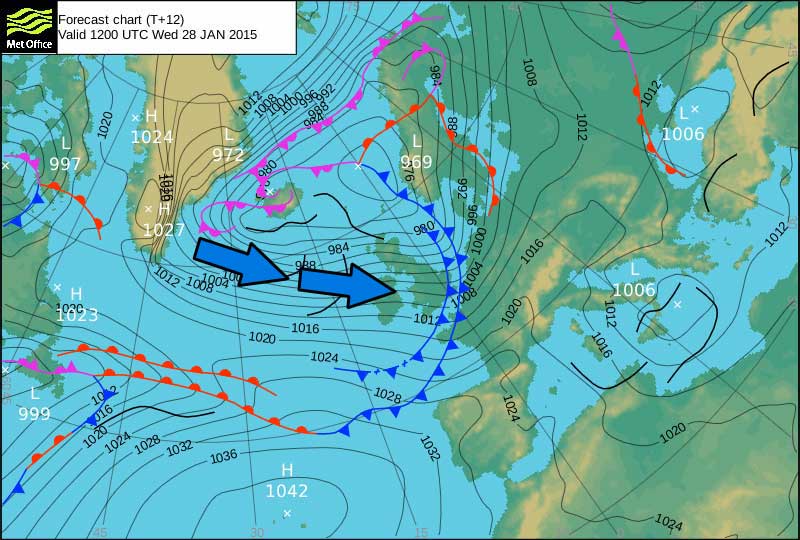 Load more updates