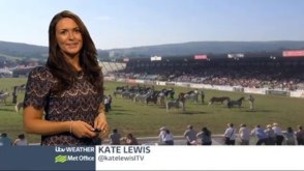 Today has been the hottest day of the year so far with temperatures reaching 28.7 in Porthmadog.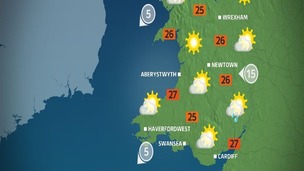 A largely warm and sunny afternoon but showers will begin to push into eastern parts during later in the day. Maximum temperatures 27 deg C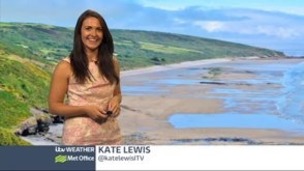 Another warm and sunny afternoon throughout the country. Temperatures will remain in the mid to high teens overnight.
Live updates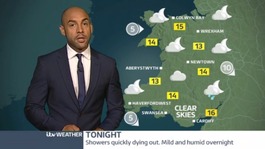 Any lingering isolated showers will ease through the evening to leave a mainly dry night with clear spells for most.
Read the full story
A mostly dry but rather cloudy start for Wales today. Soon brightening up with sunny spells and isolated heavy showers developing, mainly in the afternoon, although most places will probably remain dry. It will be warm or very warm. Maximum temperature 24C (75F).
Advertisement
This Evening and Tonight: Heavy and thundery showers this evening with hail and torrential downpours possible and a risk of flooding. Gradually becoming drier overnight with clear intervals developing, leading to patchy low cloud and mist forming. Feeling somewhat fresher than recent nights. Minimum temperature 12 deg C (54 deg F).
Sunday: Low cloud and misty conditions possible at first, but otherwise a much drier day than on Saturday with only scattered showers and plenty of warm sunshine by the afternoon. Maximum temperature 24 deg C (75 deg F).
Outlook for Monday to Wednesday: Plenty of dry and fine weather throughout the coming week with sunshine at times, however occasional showers are possible, these perhaps heavy in places. Remaining warm or very warm.
Today: Thundery showers, with torrential downpours, hail and squally winds are likely throughout the day. However there will also be drier and brighter intervals for most areas, and although less hot than on Friday, it will remain very warm and humid. Maximum temperature 25 deg C (77 deg F).
Tonight: Thundery showers gradually easing northwards through the evening to leave a mainly dry night with variable cloud amounts and some possible localised valley mist patches. Minimum temperature 12 deg C (54 deg F).
Sunday: A day of sunshine and showers. The showers are likely to be heavy with possible thunder at times, but less frequent and intense than on Saturday. Remaining warm. Maximum temperature 24 deg C (75 deg F).
Advertisement
We want to see your pictures of last night's storm. We'll be sharing some of the best ones online and in our programme Wales at Six.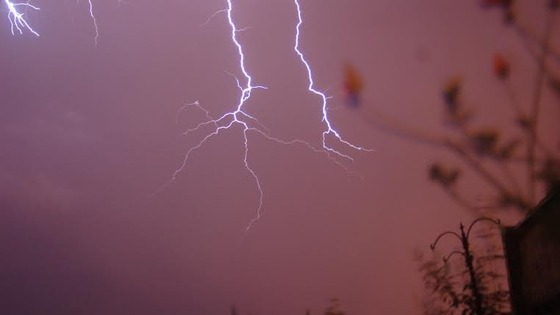 Read more: Weather warning upgraded to Amber
You can send them to us by email on wales@itv.com or on Twitter @ITVWales
Wales Weather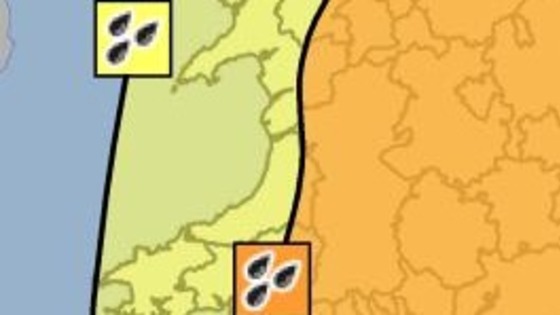 The Met Office has upgraded tomorrow's weather warning.
An amber weather warning has now been issued by the Met Office and will be valid from 00:15 - 23:45 on Saturday to 23
Several areas of heavy, thundery showers will develop throughout Wales from Friday night before moving northwards during Saturday.
Not everywhere within the warning area will see thunderstorms, and indeed some spells of warm sunshine are expected at times, but where thunderstorms do form, some torrential downpours are likely with frequent lightning, large hail and locally strong gusts.
At present, more westerly counties still remain on a yellow warning.
Significant flooding is possible where these do occur from surface water as well as from small, fast-responding watercourses.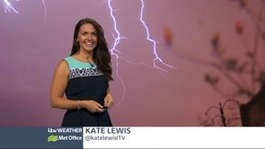 After a fairly cloudy & grey start it is expected to brighten up this afternoon. Another warm and muggy day ahead of heavy rain overnight
Read the full story
Wales Weather
Any early showers are expected to clear through the morning, to leave a mainly dry and sunny day.
It will feel hot and humid with temperatures expected to reach highs of 27 deg C, 81 in Fahrenheit.
Scattered thunderstorms are likely overnight with a Yellow Warning in places from midnight.
Load more updates
Back to top