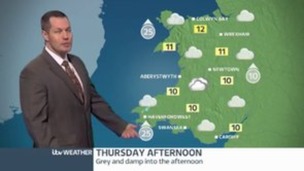 A change in the weather as we head towards the weekend.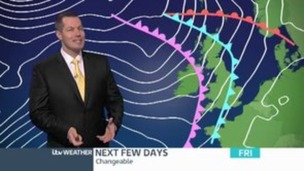 Rain at times for back end of the week.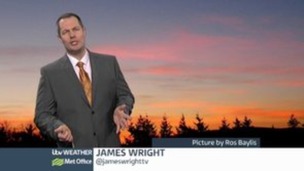 High pressure nearby, but so are the Atlantic fronts
Live updates
Rhyl floods: Clean-up underway
Denbighshire Councillor David Smith has appealed to Rhyl flood victims to get in touch for help and advice.
We need to make sure that people have access to the right information, at the right time and in the right place. Those affected by flooding will now be thinking about the future and they will have a lot of questions about health and welfare issues.

We feel it's vital that we get representatives from different agencies under the same roof, to act as a 'one-stop shop' for information.

We also want to know from people about their personal circumstances, things they are short of, things they need and other information that would assist us in helping people.
– Councillor David Smith, Cabinet Lead Member for Environment
Rhyl floods: Clean-up underway
An information centre has been set up near Rhyl Fire Station offering advice to residents following yesterday's flooding.
There will be representatives from:
Welfare rights
Housing and Supporting People
Council Tax
Family Information Service
Public Protection
Trading Standards
Environmental Health
Red Cross
Residents can access the centre until 5pm tonight and over the weekend for advice on issues such as finance and insurance, health, electrical safety and how to clean up after a flood.
A Denbighshire County Council spokesperson said: "There were no further issues of flooding to report overnight. The high tide passed at around 12.30am without any further problems.
"All those people affected by flooding have been re-housed by the Council."
Advertisement
Rhyl floods: Clean-up underway
UPDATE: Due to damage to the sea wall, the line between Chester and Rhyl is closed. Buses will operate between these stations.
Following yesterdays disruption; no service between Chester & Rhyl & no trains between Blaenau Ffestiniog but road transport in operation.
Rhyl floods: Clean-up underway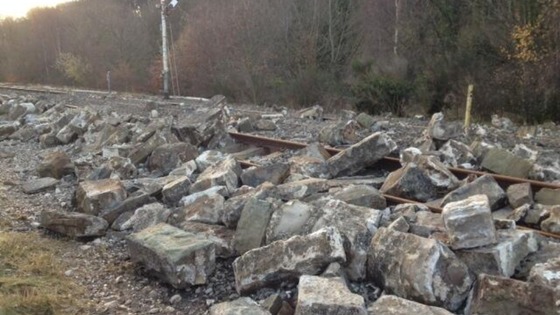 Damage to the sea wall at Mostyn on the North Wales coast is affecting trains between Rhyl and Chester, Arriva Trains Wales advises.
The company posted this picture on Twitter of the debris resulting from yesterday's storm.
Buses will replace trains between Rhyl and Chester until further notice.
Wales Weather
Today:
A chilly and bright start, although it will turn cloudier through the day. Outbreaks of rain are possible, mainly in the north of the country but it should otherwise be dry. Winds will be much lighter. Maximum temperature 10 deg C (50 deg F).
Tonight:
Mostly dry with some clear spells but a few showers may continue in places. Cold enough for a few fog patches by morning. Minimum temperature 2 deg C (36 deg F).
Saturday:
It should stay largely dry with bright or sunny spells and just a few showers, these mainly in the west. Maximum temperature 11 deg C (52 deg F).
Outlook for Sunday to Tuesday:
Mostly dry and cloudy although occasional spells of rain or drizzle are possible, mainly in the west. Temperatures should be a little above average.
Wales Travel
Trains services between Rhyl and Chester are suspended because of damage from yesterday's storm surge. There's a shuttle service between Rhyl and Holyhead.
Advertisement
Rhyl floods: Clean-up underway
Firefighters are still pumping water from roads in Rhyl after yesterday's storm surge.
Police say they have received no reports of flooding during last night's high tide.
There are two flood alerts this morning from Anglesey to Deeside and on Gower.
Rhyl floods: Clean-up underway
Hundreds of people have been forced to leave their homes today as the North Wales coastline was battered by severe weather conditions.
In Rhyl, 400 people have been affected as homes in several streets were flooded. Talacre was evacuated amid fears that waves would breach a sea wall, and two people had to be rescued by Barmouth RNLI crews after their cabin cruiser was swept up on Borthwen Beach.
Other parts of Wales have seen terrible conditions too. Strong winds brought down a 50 tonne tree onto a car on the A470 near Abergavenny, though the two occupants escaped without serious injury.
Meanwhile North Wales Police have urged those forced out of their homes to call a special number, 01492 518 383, to confirm they are safe.
You can also call that number if you are worried about relatives in the area.
Rhyl floods: Clean-up underway
We are assessing the situation at the moment, along with colleagues from Natural Resources Wales. Our main focus during the day today and this evening is the operational response and trying to find alternative accommodation for those people affected by the flooding.
– Denbighshire County Council
Rhyl floods: Clean-up underway
North Wales Police have announced that extra patrols will be out tonight policing properties affected by today's flooding in Kimnel Bay and Rhyl.
Police are also reminding anyone who evacuated a flooded property in the Garford Road area of Rhyl to stay with relatives or friends to contact them immediately, if they haven't already done so.

The number to call is 01492 5138383.
– North Wales Police
Load more updates
Back to top