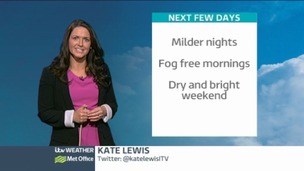 After a cloudy night this should begin to burn back throughout the day tomorrow to leave some nice, bright sunshine.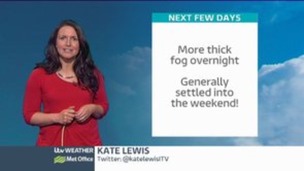 After a pleasant afternoon in most places more dense fog is expected to build throughout the night. Dry but cloudy over the weekend.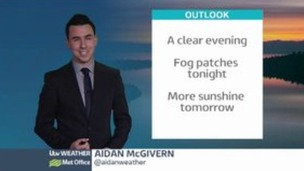 Aidan McGivern's forecast for Wales.
Live updates
Wales Weather
After a dismal day today the rain is set to continue overnight.
Friday morning should see some patchy showers but clearing away to leave a bright and sunny start to the weekend.
A largely cloudy, breezy and damp day, with outbreaks of rain at times, especially for northern and western areas. There is also the chance of some brightness to the east of high ground, with a little warm sunshine possible. Maximum temperature 13 deg C (55 deg F).
Tonight:
A band of more persistent rain will spread from the north through the early hours, heavy at times over hills. The rain will become increasingly patchy as it heads southeastwards. Minimum temperature 8 deg C (46 deg F).
Friday:
Any rain should clear southeastwards during the morning, becoming drier and brighter into the afternoon with some sunny spells. Maximum temperature 14 deg C (57 deg F).
Outlook for Saturday to Monday:
Increasingly cloudy and breezy on Saturday, with outbreaks of rain spreading from the west. Further patchy rain on Sunday. Drier and brighter on Monday.
Advertisement
Wales Weather
A generally dry day for many, with cloud cover developing through the afternoon.
As we head into the evening, the temperatures will stay on the mild side with a reduced risk of ground frost.
Wales Weather
A fairly dull and damp start, but it should stay dry and mild for the rest of the day.
It will be a chilly start with some frost. Once any fog clears some bright spells are likely, however it is going to become cloudier through the morning, perhaps with a little rain in the north of the country. Maximum temperature 10 deg C (50 deg F).
Tonight:
It is going to remain rather cloudy, meaning temperatures will not drop as low as recent nights. Many places should stay dry although some rain is possible towards the northwest. Minimum temperature 5 deg C (41 deg F).
Thursday:
For much of the day it is again going to be rather cloudy. Outbreaks of rain across western parts are likely to gradually spread east through the day. Maximum temperature 11 deg C (52 deg F).
Outlook for Friday to Sunday:
Outbreaks of rain clearing south through Friday. Chilly overnight with widespread frost, then becoming breezy with some rain on Saturday. Cloudy with rain possible Sunday. Becoming milder through the weekend.
It is going to be rather cloudy at first but some bright or sunny spells are set to develop through the day. Many places will stay dry, with only a few showers around. Maximum temperature 9 deg C (48 deg F).
Tonight:
It is set to be a dry night across Wales. Temperatures are going to drop under the clear spells allowing some frost, ice and patchy fog to form. Minimum temperature 1 deg C (34 deg F).
Wednesday:
It is likely to be rather cloudy although there should be some bright spells. Many places will stay dry, with just a little light rain possible, mainly in the north. Maximum temperature 10 deg C (50 deg F).
Outlook for Thursday to Saturday:
Breezy and cloudy on Thursday and Friday with some light rain or drizzle at times. Further rain may push in from the southwest on Saturday.
Advertisement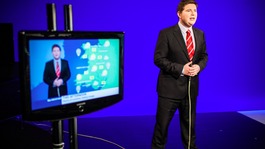 Carl Edwards explains how he got to grips with presenting in front of a blue screen as our Weather Presenter.
Read the full story
Wales Weather
It will be a mixture of sunshine and showers today, possibly wintry over high ground early on. Some showers will be heavy, dying away during the evening. Maximum temperature 6°C.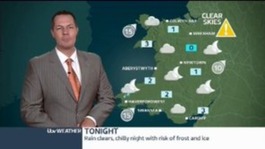 Wales Weather
Today:
During the afternoon, a band of more persistent and occasionally heavy rain will move eastwards across the country. The rain should clear from the west towards the evening. Windy. Maximum temperature 10°C.
Tonight:
Any rain across eastern areas will quickly clear eastwards. Then most places should be drier and clearer for a time, before scattered showers, some heavy, feed into coastal areas later. Minimum temperature 0°C.
Load more updates
Back to top